On test at OVERDRIVE: Baja Designs XL80 auxiliary lights
Call me obsessed but I don't like riding in the dark,  and the power and visibility of auxiliary LED lights fascinates me. Over the past few months, I've played around them with them quite a bit too. I started with an extremely satisfying set of Denali D4 lights that will now go my KTM. I replaced them with outrageously powerful Denali D4 2.0s which brought twice the power)m and then decided to add a hyperspot that would light up the distance straight ahead, enter the Rigid Industries D2 Hyperspots. And all that was going swimmingly and I was happy with this setup. Then MotoUsher, who represents a whole bunch of brands in India, put out a post installing something called the Baja Designs XL80 on a BMW R 1200 GS. The first Denali pair produced around 4,500 raw lumens. The second, about 9,000. The hyperspots work on focus so they were only around 4,000 lumens. But shock and awe, the XL80 was rated at 19,000 lumens. I had to have this I thought! And now, I've acquired a set for the Multistrada and they're on test. Let's start with who makes them.
The Baja Designs XL80 is a large, powerful light designed more for ATVs, Side by sides and trucks than motorcycles. Fits well on large motorcycles like this Ducati Multistrada though
Who is Baja Designs ?
This American company is heavily involved in off-road racing, especially night racing and that's where their lights originate from. The Baja 1000 - which our own Anand Dharmaraj took part in and finished - is the ultimate night off-road race and almost everyone seems to have Baja Designs lights on their race truck, ATV and motorcycle. The company calls themselves the Scientists of Lighting and you can see from their videos, they're far from a corporate organisation, they're more like nerds playing with LEDs, lumen counts and race vehicles.
Who is MotoUsher?
MotoUsher is a Nagpur based powersports distributor who represents Baja Designs in India, as well as other brands like EBC (brakes), Hepco Becker (luggage systems), Wunderlich (BMW accessories), Rukka (top of the line motorcycle gear) and more. See their full range at shop.motousher.com
The XL80
The XL80 is the most powerful light Baja Designs makes in the individual pod format. There are significantly larger pods - the LP9 - and light bars that far exceed even the XL80s output. Powered by four 20W LEDs each, each XL80 unit makes a whopping 9,500 lumens. It isn't a small light unit either, each pod is 4.3" (huge) and weighs just under a kilogram each too. Baja Designs usual tricks are all in there. Each light is rated to IP69, which means you can pressure wash them if you need to. All the wiring is waterproof and each LED puts out light at a sun-yellow 5000K rather than the slightly bluer temperatures that other makers seem to prefer.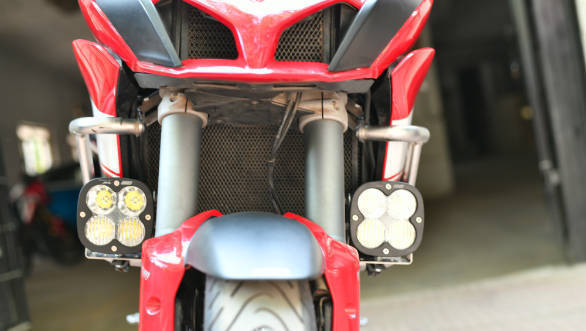 The driving combo lens on the Baja Designs XL80 uses the top two LEDs in each pod to throw light far away while the bottom two lenses diffuse the light to create a broad even spread of light closer to the vehicle
And of course, each light comes with a lens pattern - mine are a driving combo - and you can buy replacement lenses as well as change lens patterns to further tailor your light requirement. What's a driving combo? The bottom two LEDs on both XL80 units produces a wide spread of light close to the vehicle while the top two are focused further ahead for distance. Baja Designs says the throw is important for speed in the dark while the spread gives you reference and context and removes the feeling "of driving through a tunnel." The XL80 also has a built in dimmer that allows you to run the light at 20 per cent - roughly 4,000 lumens - or at full power. If all this is too complicated for you, we do have a detailed article explaining how these LED lights work and are purchased.
What's in the box?
Baja Designs charges a whopping sum for the XL80 but from that perspective, the wiring set needs to be closer to a finished product, especially for a non-DIY market like ours.
The Bajaj Design XL80 box contains the two lights, stainless steel mounting brackets and basic wiring. Since Baja Design tends to put these more on ATVS, side by sides and trucks, the wiring is not fully plug and play for motorcycles
While Denali et al include wiring, relays, switches etc, the Baja Design kit includes wiring and an on-off switch only - that's car wiring, in essence. MotoUsher added the cost of a relay and I added the dimmer switch to my kit. The rock guards - in effect cheap plastic lenses - are pure fancy on my part. The black ones are for places where the police likes you to have your extra lights covered in the day. The amber/yellow ones do a great fog light impression without significantly cutting off the brightness of the light.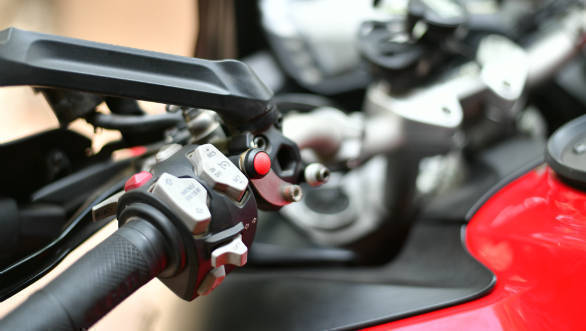 The Baja Designs XL80 (the XL series, in fact) comes with a built in dimmer circuit that dims the LEDs to 20 per cent output. That's the red button in the picture - it's a separate purchase. Baja Designs also includes a on-off switch in the box but on this Ducati we used the standard auxiliary light switch - next to the red hazard light switch on top of the cluster - to turn the lights on and off
MotoUsher says they are working on a more comprehensive kit that includes the small bits and bobs that should make the installation easy once you open the box.
What isn't in the box?
The mounting clamps. Since vehicles and mount points vary, most light makers tend to sell vehicle mounts separately. You get a range from roll-bar mounts, fork mounts, vehicle-specific mounts and to our purpose, motorcycle crash guard tube-based mounts. All have to be purchased separately, though.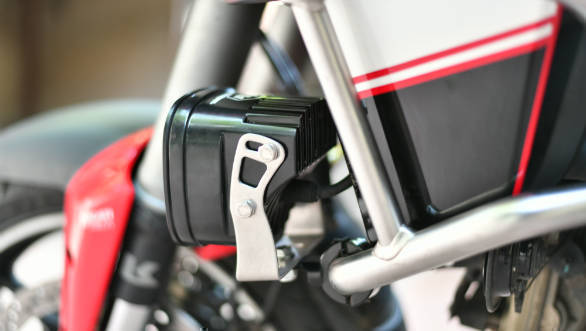 These hefty stainless steel brackets are included with the Baja Designs XL80. Mounts are not included though. We used an old Denali light mount to install these on the Ducati Performance/Touratech crash bar
In my case, I had the mounts left over from my previous lights and I haven't had to purchase new ones. But it would be an additional Rs 4,000 to Rs 7,000 for these.
The installation?
We used the Ducati's in-built auxiliary light switch to the turn the XL80 on and off. This was a good move because the system turns the lights off by default - you won't blind anyone by accident. It also makes for a neat install - we only have a small dimmer button added next to the menu control switch set on the Multistrada. Once we figured out what wires go where the installation was simple enough.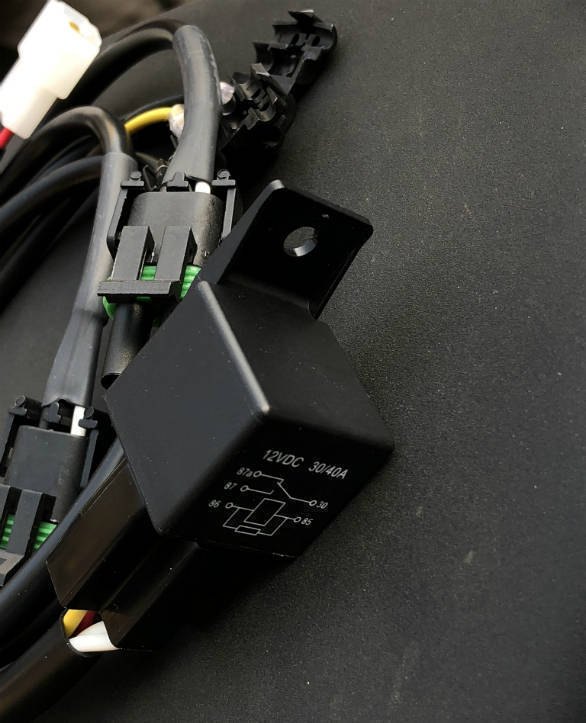 A relay is needed when connecting any auxiliary light on a motorcycle to ensure that the light turns on only after the ignition is turned on. On a car, because the cabin is locked, this is usually not a problem. The Baja Design XL80 kit doesn't come with a relay and MotoUsher sold us this relay additionally.
Because motorcycles tend to have small load electrical networks and are exposed - a security concern - the relay is used to ensure the light has power only if the bike is on. And to prevent you from overloading the bike's system, the power is drawn directly from the battery, ensuring that the charging circuit maintains voltage when all electrical systems are running together.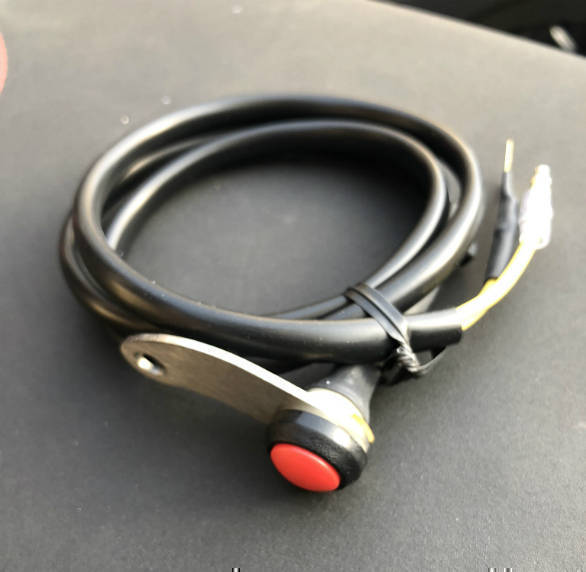 Baja Designs' XL series of lights all come with a built in dimmer that drops output to 20 per cent when dimmed. To activavte and use this circuit though, you need to add a second switch. This extremely tactile switch from Baja Designs is what we will be using for our testing
The XL80s draw a full 160W - that's a massive power draw - and we were happy to find that the Multistrada's 500W alternator easily handles the load when all electrical systems are turned on. Phew.
Initial impressions
My god, these are expensive lights. Spending nearly Rs 70,000 on lights was not something I budgeted for, but selling the older lights off has offset some of my expenditure. I tell myself that the drop in weight (around 2.5kg) and the reduced complexity (two sets of wiring and one switch to each thumb) plus the added lumen count justifies this glorious excess of light.
While Baja Designs does not expressly label the actual lux count on this chart, it promises significant light to almost 300m and some light well past the 400m mark. The driving patterns also manages to put a wide beam out, and it hits 50m in width at about 50m from the bike according to this chart
Because the first impressions are unprintable words. At full brightness, the Baja Design XL80 is frighteningly bright. I physically recoiled the first time I turned them up to full. In that sense, the dimmer was a good little purchase. You see, I could run the first Denalis almost any time I liked. 4,000 lumens lights the road up nicely around the bike without blinding anyone or getting complaints. And that's exactly the light the 20 per cent dimmer produces. Very clever Baja Designs. So on most nights, given how bad Mumbai's roads can be and how expensive Ducati rims are, I happily run the dimmed XL80s.
The light from the XL80 is extremely bright at full power and the throw is both wide and reaches far away. The slightly yellow colour of the Baja Designs light feels extremely natural to use and this is one effective light unit
Out on the highway, especially when it's empty, the full power of the XL80 is amazing. It throws light wide as well as far and that makes keeping average speeds up - the reason to have lights for me - and staying safe ridiculously easy. These are very much ludicrously expensive lights, but my word, they're superb too!
Stay tuned for a full review.
Prices
Baja Designs XL80 Driving combo: Rs 63,499
Baja Designs Aux LED push-button switch: Rs 2,199
Baja Designs Rock guards (2 Amber, 2 Black): Rs 990 each
Relay: Rs 2,000 approximately. MotoUsher.com
Also See
Everything you needed to know about auxiliary lights for motorcycles
Product review: Denali D4 auxiliary lights
Product review: SW-Motech Hawk auxiliary light mounts
Product review: Denali D4 2.0 TriOptic auxiliary lights
Product review: Denali light mounts for auxiliary lights
Product review: Rigid Industries D2 Hypersport auxiliary lights