Off-roading the 2019 Jeep Compass Trailhawk SUV
Jeep claims only a select group of its SUVs is worthy of carrying the 'Trail Rated' moniker. All their 'Trailhawk' cars, including the soon-to-be launched in India Jeep Compass Trailhawk, are put through extremely demanding tests in traction, ground clearance, articulation, manoeuvrability and water fording before they earn this badge.
Once we'd heard this, there was only one thing left to do, try it out for ourselves. And we did this to quite an extent, at 19 Degree North. The aim being to highlight the new off-road bits on the SUV.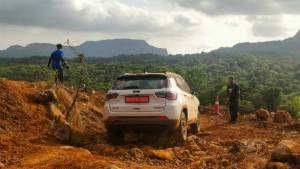 Straight off, we tested the Trailhawk's impressive articulation, through a section of one-sided dips and crests. It has an approach angle of 26.5 degrees, break over angle of 21.2 degrees and departure angle of 31.6 degrees. All of this thanks to the 30mm rise in ride height, and the redesigned bumpers.
Next up, we tested the Trailhawk's new lockable 4WD system. First in sand mode, when the going wasn't too harsh and then as the rocks, inclines and uneven surfaces started getting bigger, we switched to the Trailhawk's party piece, its Rock mode and 4WD Low setting. The Compass Trailhawk will handle anything you can realistically throw at it. We put it through everything from basketball sized rocks, to wading across a sizeable stream and some stepped sections with at least.
But the piece-de-resistance of the roughly 10km course was a massive drop, at least five to six floors high. The Jeep instructor asked me switch on the Trailhawk's new Hill Descent Control feature. I just put that on, put my foot on the brake and after some logical steering placement, simply slid down the hill.
And that's the thing with the Compass Trailhawk. It's easy. Helped especially by its new nine-speed automatic. In these situations, it's constantly working in the background. It meters out power exactly how you want it, so all you need to do is keep a steady right foot.
The balance and ease with which the Compass Trailhawk handles off-road terrain is its biggest plus point. The suspension absorbs everything thrown at it, the steering is accurate but has a nice shape ideal for positioning it correctly in these situations. Further, the power is always at the wheels that'll make the best of it.
If we were to nitpick, we wish the Compass Trailhawk didn't default into its standard Auto setting everytime you switch it on.
To reiterate, whatever real-world off-roading you think you need to do but don't think a family SUV is up for, the Jeep Compass Trailhawk will deliver. Many times over.
Also see: Jeep Compass Trailhawk diesel auto First Drive Video
Price (Ex-Delhi)
Starts Rs 16.99 Lakhs