Off-roading with the new Ford Endeavour in Philippines
Recently Ford had a SUV Experience event in the Philippines that consisted of taking an EcoSport through narrow backstreets to local markets, going fishing in the Ford Escape Kuga, driving on country roads in an Explorer and getting a massage at an eco-art resort! But the most interesting, and the reason I was there, was going off-roading in volcano ash in the Ford Endeavour that is known as the Everest in the Philippines.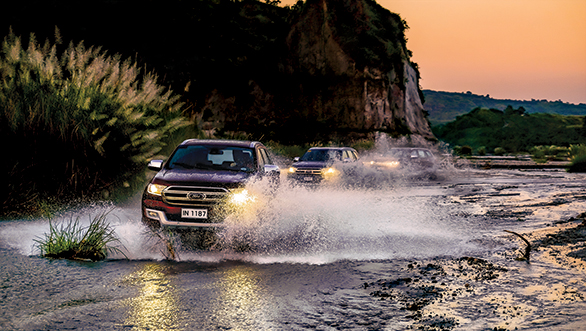 Yes, the highlight of the Ford SUV Experience has to be the off-road driving we did in the "Pampanga Lahar Beds". But what's so special about this? One needs a little history lesson to appreciate this. In June 1991, the second largest volcanic eruption of the 20th century took place in the Philippines. It was Mount Pinatubo that erupted, killed hundreds and blew 10 cubic kilometres of ash, stone, etc. into the air. The massive ash falls destroyed everything around.
Now this region has become a popular off-road driving destination. Simply because, when the combination of sand, volcanic ash and rainwater mix, it results in a thick and sticky moving substance known locally as 'lahar'. These lahars are really gluey, and it's a real challenge to drive on this wet quicksand-like stuff.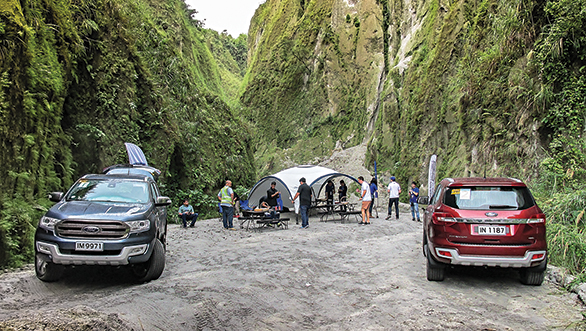 In these Lahar beds, you have to maintain a good momentum and keep the engine in its peak power band to avoid getting bogged down. At the same time you have to keep a sharp lookout for stones and boulders
Fortunately, the Ford Endeavour was up to the test as it's a solid SUV with body-on-frame construction, ground clearance of 225mm, water wading depth of 800mm, and an engine that delivers 200PS and 470Nm of torque. What's equally important is how all this power is transferred to the four wheels. Like all good old-school SUVs, the Ford Endeavour still retains its 4X4 transfer case that allows low-range to be selected and the gear ratios to be lowered for delivery of torque at much lower speeds. Sadly, the transfer case has now become an 'endangered species' as more and more manufacturers are doing away with this most essential component for serious off-road driving.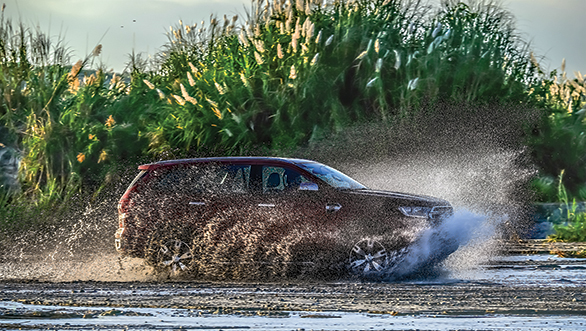 Given this, Ford needs to be complimented for retaining the transfer case. What also enhances the Endeavour's off-road performance are the 'Terrain Management System' and electronic locking rear deferential. Thanks to these, the Endeavour can move forward even with two front wheels and one rear wheel not having any traction as long as the fourth wheel has grip. The 'Terrain Management System' also lets the driver choose from four pre-set settings –– snow, mud, grass, and sand and rock. As mentioned, the 4WD system's transfer case can be locked into low range for more aggressive torque transfer in extreme off-road terrain.
The Endeavour has a 'Terrain Management System' that is very similar to Land Rover's 'Terrain Response System'
The Pampanga Lahar Beds we drove in are amongst the world's extreme off-road environments, and the Ford Endeavour performed very well in this tough terrain. Of course, the driver had to maintain a good momentum, pick the right path, feed the power smoothly and strongly when required, and at the same time keep a lookout for rogue boulders waiting to make contact with the under carriage.
Interestingly, as the volcano ash is very fertile, it's resulted in a lot of greenery. In some of the images you can see mountains. Actually this is all volcano ash, and the valleys and ravines have been formed by flow of rain and river water. In fact, our refreshment camp was set below towering and obviously unstable cliffs, and the locals told us this is not a place you want to be in a heavy downpour, because you never know when the ash starts sliding and moving!
Unfortunately, this awesome drive ended way too quickly, and we were back to experiencing the lifestyle opportunities offered by the SUVs. That's all very fine for lifestyle or travel journalists. But for us really it was a wasted exercise, and we would much rather have spent a lot more time in the lahar beds exploring the impressive limits of the Endeavour's off-road performance capabilities in such extreme conditions.
Price (Ex-Delhi)
Starts Rs 32.75 Lakhs