Off-roading in the Western Ghats
Until a few decades back, many of the roads in interior or rural India were simple dirt tracks carved out through jungles and forest. These were not all-weather roads and driving on them in the monsoons presented a serious challenge, even if you were in a proper 4WD vehicle. The Pradhan Mantri Gram Sadak Yojana or the Prime Minister's Rural Roads Scheme and the rapid growth in population have changed all that. Now nearly all roads have been tarred and made all-weather. Fortunately for nature and off-road driving buffs like me, few dirt roads still survive and most of them are to be found in protected forest areas like the Western Ghats. (See complete image gallery here.)
Our first stop after leaving Mumbai was at the Ingle's lovely family home in Kolhapur
The desire to once again go on an off-beat expedition struck sometime this summer. Coincidentally, I came across certain articles on the Western Ghats and how parts of this vast mountain range have been declared a UNESCO World Heritage Site. This sealed the deal, and I decided that this was the region to head to. Just one call to my dear old friend Rammy Nagpal and he was on board for the journey too. But where exactly should we go? I had heard of a noble family from Kolhapur that had converted their over 100-year-old 'Hunting Lodge' near Radhanagari Wildlife Sanctuary into a homestay kind of resort.
The Ingle's took us for lunch to their Padma Restaurant that serves a wholesome veg thali
A little online research and I soon had their contact details. An email was sent to the Ingle family, saying we would like to visit their property and explore the region. Before long we had established contact on the phone and I was speaking to both Gauri and her husband, Ruturaj Ingle. Ruturaj had apparently heard of me, and very graciously said, "Please let me organise your journey in the Western Ghats. Come for at least a week, and I and my wife will accompany you and show you around." And when I asked if we could do some off-roading, Ruturaj very casually replied, "Yes, sure we will."
Sawai Mansing Resort where we stayed at in Amba Ghat
That was all that was needed. Next I contacted the good folk at Toyota and they very kindly said they would be happy to provide their new diesel Fortuner with 4WD and automatic transmission for our journey. We were good to go. A date was fixed and on an overcast Sunday morning in the first week of June, Rammy and I hit the road for Kolhapur where we were to meet up with the Ingles. The previous evening, directions of how to get to their ancestral house had arrived by mail. The directions were so accurate and concise that I immediately knew Ruturaj was a seasoned motorist. This made me even more confident that though we had never met before, we would get along very well, and I told Rammy I had a feeling we were in for a memorable and exciting trip.
The Amba Ghat region is lined with many wildlife signboards
After leaving Mumbai at 7.00 am, we reached the beautiful stone mansion of the Ingles at 1.45 pm. The Ingles, who are a well-known 'noble family' from the Kolhapur region, warmly welcomed me and Rammy into their lovely home. Just opposite the mansion is their Hotel Padma that has a restaurant which serves traditional Kolhapuri cuisine, including the famous tambda and pandhra rassa. These rassas are not meat curried dishes but are plain curries, like sambar or rasam. You can pour them over rice or dip your rotis into them. We went across for lunch and Gauri Ingle, who looks after the day-to-day running of the hotel and restaurant, informed us that the specialties are their thalis, especially the mutton one that comes with mutton sukka, mutton fry and mutton lonche. This thali was delicious and Rammy, who ate the vegetarian one, also enjoyed his meal very much.
Ruturaj Ingle introduced us to some fantastic dirt tracks and took us to many beautiful places
After a delicious lunch, Ruturaj and Gauri's son Aaryamaan got into the Fortuner with us and we drove to the Amba Ghat region on a twisting tarmac road. Ruturaj and Gauri followed us in their Skoda Yeti along with some of their staff. At Amba Ghat we all stayed at Sawai Mansing Resort which is owned by Mansingh Gaekwad, a good friend of the Ingles. In the evening Mansingh and his wife joined us and Rammy literally 'set the night on fire' by inviting the likes of Doors, Simon & Garfunkel, Pink Floyd, Beatles etc. to our table. Yes, Rammy is a most talented singer and rarely travels without his guitar. Lucky us.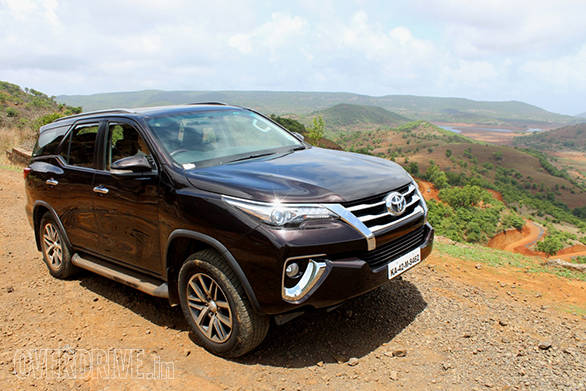 The new Toyota proved to be a good partner for this expedition
Next morning began our journey to explore this region of the Western Ghats (also known as Sahyadri, meaning the Benevolent Mountains). The Western Ghats are internationally recognised as a region of immense global importance for the conservation of biological diversity. This region has over 7,402 species of flowering plants, 1,814 species of non-flowering plants, 139 mammal species, 508 bird species, 179 amphibian species, 6,000 insects species and 290 freshwater fish species, and it is also known that many undiscovered species live in the Western Ghats.
Ekant Solitude - the Ingle's charming little resort in Radhanagari
Very honestly, the Amba Ghat region has become quite commercialised with over 50 resorts attracting thousands of domestic tourists especially during the weekends. Amongst the popular resorts is the Jungle Resort run by Rajan Eklahare. Given this we were happy to leave and headed on the ghat or mountain road down to Vishalgad. This constantly twisting hilly road goes through some dense forest, and this is where the resorts conduct their 'night safaris' and they are known to occasionally sight animals like gaur or Indian bison, various deer, hare and the occasional jackal or leopard. The forest department has put lot of signs on this road warning one to drive carefully and give way to the animals. As we were going down this road in the morning, we hardly saw any wildlife, but it was still a super drive due to the dense jungle we drove through.
Gaur or Indian bison in Radhanagari Wildlife Sanctuary
Vishalgad onwards, Ruturaj took us up some hills on few dirt tracks and the view from the top was always spectacular. The Western Ghats are wooded and green and also have lots of water bodies. All day we drove on dirt trails or narrow tarred country roads. We hardly came across any vehicles, and the drive was truly delightful. We stopped for lunch at Palmnest Retreat in Khokurle Village, near Gaganbawda. This farmhouse is owned by Ruturaj's friend Rajwardhan Nigadehey, and he has some nice rooms and offers an interesting agro experience homestay.
The Western Ghats are full of scenic sights
After a nice lunch we again took to some dirt tracks and Ruturaj, who knows the roads in this region like the back of his hand, ensured we reached a hill facing the backwaters of the Radhanagari Dam in time for sunset. Though it was overcast, it was a spellbinding sight. Later we made our way to the Ingles' Quaint Resort located near Radhanagari Wildlife Sanctuary. This resort is a real little hidden treasure, and Rammy again ensured we all had another cherished evening.
Aerial view of the Ingle's farmhouse and its spectacular surroundings
The next day we set out to explore the Radhanagari Wildlife Sanctuary region, and it was really great fun driving on some of the challenging dirt roads. The Toyota Fortuner coped well with the tough terrain, and on couple of occasions I also needed to engage 4WD low. When you do this, the transfer case changes the ratio of all the gears and ensures maximum torque is available at very low speeds, and this helps tackle steep slopes especially when traction is poor. In the evening when we were half way up a hill, there was a cloud burst and the skies opened up. In no time the water started flowing down the hill turning the dirt into sticky slush. The regular road tyres of the Fortuner got completely covered with the gluey mud and we lost all traction. There was no way to proceed further because if I even pressed down slightly on the accelerator, the wheels started to spin making the Fortuner slide all over the place. I then decided to reverse down the slope, but the moment I pressed the brake to change the automatic transmission from 'D' to 'R', the Fortuner began to slide back. As soon as we were in reverse, I released the brake and because we were already in 4WD low mode, the rate of descent slowed.
Deep in the forest, headlights shining bright...
Aaryamaan was out guiding me in almost knee-deep slush, and as I approached the turn he called out and I yanked the steering in the direction of the corner. This put the Fortuner into a reverse slide! I somehow counter steered and when the Fortuner came to a halt, we were in the middle of the corner with the front facing the right way. But the adventure was not over and there was more excitement in store. Even while descending we had no traction what so ever, and I realised that thanks to the weight of the Fortuner we were coming down at a faster rate than desired and slowing or stopping it was not easy. I decided not to touch either the accelerator or brake pedal and let the low ratio gears of the transfer case do the job of keeping the speed in check. At every corner I had to counter steer to keep the sliding Fortuner on track, and after a really challenging but exhilarating drive we hit the tarmac road. And then for the next 1km or so, the tyres threw out all the mud that had covered them completely. Sadly, it was only after we reached our inviting resort the Ekant Solitude, that we realized we had not taken a single picture of our 'battle with the mountain mud'!
The tarmac country roads we drove on were very picturesque and largely traffic free
That evening after the first of the many whiskeys had been poured, Ruturaj and I had a detailed discussion on 4WD SUVs and their merits and demerits. We gave full marks to the Toyota Fortuner for its ground clearance and its 4WD drive train and transfer case with the low-ratio gears. Its rugged build quality and ability to cope with harsh terrain were also appreciated. But we both agreed that its large size and near 2 tonne weight were a limiting factor on our dirt tracks. We also felt it would be better if it came with all-terrain tyres because the regular street ones are completely useless when you go off-road.
Next day we set out for Ruturaj's incredibly located farmhouse in Patgao. Again the drive was on a mix of dirt and narrow but scenic tarred country roads. We also drove through parts of the Radhanagari Wildlife Sanctuary and again came across some beautiful sights and landscapes. On reaching the Ingle's farm house I was completely blown away by the location and views. Only a man like Ruturaj, who loves nature and the outdoor life, could have picked this place to build a house. It is truly a hidden gem in the wonderful wilderness of interior Maharashtra.
We encountered thick fog in some places
The next couple of days were spent discovering the region and off-roading in some really dense forests. The evening was again reserved for partying with Rammy and his guitar. Before we knew it, the time arrived much too quickly to say goodbye to the incredibly warm and hospitable Ingles. They are a truly classy 'noble family' who knows how to live the 'royal life'. On our way back to Mumbai, Ruturaj had kindly arranged for us to break journey at the Forest Escapes Koyna Resort. This luxurious and most scenically situated resort is owned by his friends - the noble family of Patan. To get to the resort we drove on a combination of highways, county roads and dirt tracks, and we also passed through a portion of the Sahyadri Tiger Reserve. At Forest Escapes we were given a two-bedroom villa with a private pool, but the highlight was the views from the verandah of the hills covered with dense jungles. The evening was spent with Satyajit Patankar and Vijayendra Patankar. Their family owns the resort and both of them educated us about the region and its wildlife.
Bob with Aaryamaan, Gauri and Ruturaj Ingle
The following day we first went to the impressive haveli and family temple of the Patankars, who are the Nobles of Patan. Later Satyajit Patankar took us on a marvellous drive on dirt roads in the hills around Patan. We also drove through what is one of the biggest wind mill farms in Asia and visited an astonishing cave temple. Then it was on to Solapur where we joined the national highway and returned home. We have promised Ruturaj that we will go back after the monsoons when all the water bodies are full and the forest is green and can be seen in all its glory. Ruturaj has also said that he will introduce us to some more magical driving roads. Eagerly waiting for that to happen.

Photography: Aaryamaan Ingle, Rammy Nagpal & Bob Rupani
Price (Ex-Delhi)
Starts Rs 29.98 Lakhs