Off-road 101: Gear
Unlike road gear, off-road gear is designed to work in a different way. Firstly, they tend to trade off abrasion resistance in favour of mobility. Not something to worry too much about. If you're riding off-road, your primary adversary tends to be rocks, mud and gravel but not tarmac. Hence, impact protection takes precedence over abrasion protection. With the requirements being very different, the kind of gear too is different. Here's a list of off-road gear you should be looking at.
Helmet and goggles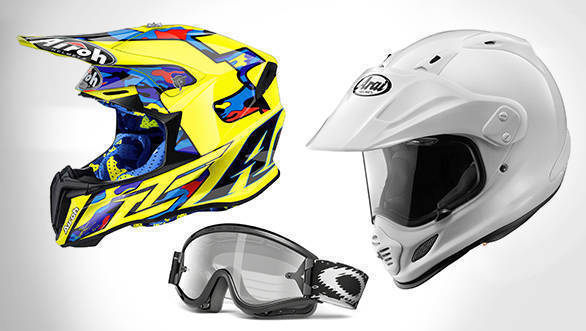 Riding a motorcycle off-road is an immensely physical activity. And as with any rigorous activity, your body requires a large amount of air to burn all the calories and create the energy that it requires. That being the case, the way to maximise the air available to the rider is to have maximum airflow through the front of your helmet. And that is the main reason why off-road helmets are shaped the way they are. The large viewport allows large amounts of air to pass through. The peak helps keep the sun out of the riders' eyes and also lets them deflect roost coming off of any riders in front of them. And combined with a good set of goggles, off-road helmets offer the best balance of breathability and protection.
But if your off-road riding is slower and more steady, then you might want to look at an adventure touring helmet. These helmets resemble motocross helmets in shape but have a visor that you can shut. This helps on long tarmac sections leading to your favourite trail where the wind noise and bug splatter can get really annoying. And once you hit the trails, you just have to flip the visor open and put on your goggles for almost the same feel as motocross goggles.
Every major helmet manufacturer in the world has a line of off-road helmets. Some of them even make off-road helmets exclusively, Fox Racing for example. My personal favourites though are Airohs, especially the Twist series. They're super light and have excellent venting thanks to massive exhaust vents at the back. They're also Airoh's entry mid-level helmets, which means they won't break the bank.
Boots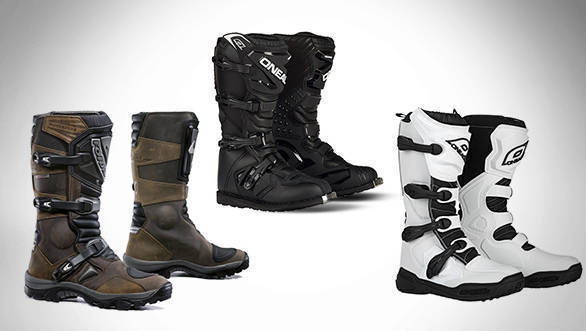 Boots are the only piece of off-road kit that doesn't place mobility over protection. There are three different types of off-road boots that are generally available - motocross, enduro and adventure. They look similar, but if you look closely, there are a lot of differences among the three. Motocross as well as enduro boots are built to take a serious beating. I'm talking about banging your foot against rocks at 60kmph and walking away without a problem. Between the two, the main difference is that enduro boots come with soles that give you more traction when you're walking around and also usually has a steel clip at the toe to make sure the sole doesn't come apart if you hit a rock or tree trunk. The sole allows you to get down and push your bike out of tight spots or help a mate who's stuck or even do some sightseeing on foot when you get to a nice view down your favourite trail. Motocross boots have relatively smoother soles that are designed to not get caught in ruts or muck when you're trying to get ahead of your fellow racers. Unlike these two, adventure boots are not as built as rigidly. They are designed for more comfort while retaining some of the characteristics of enduro and motocross boots. I currently use O'neal Riders, O'neal's enduro boots. They take a while to break in, but offer excellent protection and great traction while walking around.
Gloves
Motocross gloves tend to be rather flimsy when compared to road gloves or even endure gloves. Most of them don't even have knuckle protection. While the simple neoprene construction of most motocross gloves are great for feel and mobility, the thought of exposed knuckles always scares me. I'd always recommend swinging for the enduro gloves. They offer a great mix of flexibility and protection. Some of my favourites are the Fox Bombers, Thor Impacts and Knox Orsa MX. I especially love the Orsas for their secure closure system, seamless fingers and excellent fit. Oh, they also have a special wipe zone on the finger to wipe off muck from your goggles.
Jersey and pants
Again keeping mobility and breathability in mind, heavy jackets and pants are a strict no no when riding off-road. Since the sport requires so much weight transfer and body positions changes, you need as much flexibility as you can get. This is why most riders use light jerseys and pants. The jerseys are made of light, synthetic fabrics and so are the pants. The pants, however, get reinforced (synthetic) leather patches on the inside of the calf to resist heat and also give the rider a high traction surface to grab on the bike. Almost all the jerseys and pants are made of similar materials and use the same construction so you really can't pick the best out of the lot. It really comes down to what colour you prefer. Fox Racing, Fly Racing, Thor and Alpinestars all make several designs that range from subtle to downright outrageous.
Elbow and knee armour
Obviously, riding around trails wearing just a jersey and pants is a bad idea. No matter how much you value mobility, you still have to strap some protection onto your body. This is where elbow and knee armour comes into play. Most off-road armour is designed to be worn under your jersey and pants. You can get them for anywhere from a few thousand rupees to ten thousand rupees. Off-road armour straps straight on to your elbows and knees, and if you've attached them right, they won't move around at all no matter how much you're moving on your motorcycle. I've always been a fan of EVS gear. They make a wide range of armour in a wide variety of prices. I've been using EVS Option armour for the longest time and love the amount of protection they offer for the price. If you can afford it though, go for the more expensive armour. Flexibility goes up and bulk goes down in leaps and bounds as you go up the price range. Knee armour also moves up from being just protective pads to supportive braces as you go up the price range.
Roost deflector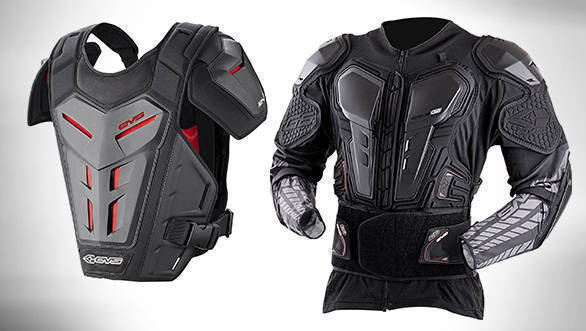 This is what will complete your arsenal of basic dirt gear. Roost deflectors, as the name suggests, are meant to deflect roost. In simple terms, it is meant to protect your torso from stones and other debris that the motorcycle ahead of you kicks up. Roost deflectors also give you protection from blunt impacts, shrubs and branches that want to slap you around.
There are two main kinds of roost deflectors - under the jersey and over the jersey. I really don't need to explain the difference now, do I? I've always preferred under the jersey designs as I hate having leaves and twigs stuck in between my roost deflector and jersey. Whatever the design you choose, the roost deflector will be your best friend when riding on any loose surface.
A favourite of mine is the Revo series from EVS. They're affordable and offer shoulder protection in an under the jersey design. Something that is hard to come by unless you use a ballistic jersey.
Oh and in case you are wondering ballistic jerseys combine elbow, shoulder, back and chest protection in a (usually) mesh chassis. They take the protection from roost deflector a step further.
Now that you know what to get, here are a few websites I use to buy most of my gear. Some of them ship from the US and some of them ship from within India.