OD garage: TVS Scooty Zest 110 introduction
As I write this, the TVS Scooty Zest 110 is barely a day old on the OVERDRIVE fleet. It arrived yesterday and I've just hammered the wee scooter all the way to work. And I'm well pleased.
Like I said after the test ride at the TVS track, I think the mild-mannered men of Hosur have created a special little scooter that is labelled as 'for girls' but capable of handing it out to the boys. Works in the real world too!
The TVS feels extremely well made and the feature spread is thoughtful as well as useful. More importantly, the lack of weight and a lovely engine makes it great fun to ride. It's super quick getting away from the lights and the brakes feel strong, encouraging you to go fast knowing you can slow down quickly and safely when you need to. The suspension feels taut but not crashy - the perfect combination.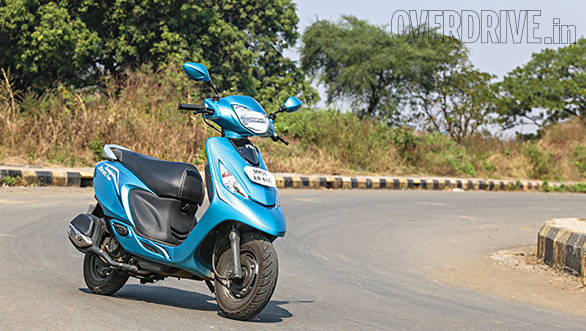 To wit, a large chunk of my commute is flat out light traffic on a highway. The TVS is the first scooter I've ridden that happily sits at full throttle for these eight kilometres with absolutely no sign of stress at all this year. The last one to do this was a Vespa. And despite the relatively small fuel tank, the Zest's needle never dropped, which is another surprise.
What I wouldn't have been surprised by would have been its cornering ability but there aren't any real corners on my way to work. I can feel a confident chassis but I haven't been able to taste it just yet. Rest assured, I shall, very shortly.
On the whole, I think the Zest represents a step forward for the Indian scooter and I'm excited to have one to ride this year. I think the tiny mudflap over the rear wheel's going to get nixed and maybe we can tune the engine as well for still more guts. Can't wait to see where the Zest takes us.
Total mileage 430km,  date acquired November'14
This article was published in the January 2015 issue of OVERDRIVE
More from OVERDRIVE on the new TVS Scooty Zest 110:
TVS Scooty Zest vs Mahindra Gusto vs Suzuki Let's
Price (Ex-Delhi)
Starts Rs 59,925