OD garage: TVS Jupiter completes 7 months and 7565km
You already know that the Jupiter has a fuel filler cap just above the tail lamp. It's far more convenient at the time of filling fuel. But imagine what happens when, in the middle of the night your scooter's under-seat storage refuses to open and you are running out of fuel. This is exactly what happened to me one late night during issue closing. I managed to find a fuel station that night. But that was when I realised that how important the external fuel filler cap is – any other scooter and I'd have been in a nasty fix. My point was confirmed when I got pulled over by cops as I reached near my house at a nakabandi. It was a routine check and the cop asked to inspect the vehicle's documents. As you can imagine, they were in the boot which was jammed shut! Fortunately he was a reasonable chap who let me go after a thorough explanation and plenty of attempts to get the thing open.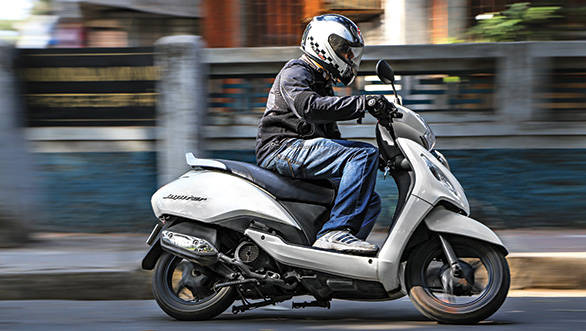 The very next day I took the scooter to a mechanic to fix the boot issue but he couldn't and suggested I go to a key maker. The key maker failed as well and suggested I go straight to the TVS service centre. Fortunately, the Jupiter was due for service as well so it was two birds taken care of. TVS have always been very proactive with their service. They got the job done in a day. I now have a smooth running Jupiter and the boot finally opens! Our Jupiter is now 7600km old and has been going through some good and some really bad roads in Mumbai and she continues to run without a complaint.
You can read the TVS Jupiter intro here and the second report here
Price (Ex-Delhi)
Starts Rs 54,349