OD Garage: The TVS Phoenix after a year and 7,000km
The TVS Phoenix was my first long termer after joining the OVERDRIVE team. Now that it's leaving after nearly a year in the OD Garage, this is an especially important moment for me. During its time in OVERDRIVE's long term fleet, the Phoenix has served various roles. It was my daily commute machine for nearly four months. It was also used for running office errands. Need some duct tape? Take the Phoenix. Need to visit the new office? Here are the Phoenix keys. Love riding? Er, maybe you should look elsewhere. The Phoenix was much-loved for its no-nonsense attitude and fuel-efficient habits, but an exciting ride it was not. A tank full and the Phoenix will take you around the state before needing a refuel. That may be stretching it a bit, but this small gutsy TVS is among the most frugal bikes with a disc brake that we have had for quite some time. The powerful front petal disc is what gave me confidence to take the motorcycle home over roads filled with idiots. The Phoenix handled bends as well as it would the broken roads. TVS's service was also top notch and the bike would always be returned in perfect condition. Even after days of being inactive, the Phoenix springs to life at the touch of a button. No choke, frantic kicks or swear words required.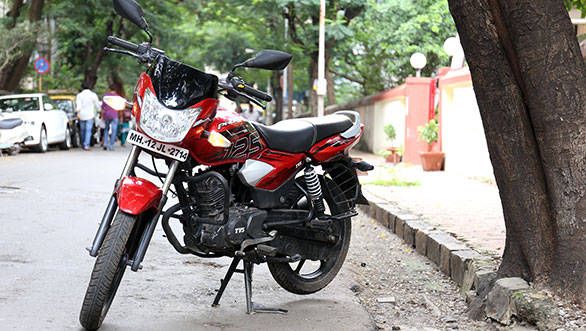 If you're on the lookout for pure fuel-efficiency, comfort and confident braking, the Phoenix makes a compelling and relatively affordable option.
When I was initially handed over keys of the Phoenix, I was really impressed by the paint job. As the days passed, the similarities with its 110cc cousin became evident. The Phoenix is not the sort bike that turns heads, but it is loaded with several attractive features, some altogether new in this segment. These include the LED pilot lamps, hazard lamp switch and the all-digital instrument cluster. The pass light, though, was a bit strange; it works only at night when the headlamp is switched on.  This, TVS says, was intentional since repair of pass switches by local mechanics end up with the entire system getting botched. The Phoenix-type pass switch helps avoid this problem and can be repaired very easily.
If the Phoenix is so good, why aren't we seeing more of it on the roads? The answer being that it isn't desirable enough, and this is its sole undoing. TVS markets the Phoenix as a premium commuter, but truth be told it's not much more than a mirror image of its smaller sibling, the Star City. Nevertheless, if you're looking for fuel-efficiency, comfort, confident braking and affordability in a single package, the Phoenix makes for a compelling option.
Read our launch report of the Phoenix here
Read our comparo of the Phoenix with the Stunner here