OD garage: KTM 390 Duke after 7,600km and six months
I've put on nearly 5,000km since the last update and a lion's chunk came from our ride down to the track for the track school that Indimotard runs with us. On the way back, the service indicator came on about 300km before Mumbai and one of the first things I did was to check the bike in for much overdue TLC at KTM's Seawoods, Nerul service centre where my experience remains fantastic. They told me that I'd caught them at an ebb - motorcycle wise - and that if I waited, they'd have the bike ready in forty minutes or so. Two cups of chai and some conversation later, Ferocitas felt renewed.
So what's changed in the 7,000km? A friend rode the bike over the weekend and commented on how smooth my KTM seems to be compared to all the others. But apart from having hammered all the performance out of the engine at every available opportunity, I've done nothing special to get this result.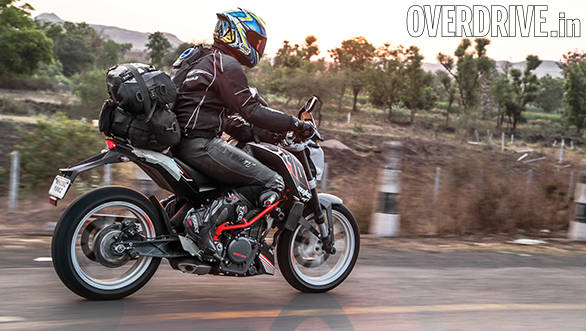 On the other hand, that hammering is making the Metzeler tyres look a bit worn. And just as the first rains started, we received a set of new prototypes from a manufacturer to try out. I'm not sure if I'm allowed to discuss the make and availability just yet, but the prototypes are very good. The Metzelers are better in every respect but the new tyres should be significantly cheaper while offering respectably similar performance. Stay tuned for a full tyre report once I clear it with the manufacturer.
Apart from this, the KTM is everything I expect a motorcycle I own to be. It's ferociously quick, seriously happy when you don't back off in the wet and above all, utterly reliable without a glitch or a hiccup. The only issue seems to be that as more and more bikes arrive for testing, I have less and less time to ride the KTM.
Total Mileage: 7,600km   Date acquired:  Feb'14   Mileage since last report: 4,696km   Fuel:  171.4 litres   Efficiency: 27.4kmpl
Read more about the 390 Duke ownership
Price (Ex-Delhi)
Starts Rs 2,52,928