OD Garage: Hyundai Grand i10 diesel fleet introduction
The new addition to OVERDRIVE garage, Hyundai Grand i10 is our designated camera  car these days, and it is a constant feature at our recces and shoots, which means lots of running around beside daily commutes to the office. The reason why I like this hatchback is that photographing cars from it is very convenient. The boot opens hydraulically and holds firm while in motion. The 256 litres of boot space in the Grand i10 plus the foldable rear seat are good enough for me to fit in and shoot comfortably while tracking a car.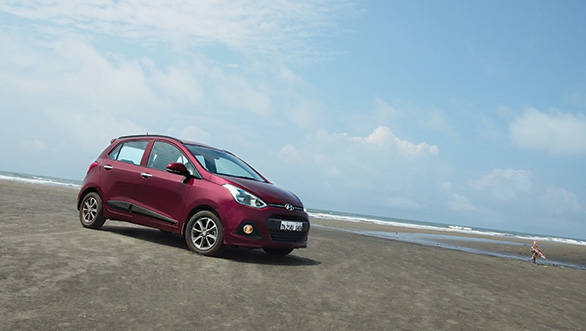 The Grand i10 is efficient, comfortable and makes a great companion for Suresh
An average efficiency above 17kmpl means we avoid frequent visits to the fuel pump. That's a good thing as we do a lot of running around, including my two-hour drive to the office and back through heavy Mumbai traffic. A fuel efficient diesel car is the obvious choice for highway drives, and in that respect the Grand i10 is my favourite long termer in the fleet.
The brakes of the Grand i10 are a bit sharp and sometimes result in the car braking abruptly. Once, a closely following vehicle had to brake hard as a result, leaving the driver quite upset. Of course, this isn't due to a fault in the car and hopefully I will get used to the brakes soon. I also intend to drive down to my hometown in Kerala and I think the high fuel efficiency of the Grand i10 will make it the ideal companion.
Read our first drive of the Grand i10 here and comparo here
Price (Ex-Delhi)
Starts Rs 4.98 Lakhs