OD garage: Hyundai Grand i10 diesel after 24,314km
All plans in OVERDRIVE are constantly subject to change. On two separate occasions I planned on taking my Grand i10 long termer to Kerala but on both occassions it didn't work out. Which means that the Grand's longest trips to date have been its usual and frequent Mumbai Pune jaunts. Given the fact that it is a very efficient diesel and has a practical hatch opening means it's one of the most popular cars in the OD garage and has almost crossed the 25,000km mark in just a few months with OVERDRIVE.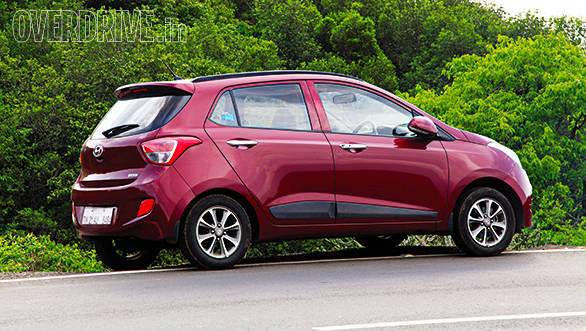 Last time I told you about how I was very pleased with the Grand's multiple features and how they make driving in Mumbai's traffic a slightly more pleasurable experience. This time it's the steering and gearbox that have impressed me. The Grand i10 has a slightly elastic feel to the steering where the wheel gently swings back to the centre after you let it go. Some of my colleagues don't like this and call it artificial but I enjoy it knowing that the wheel will twist back to the centre when I let it go. The gearbox too is super smooth and coupled with the light clutch makes the Grand a breeze even in the worst of traffic.
In town the Grand continues to impress me with its combination of ease of driving and creature comforts. However on the highway the small three cylinder diesel engine can get a little loud. The handling is secure and the Grand is one of the best handling small Hyundai's we've experienced yet. However I still prefer to keep it at just above triple digit speeds where both the car and occupants are happiest.
Total Mileage 24,314km   Date acquired  Oct'13   This Month: Mileage 6,014km   Fuel  323 litres   Efficiency 18.6kmpl
Hyundai Grand i10 introduction
Hyundai Grand i10 second report
Read more on the Hyundai Grand i10
Price (Ex-Delhi)
Starts Rs 4.98 Lakhs
Price (Ex-Delhi)
Starts Rs 7.75 Lakhs
Price (Ex-Delhi)
Starts Rs 5.99 Lakhs