OD garage: Hyundai Elite i20 introduction
Our newest fleet member, the Hyundai i20 turned out to be a surprise package and not in the best way possible. I had last driven this car just a little over a month ago in Rajasthan. Out there where the roads were smooth and it impressed me no end. But the circumstances have changed and so has the location. From traffic free roads to bumper to bumper traffic over roads with no end to potholes, undulations and surface breaks, the i20 does feel significantly different.
At first though, the initial impressions from friends and colleagues had been positive. People did like the interior styling and quite a few drew comparisons with how the interiors of a BMW and this hatchback felt similar. That in itself is a huge compliment to Hyundai's design team and quality. That was followed by compliments for the space inside and how it simply superseded almost every other hatchback in the country today. Those were the good bits generally and I too have been quite impressed with the way this cabin has turned out, it's sophisticated, comfortable and practical.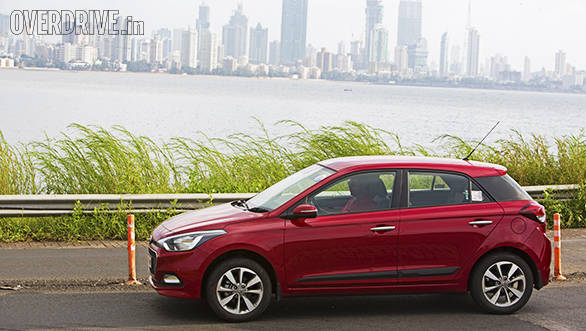 But here comes the issue I have. Having driven it extensively for the last few weeks in Mumbai, I do feel the suspension is inadequate for bad roads especially the ones in Mumbai after the rains. First there is a fair bit of body roll which you can sense over the constant undulations in the road surface. Then there is the suspension itself or the dampers which feel strained the instant you let two passengers get into the rear. The suspension crashes into each and every pothole and that is a sensation your backbone is not going to let you forget in a hurry. This is also compounded by the 16-inch tyres which have a slightly lower profile. I assume the 14-inch tyres will offer slightly better ride quality but this higher spec clearly sacrifices ride comfort. Then again, the handling is still impressive whenever the car can maintain its composure or get a good, flat, even stretch of road. I also found the steering to be a bit more disconnected and lifeless in urban conditions. Out on the highways where the steering inputs are fewer, the steering feels sorted. But where traffic gets denser and quicker and more movements are required on the steering wheel, it neither feels as light nor as connected or precise.
There is still a lot more to examine in the Hyundai i20 and this is just my initial impression. More will follow in the coming months.
Total mileage 2,723km,  Date acquired Aug'14
Hyundai Elite i20 image gallery
Hyundai Elite i20 spec comparison
Price (Ex-Delhi)
Starts Rs 5.5 Lakhs
Price (Ex-Delhi)
Starts Rs 6.8 Lakhs
Price (Ex-Delhi)
Starts Rs 5.73 Lakhs