OD Garage: Honda Activa 125 introduction
I am not exactly a fan of scooters. Arguments swing either way about how scooters are helpful with their variomatic transmission and underseat storage. But I prefer motorcycles just for the sheer joy of shifting gears and using the clutch. So team OD decided to give me our latest long termer, the Activa 125 to try and change my mind.
Scooters also don't appeal to me because of my height. A six foot plus guy (yes, I am very pleased about my height and I insist on bringing it up often enough) on a scooter isn't exactly Tom Cruise on a Speed Triple. You need to encroach on the pillion seat to distance yourself from the handlebar. However, on the new Activa, I didn't have to do that. The ergonomics are just right for any size (they don't call it unisex for no reason). On one weekend, when mom wanted to go to the grocery store, the Activa happily swallowed the huge shopping bag that she had. Plus the flat footboard also accommodated two small bags leaving enough room for me to keep my feet up all the time.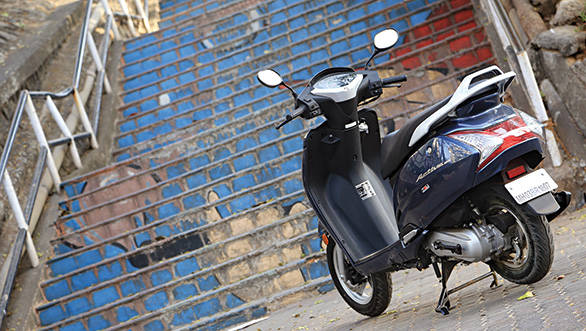 While the new Activa may not be as powerful as say an Access or even the Vespa, it feels reasonably nimble and agile. I saw a speedo indicated 90kmph on one particular open stretch and the engine felt calm even at that point. The fuel gauge though wasn't and rapidly dropped bars at sustained high speeds.
Overall, the Activa 125 solves most of the issues I have, as a rider and as a six-foot plus guy. So scooters aren't that bad after all.
Price (Ex-Delhi)
Starts Rs 67,490