OD Garage: 2013 TVS Jupiter completes three months and 4,100km
'Kitna deti hai?' a person next to me on the Activa asked while I was waiting for the signal to go green. I told him 45-50kmpl. Again curiously he asked, "Gadi kaisa hai?" I just smiled and said 'gheuntak'. The Jupiter grabs a lot of public attention, mostly because of its stylish alloys, sleek design and of course the fuel lid which is at the back just above the tail lamp. What people don't see is the large under-seat storage that's good enough to carry a medium size helmet. The ample leg space in the front makes it very comfortable to ride. The front leg space is very useful when carrying loads of baggages when returning home from a supermarket. It might even fit an LPG cylinder comfortably, if you insist on carting yours around. But the one thing I liked most about the Jupiter is the rear footrests. They are placed and designed so that the pillions shoes don't interfere or come in contact with the rider's feet – an issue we have discovered with the Activa/Activa i. It hasn't been an entirely niggle-free affair though – the horn stopped working a week back but it was repaired quite easily by a local mechanic. Another minor issue was a rattling sound coming from the exhaust, which was taken care of at the time of first service.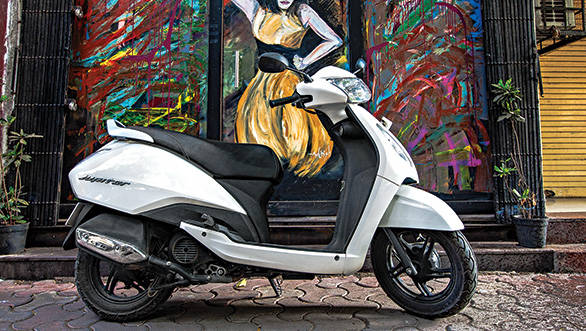 Apart from city commuting, the Jupiter is decent on the highways as well. It's quick, fast and stress free. The engine responds well while riding in the economy mode (careful modulation of the throttle lights up a green light in the console). However, even if you ride in the power mode it remains smooth and efficient. The suspension is well sprung and is adept at handling the bad roads I have to deal with. It's this ride quality and practicality that's making me quite attached to this scooter. So far I have clocked more than 4000km on the Jupiter and plan on logging plenty more.
Price (Ex-Delhi)
Starts Rs 54,349