OD Garage: 2013 Ford EcoSport diesel fleet introduction
This time around I decided to take the Ford EcoSport longtermer for my 1000km weekend trip home to Belgaum. OVERDRIVE and the EcoSport have had a colourful past. Our first test car had some scary ABS related issues while our first longtermer rolled back into a tree and smashed its rear windscreen. That was down to the inattentive Ford driver who forgot to pull up the handbrake and left it in neutral when he dropped it off. Our replacement longtermer promptly went back to Ford when we discovered that it doesn't have as much ground clearance as we thought nor did it have a sump guard installed which resulted in a destroyed sump. Our bad. The fourth car is the gray one you see in the picture above. And like you see in the other, smaller picture, it's not free from issues either. From day one the car displays a warning light on start up, claiming that either the ABS or the brakes themselves are malfunctioning. There are also a couple of irritating rattles coming through the plastic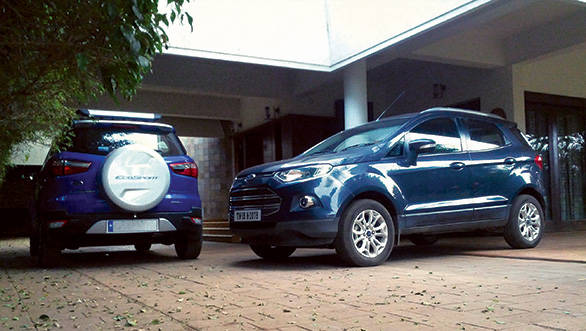 Our EcoSport diesel meets the petrol EcoBoost version
With that out of the way let's get to the positives. Firstly, both the brakes and ABS work fine. I checked on the first gravelly patch I could find. It simply seems to be an electrical glitch, but it's one Ford will have to take care of when we return the car for service. As far as the rattles go we're willing to give the EcoSport the benefit of doubt. The car had done 16,000km of undoubtedly abusive and carefree driving at the hands of the many journalists Ford must have given the car to before us. In town the EcoSport is a joy to drive thanks to the high driving position, compact dimensions, well weighted clutch and light steering. Special mention must be made for the parking sensors. They are perfectly calibrated to account for the spare wheel sticking out the back. Stop as soon as you hear the unbroken beep and you'll never bump into anything.
From day one the car displays a warning light on start up, claiming that either the ABS or the brakes themselves are malfunctioning
The happy driving experience extends to the highway. The car feels rock solid in a straight line and has a rather composed ride. The engine feels rev happy and refined but some more bottom end grunt would have been nice. Yes there is body roll but get used to it and you'll find plenty of grip. Any talk of the EcoSport being prone to 'toppling' is complete rubbish. Remember, if you try hard enough or act silly enough you can topple anything, including a go kart.
Part of the decision of driving the EcoSport down to Belgaum was to see how its diesel engine matches up against the EcoBoost petrol in my family's brand new car. The diesel while not ultimately as quick or refined scores hugely when it comes to mileage - I got 14.8kmpl (on the trip computer display) with plenty of brisk highway and city driving. That is considerably higher than the 11kmpl my rather disappointed father is getting from his car, for which Ford happens to claim a high 18.88kmpl. With careful but realistic driving the diesel's mileage increases up to about 17kmpl which results in a range close to 900km. The EcoSport then is a brisk but frugal long distance machine.
So far our EcoSport has had a few niggles but it's mostly been a good experience. The car is nice to drive, has a great safety net, plenty of features and an enjoyable sound system. Next time around we'll let you know if the issues are taken care of post service.
Price (Ex-Delhi)
Starts Rs 7.99 Lakhs
Price (Ex-Delhi)
Starts Rs 13.59 Lakhs