OD Garage: 2013 Ford EcoSport 1.5TDCi Titanium introduction
It's almost like adopting a used car, but a relatively new one. It has nearly 16,000km on the clock, a few rattles and then a few battle scars on the exterior from all the road testing it has been subjected to as a press car. Interestingly, this is also the very same car we drove to Kolkata and back from Mumbai for our anniversary issue. So, it's almost like driving a used car that has been in the family. This is the Ford EcoSport TDCi in top spec Titanium (O) trim and it is ours for the next six months.
It is a well specced car. It gets six airbags and ABS on the safety end, and things like Bluetooth telephony, rear parking sensors, keyless entry and start and a digital climate control system for comfort and convenience. It also has a good driving position, decent visibility and comfortable seats.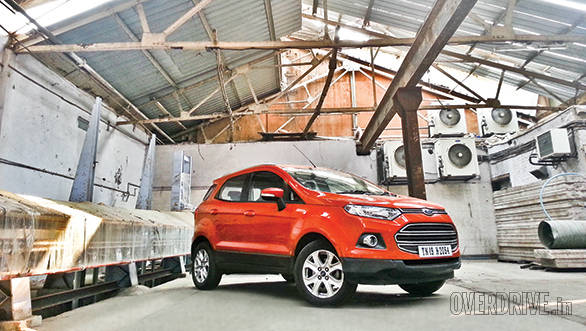 Moreover, all the things we liked about the diesel EcoSport on that trip hold true today as well. The steering is responsive but not unnecessarily heavy, it rides and handles beautifully, and though the engine is louder than we would have liked, its good mid range grunt and fuel economy more than make up for it. The gear shift quality isn't bad either; it isn't exactly slick or effortless, but it slots in well and never gets tiring.
But, there are bits about the EcoSport I still haven't warmed up to. The driver's armrest for one is useless; it's just too low and can't be adjusted for height. Also, one can't use the cup holders with this armrest in place; and this is just poor design. There's also no electric fold function for the ORVMs, the washer spray for the wiper is poorly directed and the door pocket accessibility can be a challenge.
More on how we get along with the EcoSport in future issues.
Price (Ex-Delhi)
Starts Rs 7.99 Lakhs