No Deal: Auto industry overlooked in COVID-19 economic relief packages
It is widely regarded in economic circles that the auto industry's health is a great indicator of how a country's economy is doing. The sector usually invests heavily, employs lakhs of personnel, and is the focal point of an entire network of suppliers and dealers. This aside from how important the sector's products are to mobilizing the entire country, right from big corporations to individuals.
The nature of this business also means that it has been disproportionately affected by the COVID-19 pandemic. Being a discretionary purchase, many buyers have postponed their car-buying plans until the uncertainty of the current situation tides over. The complete lockdown in the month of April made this situation much worse when not
a single car was sold in the country. Data from SIAM says automakers lost a combined Rs 2,300 crore for every day
that production was shut. Closer to the ground, FADA says that 275 dealerships have had to shut shop.
In this situation, it was expected that there would be some governmental support towards the industry in the Rs 20 lakh crore relief package to counter the COVID19-induced shock to the economy. Unfortunately, that has not happened. There are no provisions to directly support automakers or the peripheral industries around them. The various tax breaks and interest deferment schemes introduced for MSMEs will be helpful to an extent for dealers and auto component manufacturers, but these will probably not address the deeper issues plaguing the sector currently.
This snub comes at a very difficult time for the auto industry, it has been facing one of its deepest and most extended ebbs over the last 15 months. Buyers have stayed away due to a dearth of cheap loans, uncertainty over emission standards, and heavy taxation. Further, the switch to BS-VI emission norms have called for heavy investments in new technologies, along with many carmakers having to rethink their business plans for the market. As luck would have it, the switchover happened right as COVID19 started picking up in the country, shutting dealerships and leaving manufacturers saddled with obsolete vehicles and parts. As an example, Maruti Suzuki, one of the first movers in the switchover to BSVI, still had to write off Rs 125 crores of unusable BSIV parts from its and it's partners books. In sheer numbers, 18 per cent fewer vehicles were sold in India in FY 19-20, compared to the previous year. SIAM predicts that the COVID19 pandemic could cause as much as a 35 per cent drop in sales in some sections of the industry.
One of the biggest expectations from the government was the introduction of a scrappage policy. This initiative has seen success globally because of its two-pronged effect. Old, high polluting vehicles are put out of use, and buyers are forced to replace them with new cars, leading to more sales. A draft policy has been in consideration since 2018, but progress has been slow. Every other month Nitin Gadkari, Minister for Road Transport and Highways keeps announcing new ideas on the scrappage policy, raising hopes and expectations. Every other month, it turns out as hollow and noisy as beating pots and pans.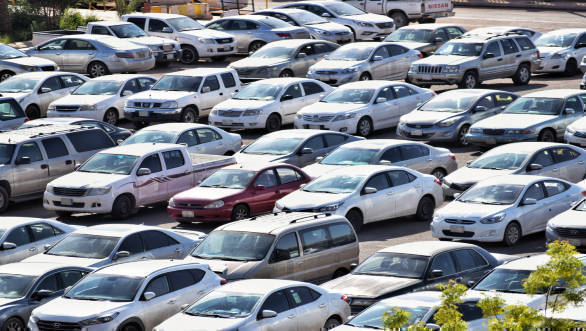 Photo by Haidan on Unsplash
It was also expected that there would be a rethink of the very high levels of taxation this sector currently faces. Currently, non-electric cars can be taxed between 29 and 43 per cent, effectively. A parliamentary committee was set up to find ways to reduce this, but there has been no further news in that direction. This could spur demand, and be an incentive for buyers to make that purchase they have been holding off on, maybe more so now with the loss of
income that the pandemic has wrought. Another positive step could have been formulating a system of cheaper loans
for buyers looking to make a purchase.
But as the industry slowly starts getting back on its feet, there seem to be some positives. Just in the first two weeks, industry leaders like Maruti Suzuki and Hyundai have received thousands of new bookings. These firms have also delivered most of the cars that were booked before the lockdown as well. Further, with production slowly ramping up, manufacturers will be able to manage inventory better, so a situation of oversupply, as with BSIV vehicles, doesn't arise again. Finally, just in May, 13 new cars have been launched in India. This includes everything from
the Renault Triber AMT to the BMW M8. This strong product offensive is set to continue for the rest of the year, so
prospective buyers might be in for quite a treat in the coming months.
Price (Ex-Delhi)
Starts Rs 5.3 Lakhs