NGT ban on vintage cars lifted
Monday, 18th December 2018, will be a landmark day for all vintage and classic car owners and enthusiasts in the national capital region (NCR) and also all over India. Simply because on Monday, the NGT (National Green Tribunal), allowed vintage cars to run on the NCR roads for exhibitions, rallies and maintenance.
The Delhi-NCR region alone is home to over a thousand vintage cars
On November 26, 2014, the NGT had banned cars which were over 15 years old from being used in the national capital region. At that time, the ban did not distinguish between 15 year old vehicles and vintage or classic cars. As a result these also could not be used on the road and could be seized by the authorities in case they came out and broke the rule. In fact organizers of vintage and classic car events in the NCR region had to move court and request the NGT to give special permission for holding such events and allow use of vintage cars on the scheduled dates of the rally or exhibition.
Now they are free of this unnecessary and cumbersome requirement. A bench headed by NGT Chairperson Justice Swatanter Kumar has said, " We direct that antique cars which satisfy prescribed norms under the Motor Vehicles Act would be allowed to ply on the road for rallies, exhibitions and maintenance and not otherwise."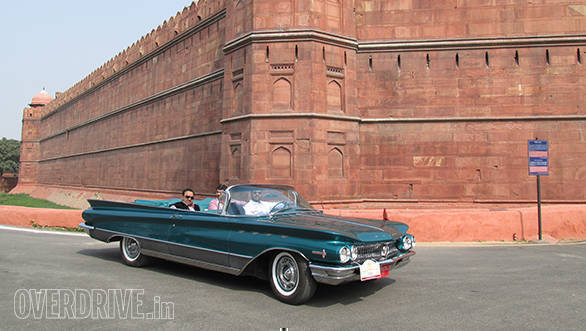 Thanks to the permanent exemption, vintage and classic car owners can now even drive their prized possessions to the iconic locations like the Red Fort
The same bench said, "We also observe that the applicant association as part of their corporate social responsibility would make a contribution towards the environment by planting trees and providing dustbins which would help in improving the ambient air quality of Delhi".
This order is a result of a plea filed in the court by senior advocate KTS Tulsi, who is himself a classic car aficionado, and president of the Heritage Motoring Club of India. Apart from KTS Tulsi, several other clubs, associations and classic car collectors have also written to the government and various other authorities seeking an exemption on the ban for vintage cars. Many have been part of this plea and have made the authorities aware that vintage cars are part of the historical motoring heritage of India, and this victory belongs to all of them too.
Tarun Thakral, the founder and creator of The Heritage Transport Museum near Manesar said, "This is an order I heartily welcome. It is a big relief to all of us vintage and classic car collectors and lovers. But I am still to see the entire order and I am hopeful that it will meet all the expectations of the vintage car community."
Vintage and classic cars are typically taken out for exhibitions and vintage car rallies and are not driven very often
The good thing is that the NGT has taken cognizance of the fact that there is a clear difference between an antique car and 'an old car'. What is also great is that the various clubs, associations and classic car collectors all stood united on this issue.
But as is always the case in our country, there is still no clarity on who decides what is an antique car or not, or which one has historical motoring heritage. Similiarly what exactly is the definition of 'allowed to be used for maintenance'? I may say that my car needs to be driven 3 times a week over a total distance of 50 kilometres. Can this be acceptable?
While the lifting of the ban on vintage car use is most welcome, going forward what we need is a comprehensive all India policy for the use of vintage and classic cars. This must specify who decides it's a vintage car and why. The policy should also have proper guidelines like how many times in a year can these cars go out on public roads, what is the total distance they can be driven annually, etc.
As of now this NGT exemption of ban on vintage cars applies only in the NCR region. But this is because the NGT had only banned 15 year old vehicles in this national capital region. Since they were legally permitted elsewhere this latest NGT decision should certainly be a precedent for all other states and regions to go by. Let those old vintage wheels roll.