Never Stop Discovering - The Deccan Plateau
Followers of this series will be aware that last month we explored the lesser known 'Velavadar Blackbuck National Park', which has the largest population of Blackbuck in India. This time, we decided to head 'Down to Deccan' and discover wildlife living amongst humans in an unprotected area. Honestly, I was not aware of what we would uncover, but Indrajit Ghorpade, the Honourary Wildlife Warden of Koppal District in Karnataka and the Managing Trustee of the Deccan Conservation Foundation, had assured me that a lot of wildlife also resides there and his aim is to provide them with the necessary protection by working with like-minded people. Accompanying me was Dhritiman Mukherjee, one of India's finest wildlife photographers, who in my opinion easily ranks amongst the very best in the world too. We journeyed in the trusty Land Rover Discovery Sport, which is fast becoming my preferred vehicle for viewing wildlife.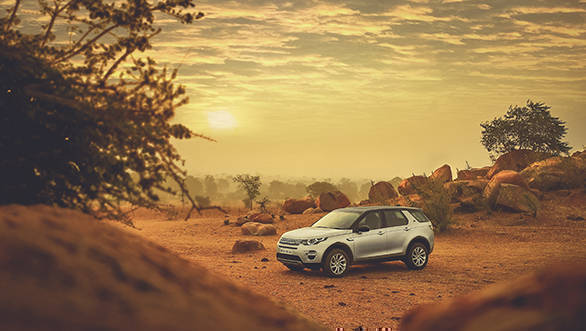 Lovely landscape of the Deccan Plateau
Dhritiman, Bob and Indrajit
We started our 'Deccan Odyssey' from Bangalore (now Bengaluru) and after a seven-hour drive (about 450km), we reached our host Indrajit Ghorpade's ancestral home in Hagedal. This over 100-year-old house also functions as the field office of the Deccan Conservation Foundation. Set in a fairly thick forest, it attracts lots of birds, and just as we drove in, I spotted a mongoose peeping out from behind a bush. After dark we could hear the hooting of various owls and also the howling of jackals. At the campfire that evening, Indrajit laid out the plans he had made for Dhritiman and me to sight the wild inhabitants of the land his forefathers had once ruled over.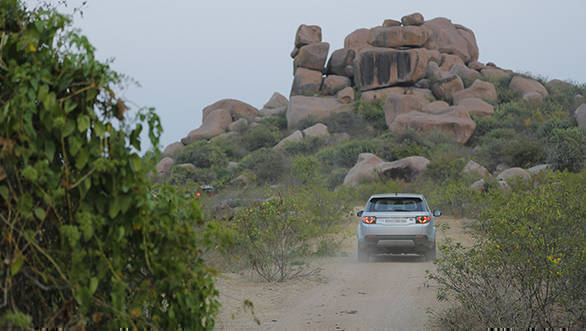 Driving amongst the age-old rocks
Next morning, we were on our way well before sunrise and watched the solar disk come up the horizon while standing in some ploughed fields. Indrajit told us that geologically, the Deccan Plateau is the oldest part of the Indian Subcontinent and the black cotton soil here is very fertile and irrigated by the waters of the Tungabhadra River. Hills of granite boulders, accumulated over 60 million years ago, dominate this distinctive landscape in varying shades of grey, ochre and pink. Soon as the sun was up, we sighted some birds and while we were watching them in flight through binoculars, Indrajit suddenly became fully alert and signalled to us to be silent. He had heard a wolf howling. Wolves are known to howl as a form of long-distance communication and experts say they convey an array of information. Due to their loud pitch and the fact that wolves point their faces high when they howl, their calls can carry to a distance of about 15 kilometres! But having heard wolves so often, Indrajit felt this one was closer and maybe calling out to let his pack know his location. Just then, we heard it again and using this wolf's raised voice in the wind, as a GPS system, Indrajit directed me to drive towards some fields with standing crops in the distance.
Dhritiman photographed lots of wildlife from the Land Rover
The Land Rover Discovery Sport was pointed in the direction indicated by Indrajit, and though we came across many bunds (embankments) between the fields, I was able to stay true to the course thanks to the Discovery Sport's all-terrain capability and extremely efficient Terrain Response system. Dhritiman had his faithful camera with a massive bazooka-like long lens always ready, and was scanning the plains ahead. His keen and trained eyes were the first to spot the wolf stealthily moving towards the cornfields. Indrajit did not want to disturb the wolf or block his path in anyway and knowing the land well, he asked me to go around in a flanking manoeuvre that would allow us to get ahead and wait for it. The Indian wolf is highly endangered and it is estimated that only 2,000 to 3,000 survive, and here I was just about to see one outside of a protected area, something I had scarcely imagined. The moment the wolf came into view, Dhritiman was busy clicking away and captured some astounding images. Witnessing the master at work was a revelation and instilled even more respect in me for his passion, which is also his work.
Later when we were discussing our sighting, I learnt how very special it was, because the presence of a predator like the wolf in a cornfield established without any doubt that even such endangered species survive in areas inhabited by humans and live right alongside them. Are the locals aware of this? Of course they are, says Indrajit. And it is because of the respect they have for all creations of nature that India still has animals that exist outside protected wildlife sanctuaries and national parks. Indrajit and his Deccan Conservation Foundation are also working on sensitising the people further and helping make it easier for both, wildlife and humans, to live in the same space.
Sloth bears
After this lesson on conservation from Indrajit, it was time to motor to the rocky region where we observed Dhritiman setting up a hide amongst the bushes near a waterhole that is maintained by the Deccan Conservation Foundation (DCF). Here we left Dhritiman sitting camouflaged and patiently waiting for the wild denizens to come down to the waterhole for a drink. He was rewarded with the sightings of a pair of sloth bears, some birds and also a jungle cat. Dhritiman is not just supremely talented, but also fully devoted and committed to wildlife photography.
Spurfowl and squirrel
Jackal seen and photographed with torchlight
Curious jungle cat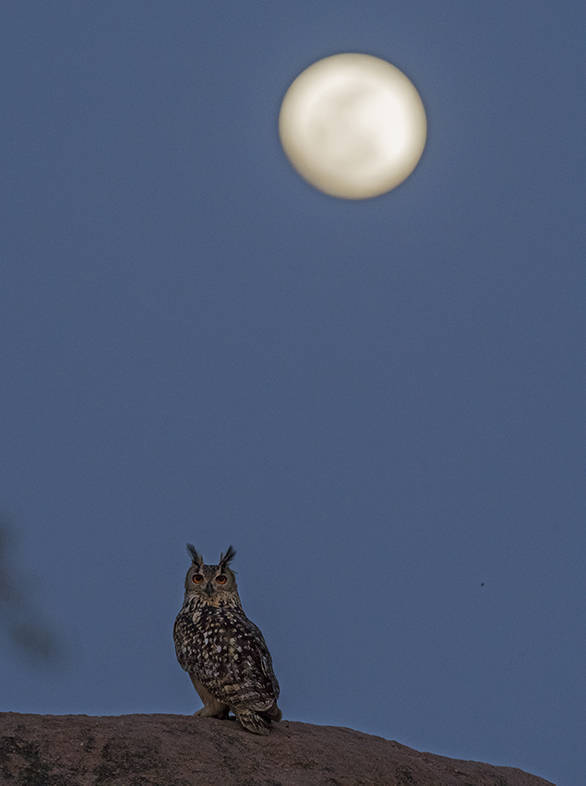 Eagle owl
Wolf in cornfield
Over the next few days, we had some more incredible sightings including that of a jackal after dark in another field with standing crop and Dhritiman took a wonderful photograph in torchlight. He said, "To me, wildlife photography is more meaningful when I show the behaviour and habitat and working here in this human occupied landscape is even more fun and challenging." Later, Indrajit also showed us all the work he and the DCF are doing in this region. We visited schools where we distributed posters with messages of wildlife conservation and educated the students on the value of our natural wealth and heritage. We saw the bus shelters adorned with images and themes of protection of nature; visited waterholes maintained and replenished by the DCF; observed Indrajit and his team put up motion-sensing trap cameras to study the movement of wildlife and were part of an interaction with local villagers to understand the problems and solutions of living alongside wild animals. Indrajit also proudly took us to locations where they had put up signboards requesting motorists to slow down, as animals have the right of way. Always.
We also saw wildlife after dark
Out for a prowl on a moonlit night
Never Stop Discovering
Dhritiman Mukherjee
Dhritiman Mukherjee
Dhritiman Mukherjee is one of the most respected and loved nature photographers in India today. He is admired for his dedication, perseverance and hard work. In 2014, he got the RBS Earth Hero Award for inspiring people towards conservation with his images. In 2013, he won the Carl Zeiss Conservation award for his contribution to conservation. He has also won many other national and international photographic awards and is now acclaimed as one of the world's best nature and wildlife photographers. As a professional photographer his work has been being published in large numbers in all kinds of print and digital media around the globe including the BBC, National Geographic, New York Times, Lonely Planet, WWF, London Geographic, Telegraph, The Guardian, Geo, etc, to name a few.
Hide used by Dhritiman
He is a complete outdoor field person who photographs while mountaineering, diving underwater and even sky diving! He has worked in the harshest deserts and densest rain forests. Dhritiman has literally climbed mountains to shoot rare species, flown in the sky to get uncommon views of birds and dived under frozen lakes and the deep seas to shoot the untamed world along with its ocean predators. He has climbed volcanoes, spent weeks in the canopies of trees, dived in complex cave systems and done all kinds of possible (and impossible) things to create and capture his distinct kind of images, which he believes are his tools to spread awareness about nature and wildlife conservation. Dhritiman spends around 300 days a year in the field and recently did a highly appreciated coffee-table book with Dr. Asad R. Rahmani named Magical Biodiversity of India published by BNHS (Bombay Natural History Society) and Oxford. He has done over 30 other books where he was the sole or major photographer and has also worked on a book, with our very own Bob Rupani, called "Tracking the Tiger-50 Days in India's Best Tiger Reserves", which was supported by Land Rover.
Deccan Conservation Foundation
Indrajit Ghorpade
Indrajit Ghorpade's family is related to the Chhatrapati Shivaji Maharaj lineage and he is the founder of the Deccan Conservation Foundation. His aim is to help conserve less popular animals like the wolf, blackbuck, bustard, etc and he is one of the few who is working to save wildlife outside demarcated and protected forest areas. He says, "I have witnessed an alarming decline in the population of wildlife in my life time, especially of grasslands and scrub jungle species like the wolf, hyena, blackbuck, bustard and countless others. Born in a family of nature lovers, I have lived almost my entire life connected to the outdoors and wilderness. Conservation became my passion and goal when I realised that if we did not do something serious in engaging the local population and making them the custodians of our natural wealth, we will lose most of our wild species. In fact it is estimated that we have lost over half our wildlife in the last century alone! Conservation in our country is largely 'tiger centric' and the Deccan is a neglected and misunderstood ecosystem too. This made me start the Deccan Conservation Foundation (DCF)." Indrajit also says, "The wolf is one of the most misunderstood and persecuted animals. I think by saving the wolf, we can protect all the associate species and preserve the habitats and ecology. Extinction is permanent. But there is still time for the endangered."
Indrajit interacting with villagers
Wildlife conservation poster distribution at a village school
DCF has put up many such signboards
Indrajit uses camera traps to record movement of wildlife
DCF maintains and fills some water-holes
Evening by the campfire
Images by: Dhritiman Mukherjee and Anis Shaikh
Also read,
Never Stop Discovering: Bera-Jawai in Rajasthan
Never Stop Discovering: Velavadar Blackbuck National Park
Price (Ex-Delhi)
Starts Rs 71.38 Lakhs
Price (Ex-Delhi)
Starts Rs 57.06 Lakhs
Related Stories