Movie review: Rush
I've always maintained that the 1976 season of Formula 1 is probably my favourite season of motor racing ever. It had all the elements of the sport neatly woven into one single year - close racing, monumental machinery, maverick characters, egos, fear, danger and immense courage. Growing up, I'd read about Niki Lauda and his heroic decision to come back to motorsport after his horrific crash at the Bergwerk Corner at the Nordschleife. But, what made an impression on thirteen-year old me was not Lauda's decision to come back to motorsport. But that he decided to pull out that very same season. That he still managed to return the next year to win another world championship title. And that after retiring from Formula 1, he once again returned and managed to win another world championship. His is a tale that gives me goosebumps every single time.
James Hunt, on the other hand, was someone whose story I learnt about thoroughly after reading Gerald Donaldson's biography of the man himself. Hunt was F1's proverbial playboy. Probably not the quickest driver out there, but determined nonetheless. And certainly one of the sport's great characters. To then learn that Ron Howard, as accomplished a director as they come, was making a film about this very season of Formula 1 was something that made me terribly happy, and slightly nervous all at once. Would it be authentically represented? Would the characters be portrayed accurately? Would it all look like it was set in the 1970s? Well, turns out I shouldn't have worried at all.
Niky Lauda (second left) with Ron Howard (right)
File photo of Niki Lauda in Ferrari
Rush opens at the German Grand Prix at the Nurburgring in 1976. The grid is lined with those beautiful cars, all from that very year. If you want authenticity, it doesn't get much better than this, with every single one of the cars that took to the grid in 1976 lined up right there. How did Ron Howard manage this? Well, Howard and his team of producers convinced the current owners of the cars, including Jochen Mass, to come on down, suit up and sit in their cars during the filming of the sequence. Just that opening sequence - it's enough to convince you that you're in for a treat. It's serves wonderfully as an aperitif ahead of the main.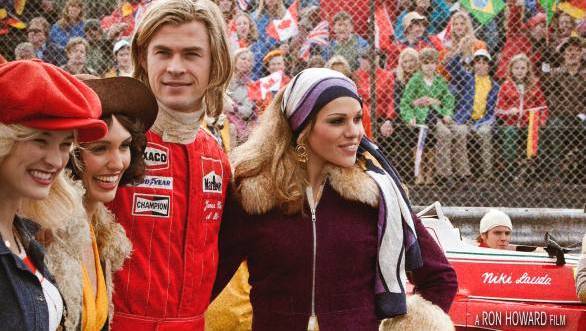 Now, given that Rush is a live action film, there were so many things that could have gone wrong. The prime being the casting itself. Chris Hemsworth, ragged blonde hair and all, makes for an apt James Hunt. However, it is Daniel Bruhl who excels as Niki Lauda. Credit must be given to the make up artist for getting Bruhl (both pre and post the accident) to look so much like the Austrian driver he's portraying. But Bruhl get's Lauda's clipped tone, manner of speaking and accent down perfectly. It's a pleasure to watch. The other actors, fit right in too - especially Christian McKay as Lord Hesketh. The cast certainly comes together beautifully.
With respect to the story - given that it is all based on actual events that happened in that year, there haven't been too many liberties taken as far as the plot goes. Rush is very much the story of two rivals in a season of Formula 1 that they were both determined to win. Dramatic liberties have, however, been taken, with the rivalry between Hunt and Lauda being portrayed as a lot more fierce than it actually was. What works in the favour of the film is that these two characters are not contrived - they are very much true to James Hunt and Niki Lauda and everything they stood for. This is where the story and the telling of it succeeds completely.
Then, there are the cars. Whether it is the Formula 3 races that were filmed at Brands Hatch, whether it is the Formula 1 cars in the 1975 and 1976 season, they are all bright and shiny and true to that era. Ah, the sight of Lauda's Ferrari 312T and Hunt's McLaren M23 racing wheel to wheel - it's terrific. And let's not forget that famous 6-wheeled F1 car, the Tyrell P34 in dark blue with Elf livery - F1 fans be warned, you'll need a drool bucket for this one.
But Rush as a film works not only because of its authenticity. It also works because it is a completely human tale. A story that will work and strike a chord with a viewer, even if he or she has never watched a Formula 1 race. This film might even convert a few into Formula 1 fans. Perhaps fans of that bygone era of the sport, but fans nonetheless.
Would we recommend you watch this film once? No. We recommend you watch it repeatedly. For people who missed out on that glorious period in motorsport, it's a peek into that era. And for those who witnessed that era, it's a means to go back and relive it. This one's darned near a perfect 10 in our books.
More photos from Rush