Monsoon cruise on the Harley-Davidson Softail Deluxe
Motorcycles and the monsoons. Quite a heady combination, no? Well, some of you may not agree. Who'd want to deal with rain soaked riding gear, slippery, pothole-riddled roads, and increased chances of having to call your insurance agent, in case of a spill. The reasons why some avoid riding in the rain are many, but there are a few, like me, who can't resist the lure of riding motorcycles, irrespective of the weather. And when the motorcycle in question is a Harley-Davidson, I required no second invitation to hit the road.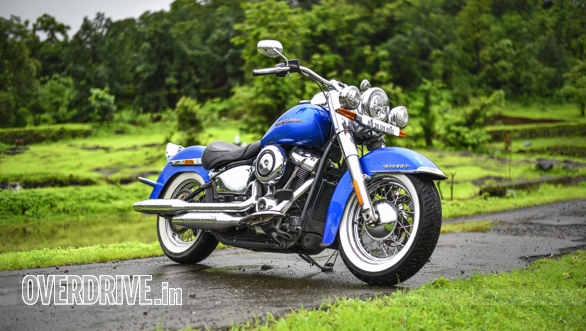 This isn't my first taste of a Harley-Davidson, though. I had sampled the new Fat Boy and Fat Bob, and was impressed with how well these hefty motorcycles handled our roads and traffic conditions. But the bike you see on these pages is something special. The new Harley-Davidson Softail Deluxe is the very definition of the term retro-charm and one of those motorcycles that'll have you staring at it, all day long. I mean, just look at it! It's big, but also proportionate and very, very attractive in this Electric Blue shade. The shape of the fenders is so gorgeous, you'd want them to adorn the walls of your home.
But what really stands out is the big 1,704cc V-Twin and the unequal length, dual exhausts. They take pride of place in the entire scheme of things and to my eyes, are an important aspect of the entire design. Of course, this being a low-slung, retro-themed, Harley-Davidson, there's enough chrome to feature in a rap video. But the best bit, aesthetically, are the white walled tyres on wire spoke rims that're sure to make Luigi proud! In a word, this bike is B-E-A-U-T-I-F-U-L.
After soaking in the sight of the bike, the question that immediately popped in to my head, is where do I ride with such a beautiful motorcycle? Mumbai's chock-a-block, traffic infested streets are no place for such a big bike, something that I experienced first hand when I rode the bike back home. It's not cumbersome but it certainly is no fun to ride a big Harley in first or second gear, for most of the time. I had enough of it that evening, so the next day, I decided to head to Malshej ghat, about 140km from Mumbai. The route is a mix of fast paced highway followed by an absolutely fantastic ribbon of tarmac, up the ghat.
Maharashtra, so far this year, has received copious amounts of rainfall, turning the landscape into a lush carpet of multi-shade green, for as wide the eyes can see. This and the Harley-Davidson Deluxe set the tone for what turned out to be a fantastic day out on a motorcycle. The Deluxe's pulled back handlebar places the rider in the classic cruiser riding position. The feet are forward but not stretched out. The back is straight and the arms have a comfortable bend for cruising on the highway. The seat, in fact, is so well contoured and comfortable, it'd easily rival a sofa in a home decor store.
Design aside, the new Milwaukee 8 engine is the other piece that lends the Softail Deluxe its character. At idle, it throbs under 1,000rpm, as if it's eager to be let loose. And then, when you give it the beans, you're treated to the quintessential Harley-Davidson sound that feels brutish and almighty powerful. I was having a whale of a time on the highway, whacking the throttle open and listening to the sound of the motor that matched the ferocity of thunder, in the sky above me. I have to say the contoured seat that I was talking about before, was angled appropriately to keep me from sliding off during the aforementioned shenanigans.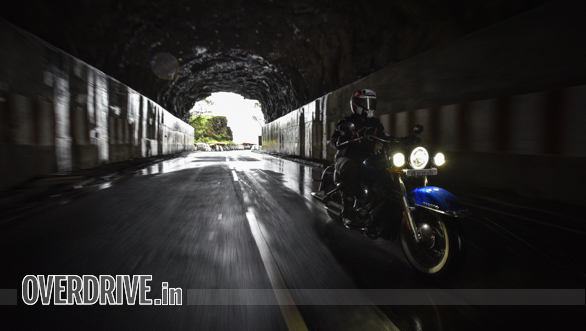 And, when I decided to dial down the pace, the tidal wave of torque that this motor generates was enough to cruise at low rpms, even at triple digit speeds. To me, this Harley-Davidson offers a relaxed cruise as well as manages a kamikaze dash, if demanded. It's got this dual personality that I quite like.
I turned off the highway at Shahpur to traverse a 30km road that connects to the base of the climb up Malshej. Although broken in many places, the Deluxe managed to get me through without a hitch. The roads leading up were surprisingly in great shape and in stark contrast to the weather-beaten roads in Mumbai and the Nashik highway. It's here where I got a chance to revel in the experience of riding a special motorcycle amidst breathtaking scenery.
I don't know how else to put it but there's something about riding a motorcycle down a tree-lined road, interspersed with views of mountain faces that have dozens of waterfalls cascading down. After a while, I lost count of the number of times I stopped by the road to simply stand mesmerized. In those moments, it was just me, a lovely motorcycle and a sense of tranquility. If a life coach were to ask me what could make my life feel fulfilled, this would be it.
My little ride in the rain was refreshing in every sense of the word, and the Harley-Davidson Softail Deluxe takes a big chunk of the credit for that. It's great on the highway, can handle the chaos of a city and is surprisingly easy to chuck around corners, considering its 300+kg weight. Not to forget, I felt like a superstar astride it. Everywhere I went, people were drawn to it as if it was a magnet and I, for sure, was basking in all the attention.
The Deluxe just makes everything special, and I believe, that's what a motorcycle is supposed to do, right? Come to think of it, motorcycles and monsoons, indeed are one hell of a combination.
Images by Anis Shaikh
Price (Ex-Delhi)
Starts Rs 18,74,000