Mercedes-Benz service: Luxury is service you can bank on
Never has the age-old adage of 'Time is money' been truer than in today's fast-paced world. Especially so for the kind of individuals who choose a Mercedes-Benz. And the reasons extend from the precision German engineering of the vehicle itself, which runs like clockwork, to the same dedication and finesse when it comes to the after sales support. As part of the 'My Mercedes. My Service.' initiative, owners can enjoy the best in ownership experience right through the life of the vehicle – for more reasons than one.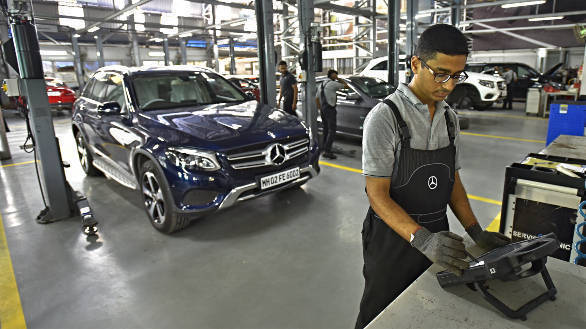 Vast service network
The three-pointed star experience will never include having to search, or wait, for support. Mercedes-Benz has dense coverage in the country, with 66 service locations across India, extending from all metros, to smaller cities and towns.
Low cost of ownership
The peace of mind of owning a Mercedes-Benz only begins with driving one home. Ownership programs such as the periodic maintenance packages and extended warranty ensure a hassle free experience to the customers. To that end, Star Ease maintenance packages enhance the ownership experience by offering protection against rising cost of parts. The packages are available for a minimum of two years to a maximum of ten years. While the Star Ease Compact package is offered with unlimited mileage and covers the cost of servicing, the Star Ease Compact Plus package additionally covers wear and tear parts.
Of course, Mercedes-Benz goes a step further to back its cars, with the Advance Assurance extended warranty program, which can extend the umbrella of protection to the sixth year of ownership, post the completion of the standard three year warranty. Apart from being transferable, thus enhancing your vehicle's resale value, it brings with it exclusive features like priority handling of claims, unlimited mileage coverage and more. If that doesn't show how confident Mercedes-Benz are of their cars, even the spare parts come with a two year warranty.
Mobilo on-road assistance
Keeping in mind the peace of motoring for its customers, Mercedes-Benz extends support to over 900 locations across India through Mobilo, the round-the-clock roadside assistance service. This assistance is complimentary for the first 3 years of vehicle ownership and can be further extended up to eight years as part of Mobilo Plus. The roadside assistance brings with it comprehensive breakdown assistance, which covers vehicle towing, taxi service, hotel accommodation and even return air travel for all passengers in the vehicle, subject to the breakdown location.
#CustomerFirst
For the second year in a row, Mercedes-Benz India has ranked highest in the JD Power Syndicate Survey for Customer Satisfaction in 2018 in Indian luxury car segment; thus showing that Mercedes-Benz owners are the most satisfied with their customer service experience, compared to owners of other luxury brands. The survey took into account important factors such as service quality, customer touch-points and facilities among others.