Mercedes-Benz service: Luxury is effortless
Mercedes-Benz understands that the biggest luxury it can give its customers isn't necessarily a silky-smooth powertrain, or a first-class cabin – these come as standard on every car wearing the three-pointed star. Often, it's the luxury of time. Which is why the 'My Mercedes. My Service.' initiative sets out to deliver the very best in after-sales support, ranking highest for two years in a row in the JD Power Customer Satisfaction Index as a result. In the last part of the Mercedes-Benz service series, we looked at factors like the low cost of ownership and wide support network which go towards the honours bestowed upon Mercedes-Benz. In this part, we'll look at what else separates Mercedes-Benz from the rest.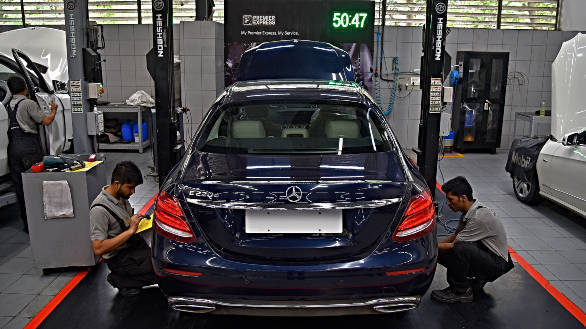 Premier Express Service
The Mercedes-AMG Petronas pit-crew comes together like a well-oiled machine to get the Formula 1 car ready to go, in a race where every second matters. It's that spirit, distilled down to Mercedes-Benz service centres, in the Premier Express service for quick, complete service visits in 140 minutes. Two or more trained technicians working on each car, genuine parts for precision fitting and a thorough knowledge of each Mercedes-Benz vehicle make this possible, all towards saving you time. The Premier Express service is available at 18 locations across India.
Certified Manpower
When you drop your car off for a scheduled service, or any maintenance work, you can be rest assured that every pair of hands working on it has first been through a rigorous certification process. This means that every technician has an in-depth knowledge of each Mercedes-Benz vehicle and is the best bet to keeping it running as it should. Further, Mercedes-Benz India, under the government's 'Skill India' initiative has vowed to create a highly-skilled workforce with the introduction of the Advanced Diploma in Automotive Mechatronics (ADAM) program. Over 660 technicians have been certified across nine institutes in India, with more being added every day.
Digital Service Drive
From booking your vehicle's service online, to bringing the workshop to your doorstep and even being able to connect with a customer services consultant over a video call, Mercedes-Benz makes the entire service experience quick and efficient to fit in with even the busiest lifestyle.
Service on Wheels
A novel initiative, as part of Mercedes-Benz's go-to-customer philosophy carried out in select Tier 2 and 3 cities, Service on Wheels is a fully-equipped service truck which can carry out inspection, repairs and service for customer's cars. Thus ensuring the all-important last mile reach for Mercedes-Benz service for Star customers wherever they are.
Service Clinic
Another one-of-its-kind initiative to boost customer confidence in the brand, the Mercedes-Benz Service Clinic brings together a team of technical experts from Mercedes-Benz India to personally help owners gain a hands-on understanding of their vehicles, from its functionality to tips on maintenance. Apart from the Mercedes-Benz approved tyres, genuine parts and car care products on display, it's the perfect opportunity to demonstrate the effectiveness of the flagship Quick and Clean dry wash solution.
Classic Cars
Owning a classic Mercedes-Benz couldn't be less stressful and more rewarding, with full company support to keep any car with the three-pointed star running right, no matter what year it rolled out of the factory. Genuine spares and service support is merely an inquiry away. All you have to do is write to mbclassicsindia@daimler.com to check for availability of the parts needed and your query will be routed to the nearest dealership. Mercedes-Benz also participates in various classic car rallies held across India.
Related Stories