Meet ten-time Raid de Himalaya winner Suresh Rana
The Raid de Himalaya is probably the toughest motorsport event in the world and it goes without saying that it's only the tough that manage to survive the gruelling rally. Regarded by many as the ultimate test of man and machine, completing the event is akin to winning it. Winning it, then, is something entirely on another level. The cold weather, long stages and broken roads take a heavy toll on everyone, so in a nutshell, the Raid is not for the faint hearted. Over the years, there has been one driver who has time and again, proved his mettle and has emerged triumphant against all odds. He is team Maruti Suzuki driver, Suresh Rana.
The Manali-based driver, who is also an orchardist, is regarded as India's most successful cross-country rally driver, and has won 10 Raid de Himalaya editions so far. Having competed in the Raid de Himalaya for 17 years, Suresh Rana is undoubtedly among the most experienced drivers, but he is not letting that get to his head, as the 19th edition of the Raid de Himalaya is about to get underway tomorrow.
Speaking to OVERDRIVE, Rana said that he has prepared himself for the competition that he'll face this year. His belief is that he needs to give his 100 per cent this year, just like the years before and be within his limits. That way, he hopes to secure his 11th Raid de Himalaya win.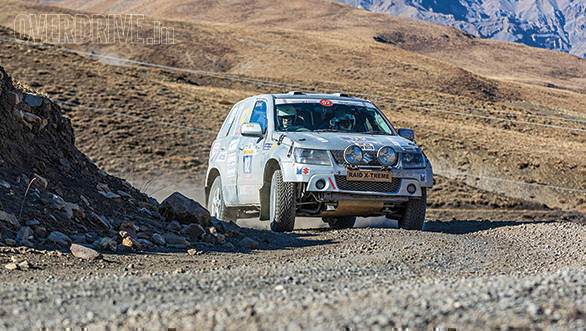 Suresh Rana won his 10th Maruti Suzuki Raid de Himalaya in 2016 aboard his trusty Grand Vitara
Speaking to him, it's apparent that Rana is extremely talented and he is glad that he gets an opportunity to fulfil his quest for speed and thrill. Back in the day though, Rana used to also manage a vehicle repair shop in his hometown and he was usually seen working on his Maruti Suzuki Gypsy. He was always passionate about motorsports and grew up watching WRC clips. Once while driving around the hills in Manali, he was spotted by a few Raid de Himalaya officials, who then invited him to participate in the event. Rana first participated in the Raid de Himalaya in 2001, and from then on, there was no looking back.
One might think that having competed in the Raid de Himalaya for so many years, must have made Rana slightly complacent. Rana, however, is mindful of the fact that the Himalayas are no joke. Driving in so many editions of the Raid de Himalaya has taught him to never underestimate the terrain or the weather. There have been editions in which Rana had to battle rains and there were times where he was battling for traction while driving on snow. "Each edition of the Raid de Himalaya has taught me something new. The learnings have surely helped me evolve as a driver."
The biggest learning, however, says Rana, is to be in control and drive within the limits of the vehicle at all times. The Raid is also about driving at a rapid pace, while also ensuring that the car does not fall apart. The terrain is harsh, with sharp stones and rocky surfaces which take a toll on the tyres, rims and suspension components of the cars. Rana's experience has taught him that one needs to know when to push and when to back off. "I also like to change my driving style after assessing the situation. I usually keep an eye on the times that my competitors are setting and that helps me plan my strategy for the stages."
Rana has always believed in planning for the stages in advance and he always has an understanding of what to expect from a stage. For instance, the Gramphoo-Losar stage, is regarded as the toughest stage and he mentally prepares himself for such challenges.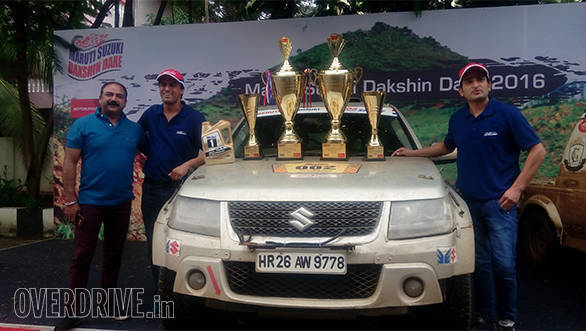 Suresh Rana (second from left) after winning the 2016 Maruti Suzuki Dakshin Dare
When quizzed about his favourite Raid car, has two clear choices. The Maruti Suzuki Gypsy and the Maruti Suzuki Grand Vitara. He has a 50:50 liking for both cars, and says it's the individual characteristics of the cars that makes them his favourite. He likes the Gypsy agility on tight turns whereas the Vitara is his favourite for straight line speed.
Rana has been rallying in the Vitara for the last four years, and the transition from rallying in the Gypsy has been a smooth one, except for the initial year, where he was coming to grips with the Vitara. He had to adopt a different driving style from the one he had while driving the Gypsy. In sections where the Gypsy was bouncing around, the Vitara was planted, thanks to better suspension. After spending hours practicing, Rana got a hang of driving the Vitara fast, very fast.
Rana believes that he is primarily competing with himself, during every Raid De Himalaya. The challenge is to keep calm and stay focused as even a slight mistake can prove to be too costly. "In the end, it is a six day affair and not a short sprint. One needs to focus on the bigger picture and plan accordingly." he says.
The 19th edition of the Raid de Himalaya will be flagged off from Manali, Himachal Pradesh and culminate in Leh. Watch this space to find out whether or not Rana can make good his bid for an eleventh Raid de Himalaya win!