Know your Indian racing star: Jehan Daruvala
At the tender age of 10, I spent a good measure of my time reading Enid Blyton, was hooked to a then rather popular cartoon show called Captain Planet, and also ended up watching as Jacques Villeneuve won the 1997 Formula 1 world championship after Michael Schumacher's rather unsavoury shenanigans at Jerez's Curva Dry Sac. Career? Well, that word was as much a part of my mind as the term Ebola Virus. That is, it wasn't. Life would figure itself out I reckoned. Sure, there were dreams, but no real move was made to realise those dreams. If I pondered such lofty things, those books wouldn't get read, those cartoons wouldn't get watched, and who'd weep while Schumi was stripped of all his points?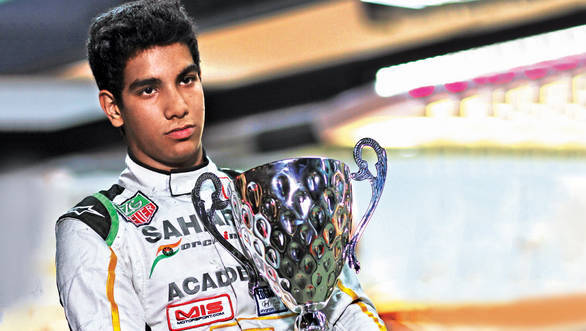 Jehan Daruvala - the eye's always on the prize
In stark contrast, at the tender age of 10 Jehan Daruvala was causing his parents to be flabbergasted and amused in equal measure by incredulously exclaiming, "But it's a question of my whole career!" Here's what happened. While browsing through the newspaper one morning, Jehan's father chanced upon the information that Rayomand Banajee, probably the biggest name in Indian karting, was conducting a karting workshop that weekend. Given that young Jehan had an exam the following day, his mother wasn't particularly keen that he attend the event. But Jehan was adamant, insisting to his parents that it really was his career on the line. Seeing his determination, made all the more fascinating by the fact that he'd never driven a go-kart before, it wasn't any wonder that Kainaz and Khurshed Daruvala were amused. But they caved. And off went Jehan for his first outing in a go-kart.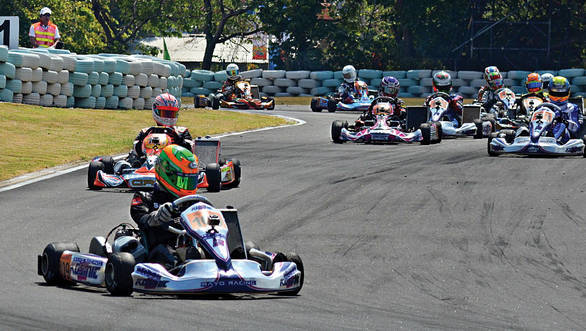 Leading the pack in the national karting championship
It's five years later. I'm sitting in the conference hall at Hoechst House in Mumbai city. It's the very same room in which I've interviewed Paul di Resta, Adrian Sutil and Nico Hulkenberg, all of whom have at some point driven for the Sahara Force India Formula 1 team. And now I'm having a conversation with Jehan Daruvala right there. He's no longer that little boy who with the determination of youth told his parents that he was ready for a career in motorsport even before it had begun. Sitting before me is a young man, calm, confident and incredibly self assured. And why shouldn't he be? He's translated that youthful determination into a motorsport career that is well on its way. And like Jehan himself, it's proceeding at a far quicker pace than the world expected, leaving behind startled competitors who've been pushed off into the grass.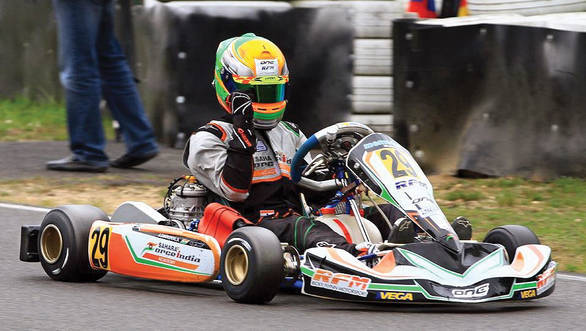 Celebrating a race win - note the Sahara Force India livery on his go-kart
"As soon as I got into the go-kart, I knew that this sport belonged to me and I would do anything for it," Jehan says. He doesn't sound pompous or boastful, just honest and earnest. Before that first outing in a go-kart at Rayo's training camp, he'd only ever sat beside his father in a two-seater kart. But his performance at the camp said it all. Jehan, in a tiny cadet kart, ended up being as fast as the drivers in the bigger go-karts and he'd managed to impress Rayo enough to convince him that he had what it took.
But it wasn't just his pace in the kart that impressed Banajee. There was more to it. There was the fact that Jehan, for a nine year old, was listening intently and actively applying himself to everything that was being said. And that from the very beginning, he was focussed on working hard and following instruction - never slacking off. Not even when, as a part of the Rayo Racing team a year or so later, Banajee was pushing his karters to train hard and run in the sweltering heat of Kolhapur. Most gave up at the end of the second kilometre. While Jehan pushed on for six kilometres, refusing to stop or slack off. As Banajee says, "There's no showing off with Jehan. There's no talk. He just does."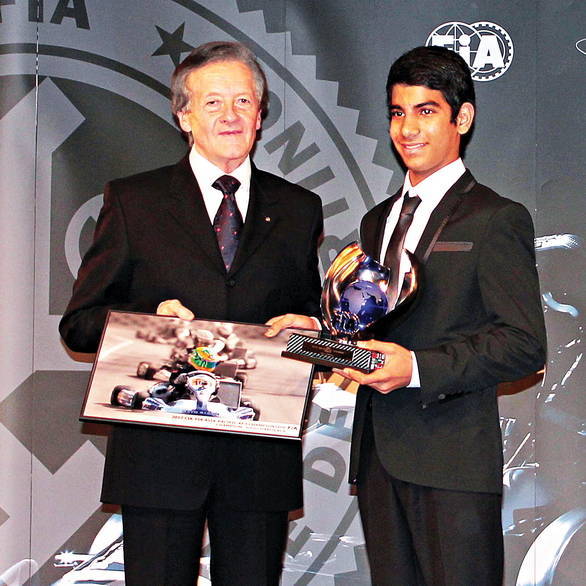 Being presented with the trophy for winning the CIK FIA Asia Pacific KF3 Championship
Maybe this was a result of knowing that if he needed to succeed, he needed to give it his all. As Jehan declares, "I knew that only hard work and determination would get me to the top." And, it did take hard work and determination for him to overcome the three second deficit he had to the front runners in his first attempt at the National Karting Championship. The grids were competitive and Jehan was up against the likes of Krishnaraj Mahadik and Kush Maini. But quickly realising that the only way to get good quickly was to go up against an even more competitive grid, he began to compete in the Asian Championship as well, where the grids of 30 plus taught him a thing or two. Pace wasn't the problem, he says. It was getting used to the aggressive style of driving and honing his racecraft that was the trick. He mastered it. He was able to go from a fifth overall in the 2010 National Karting Championship to winning it in 2011.
Already getting used to being surrounded by a flock of journalists, Jehan answers questions at the Force India presser with Vijay Mallya
But for a kid who'd followed Formula 1 for as far back as he could remember, "I never missed a single practice or qualifying session," he tells me, that highest echelon of motor racing really was the goal from the very beginning. There needed to be a trajectory that would take him there, a realistic possibility to get to F1 some day. Sahara Force India's One From A Billion programme happened to be the path that could well make the possibility a reality.
But when the hunt was conducted back in 2011, Jehan was too young to make the cut. Fortunately for him there was a wild card round held after the initial selection, where one karter under the age of 14 would be selected. After finishing his National Championship race that weekend, Jehan headed to Hyderabad where he competed in the selection process, beating his nearest rival by 200ths of a second. "Those 200ths of a second have brought me a long way," he says, once again making me wonder how a 16-year old can sound so very wise.
I ask Jehan whether he's ever been afraid in a kart. "Never," comes the reply at once. Then after a moment to think about it, he does admit that he was a little intimidated when he first started competing in the British KF3 Championship in 2012. The reason - the drivers in Europe are a rather aggressive lot. "But I realised that that was the only way forward, so I became an aggressive driver myself. Now I fear no one," he says. It doesn't sound rehearsed, just matter of fact. And he proved that aggression too, when he completely dominated the last round of the championship in 2012, winning all the heats and finals. The same year over in Asia, he won the Asia Pacific KF3 championship. And then he came back stronger in 2013, winning the British KF3 championship. No wonder he's so self assured.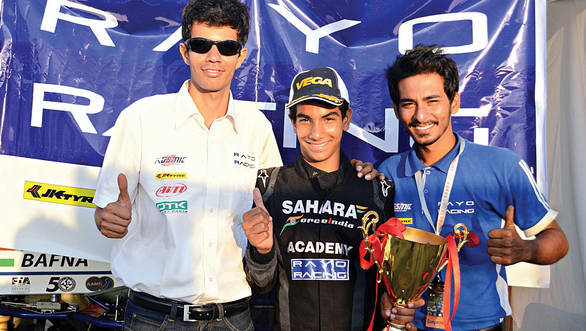 Rayomand Banajee, Jehan and Steve Hodges of Rayo Racing, clearly happy with the result that brought home some silverware
But where does all of this confidence come from? Aside, of course, from the fact that he is aware of his obvious talent on the track, racing is a sport that is both physically and mentally exhausting. To ensure he's fighting fit for every race, Sahara Force India has Jehan working with Gerry Convy, who also trained Di Resta back in the day. The mental fitness involves working with Don MacPherson who gives him CDs and DVDs to listen to ahead of every race. The idea is to prepare Jehan to tackle any problems that might crop up and make sure he performs at his very best. "He knows that if I perform the best I can then I should win," Jehan says simply.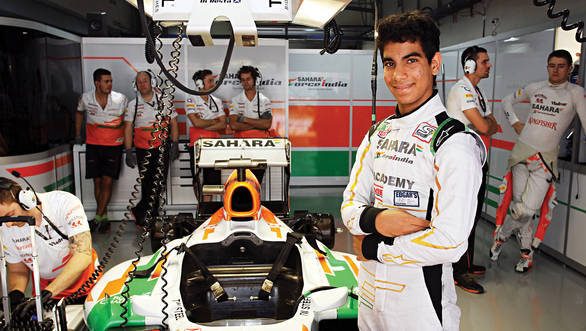 All smiles in the Sahara Force India garage at the 2013 Indian GP - maybe that's a car he'll drive someday...
He's certainly performed the best he can in 2014 too, finishing third in in the CIK FIA Championship and nearly winning the DKM Championship too. And the only reason that he was runner up in the DKM Championship was because of a rather dubious red flag situation at Genk. While Jehan was running second in the final race of the weekend, enough to ensure that he took the title from Martijn van Leeuwen, the red flag was brought out with no apparent reason. When the race was restarted, the karters were sent to their original grid positions and had to start single file. Which meant Jehan's advantage was completely negated. And the championship played nicely into the hands of Leeuwen. And young Jehan doesn't mince his words. "It was clearly done so that Leeuwen could win," he says.
But he's also told me how he deals with things when it all starts to go on. Yes, this young man, who is still in school, yet to give his GCSEs in fact, says that you just have to block it out and move on. That you can't let adversities affect you. "The only way to deal with it is to take the positives from it, learn from it and move on. Because sometimes you can get quite unlucky. Things happen that are not in your control."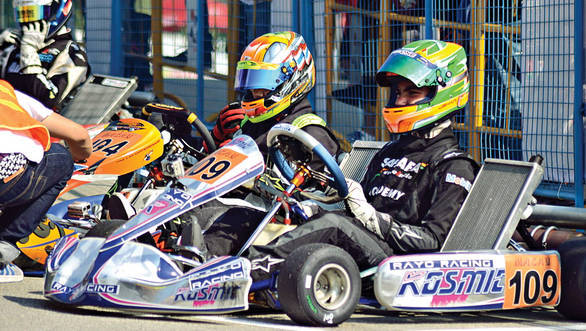 Focussed before the start of a race, is young Jehan
So his way of dealing with the disappointment of not winning the German Championship in what has been an otherwise good year, is to just move on. Not, as was originally planned, to a second season of senior karting in Europe, but to single-seaters next year. "I've exceeded my own expectations this year. I've been on pole and won races too, so moving to cars in 2015 is the next step," he says. Jehan is set to test with three different teams and will compete in both the Formula Renault 2.0 ALPS and NEC championships next year. He's already had a test at Anglesea too, and says, "Driving a single seater came naturally to me." Of course there are differences in karts, "The areas I need the most work on are with the brakes, which are completely different from the brakes in a go-kart, but we had set a benchmark time for me for the second day, and I ended the day eight-tenths quicker than that." Not bad at all.
The world of international motorsport, however, is incredibly cut throat. Whether it is karting where, as Jehan puts it, "qualifying on pole means you're one-tenth of a second quicker than the bloke in tenth," or single seaters. And while there might be a certain amount of camaraderie off track, all of that disappears on track. "When you're on track, there's no word like 'friends'," Jehan says. "You're just aggressive. You race to win." And in order to win, you can't let anything affect you.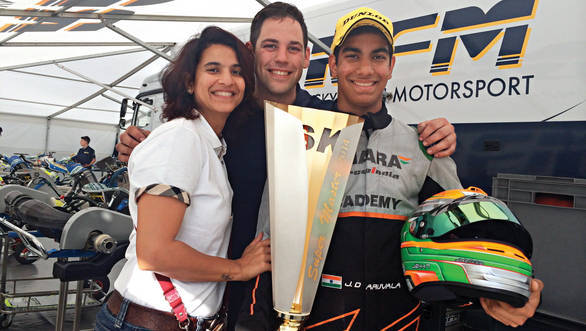 Jehan with his mother Kainaz and his trusted mechanic Michael Holloway
From starting out in competitive karting in 2010, to having won championships and races across the world, young Jehan's certainly come a long way. "It's been a massive learning curve," he says. "Speed wasn't really a big issue, but in terms of racecraft, the learning has been huge." And it's down to Jehan's determination to be the best at what he does. He tells me how when the track is damp, he goes out and practises on slick tyres just so that if it happens in the race, he's already prepared and already knows how to handle it - commitment that is usually rare in people his age. But then again, not all people his age are as driven. "I just have a big passion for speed. And my main motivation is that I want to be as successful as I can because this is the only thing that I love to do in life and hopefully with all the hard work, it should pay off."
Just what an integral part of Jehan's life racing is stands out when we're talking about something else entirely. We're talking about school, and how he copes with the classes he misses (he sometimes takes his textbooks to the track when he has an exam coming up), the subjects he likes (maths because it's easy, apparently) and other sports he plays (tennis, table tennis and cricket), when I ask him whether there's anything he's particularly good at. Of course, I'm referring to rather scholarly subjects. Jehan looks me squarely in the eye and says, "Racing." And that really says it all, doesn't it?
More from OVERDRIVE on Indian racing stars:
Know your Indian racing star: CS Santosh
Know your Indian racing star: Armaan Ebrahim
Know your Indian racing star: Vishnu Prasad
Know your Indian racing star: Gaurav Gill
Know your Indian racing star: Aditya Patel
.