Maruti Suzuki Vitara Brezza long-term review: Introduction
I'm a bit tired of answering questions, dozens of them every week. You see, right now there are just about handful of Vitara Brezzas running around in Mumbai. These have been given to automotive media professionals like me as long termers. Cars are yet to reach the public at large, so everytime someone sees the Brezza, they've got questions. How much did I pay for it? The next most popular question is: What's the mileage? Is the engine powerful enough? And then there's the expected, looks good! And that it does. The Vitara Brezza I'm driving around these days is painted in a bright vibrant shade of blue with the white roof dual-colour scheme. It is attention grabbing, and everyone turns an appreciative eye at the Brezza. Even those driving cars worth lakhs more give it the once over! As first impressions go, in terms of getting the customers flocking their showrooms, Maruti has nailed it!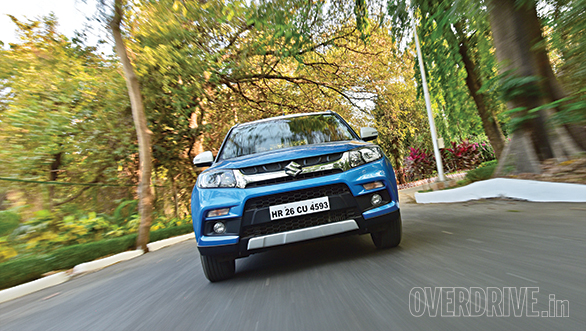 But what have the first couple of weeks living with the Brezza been like? Firstly, I do like the proportions, especially the width. The Brezza is wide enough for my family to sit abreast comfortably on the rear bench. Placing the wheels at the extreme ends of the Brezza is the reason the cabin is so spacious. The height, however, leaves a lot to be desired and while this was not so apparent during the first drive experience. Now in the city, in the middle of all the traffic I've been facing, it's a bit irritating to be in an SUV and not be able to see over the car ahead. The ground clearance is generous, but at 198mm it's just 2 centimetres more than the Maruti Baleno. That's roughly the width of your index and middle finger held together. So you still have to watch what you're driving over. Some days ago I carelessly, or rather, overconfidently drove over some broken tarmac trying to park the Brezza and one of the large chunks of tar did scrape against the underbody. I've been cautious ever since.
The touchscreen interface is now a familiar sight in premium Marutis and offers Apple Car Play. The cooled glovebox is a useful feature
I haven't been able to gauge the fuel efficiency since the Brezza came to me with a full tank of diesel and that hasn't been consumed yet. Rest assured, I will have that data shortly though I've driven just a bit over 300 kilometres in severe stop-go traffic inside Mumbai, and there is still more fuel left to go before the indicator drops below the quarter mark. The first few weeks thus have passed off comfortably, and next month's report will have more details. Now I'm off to answer more questions from people stuck in traffic with me.
Maruti Suzuki Vitara Brezza ZDi (O)
Date acquired: April 2016
Inducted at: 1,450km
Current mileage: 2,195km
Fuel: NA
Efficiency: NA
Price (Ex-Delhi)
Starts Rs 7.34 Lakhs