Maruti Suzuki Dzire ZDI+ AGS long term review: Introduction
In the past year, I have had three compact sedans come in and out of my long-term test garage and now I have the new avatar of the segment leader giving me company for the monsoons. With our long-term Elantra still awaiting parts at the Hyundai dealership for third month in a row, the Dzire is more than happy to fill in, joining the Hyundai Xcent in my parking.
This is the range-topping diesel automatic (ZDI+ AGS), meaning it has the convenient automated manual transmission, the automatic headlamps and the touchscreen infotainment system that happily pairs with my phone via Apple CarPlay. While the latter is also available on the Xcent, the AMT is a boon in Mumbai's monsoons. Stop and go traffic can be a bit of problem for this transmission though, highlighting its jerky behaviour at slow speeds and its annoying nature to be overtly eager to get off the line. But it is a small problem to live with compared to operating a springy clutch day in and day out.
What is different with the Dzire versus the other three compact sedans I have used in the past year is the amount of room it offers. Quick trips to the hills around Lonavala are a norm during the monsoons, and the Dzire has no problem ferrying four adults in comfort. The boot is also quite large to swallow everyone's luggage for a weekend getaway. With those skinny tyres though, the Dzire can be unnerving on the wet concrete roads. More so with the new chassis making the Dzire feel very light on its feet.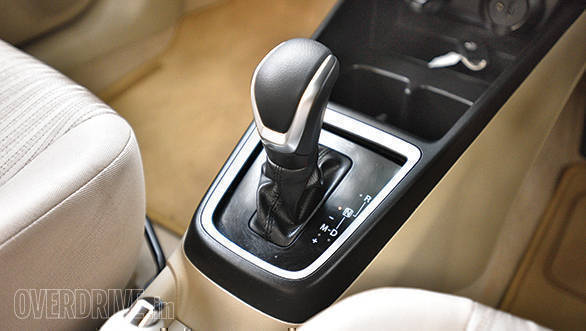 The AGS is a boon on the crowded streets of Mumbai during the monsoons
The monsoon trips also mean that soiled shoes and apparel come back to the car, and the Dzire's light upholstery doesn't like it that much. It certainly imparts an airy feel though and feels uplifting amidst the gloomy weather that I have been commuting long hours in. I like the noise insulation of the cabin too which is quite an improvement for this class of car. I'm also beginning to appreciate the ergonomics of the switches and the storage spaces and everything falls easily at hand.
The switches all around are easy to reach but the designs on some of them are two generations old now
The Dzire's been quite fuel-efficient too! Despite the frequent traffic jams, the good ol' DDiS motor has been consistently returning over 17kmpl in the city with the air conditioning running all the time. The highway trips have seen it sip far less fuel with an economy of over 22kmpl. So far in its 2,000-odd kilometres in my garage, it hasn't thrown any hiccups, but I'll fill you in in the future reports if the monsoons get the better of this compact sedan.
Date acquired: June 2017
Inducted at: 1,326km
Total mileage: 3,378km
Fuel: 112 litres
Economy: 18.1kmpl
Photography: Anis Shaikh
Price (Ex-Delhi)
Starts Rs 5.89 Lakhs
Price (Ex-Delhi)
Starts Rs 5.73 Lakhs