Maruti Suzuki Ciaz long-term review: Introduction
There's a new car in the OD Garage! Always a cause for celebration but even better since it's Maruti Suzuki's flagship. A heavy cross to bear, since everybody puts on their critic's glasses for a flagship. A common complaint when the team was done inspecting the Ciaz, was that it looked and felt too similar to all the other Maruti Suzukis we've seen before. But the difference comes across clear as day the first time that you drive it. It's got a decidedly big-car feel.
You get a commanding view of the road for a sedan, the cabin feels large and spacious, the NVH is decently controlled, and the ride quality is plush. Now, the jury's still out for the first part. I feel like I'm sitting on top of the car, and worse, I can't pull the steering out to meet me. It's only adjustable for rake, and slightly heavier in feel under 10kmph than it needs to be. So, for me at least, I'm still getting used to the driving position and heavy steering.
A quick look at the specs showed why that might be - the Ciaz is huge! It's 4.5m long, making it longer than most SUVs in the same price! That also explains why the Ciaz feels like it's got more real estate in here than most comparable SUVs. The way the space is laid out, especially from the driver's point of view, is a little iffy and old-school. The storage cubby in the centre stack is just out of reach unless you lean forward, so it's not entirely apt for placing a phone there.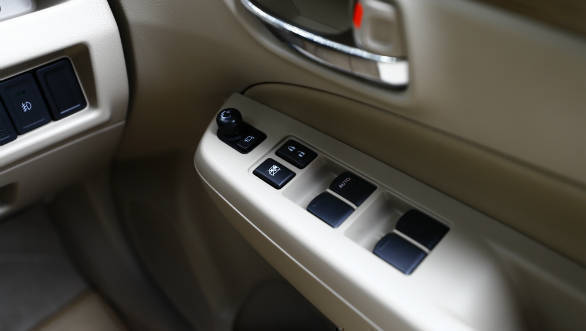 When I first drove this new K15 engine with its mild hybrid assistance, the strong mid-range stood out. And out in city traffic, it's entertaining to see how much fuel is saved by the start/stop system. But more on that in the next report.
Acquired: December 2018
Inducted at: 1,620km
Total mileage: 2,346km
Fuel: 61.5 litres
Economy: 11.8kmpl
Next update:
How fuel-efficient is it?
Price (Ex-Delhi)
Starts Rs 8.2 Lakhs
Related Stories