Maruti Suzuki at 40: ALL the cars
Maruti Suzuki turns 40 today, August 28, and in that time its journey has been fascinating, to say the least. There are few other carmakers globally who will have single-handled transformed as large a car market as India in the way Maruti Suzuki has. The company started as a fairly small project by the then socialist government of India to experiment with a way to bring good-quality motoring to the country. Suzuki too was an unlikely partner. But as it stands, the company is still the dominant carmaker in India, with many rivals closing in but never quite.
So what are the cars that have been a part of this 40-year journey? Scroll through to know.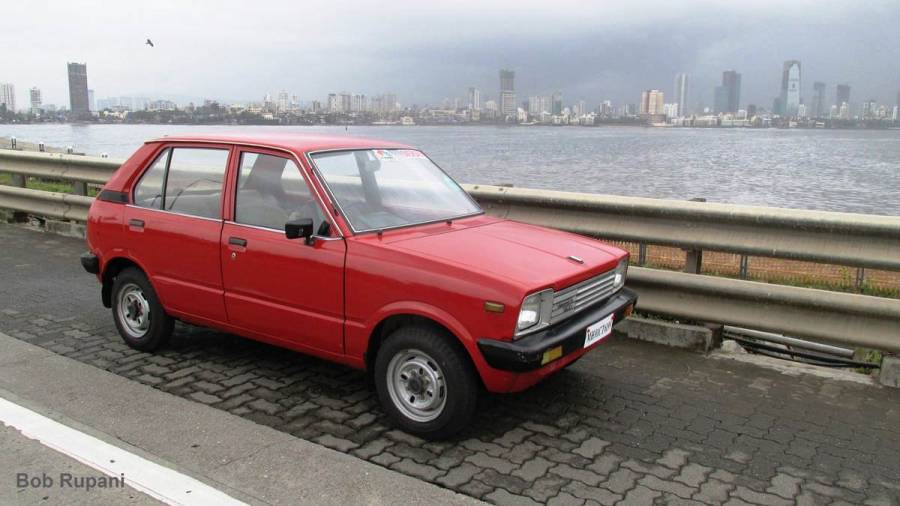 The Maruti 800 became the harbinger of a new India.
Maruti 800 - 1983
The 800 was the car that started it all for Maruti. Built under a joint development program between Maruti and Suzuki, this was based on the Suzuki Fronte SS, but was later developed on the 1979 Alto. Starting life in 1987, it was India's second longest car in production after the Hindustan Ambassador, and was the best-selling car in India till 2004, when it was replaced by its sibling the Alto. The 800 revolutionised the automobile industry in India, by bringing affordable mobility to the masses, though in its early days' waiting times were insanely long, sometimes extending up to 3 years. The Maruti 800 phase-out began sometime around the 2010s when it got tougher to meet emission norms, and was completely off the shelves by 2015.
Maruti Omni - 1984
The Omni began life very simply as the Maruti Suzuki Van befor the Omni moniker was used since 1988, 4 years after it came to life. It shared several components with the Maruti 800, but with an underbelly engine, typical of multi purpose vehicles of that period. It was initially a big hit with consumers, but as more contemporary vehicles began entering the market, its lack of safety (no frontal crash zones, no seatbelts, and several other challenges), again a typical downside of all MPVs of that period, interest began to wane. However it remained for the longest time, one of the most practical, affordable workhorses for small industries, traders, delivery services, even the medical industry. Yes, there were models sold without the interior seats, it was called the Omni Cargo and it came with a LPG system, even today you see hundreds of thousands of them being used as ambulances. It also enjoyed an immensely long production life, 35 years till it was finally put to rest in 2019.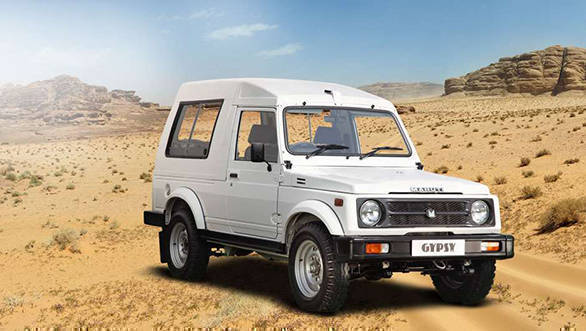 Maruti Suzuki Gypsy - 1985
The Gypsy was the poster boy of all hot blooded, male, car enthusiasts in the country. It was a WWII Panzer, a light tank with its short wheelbase, high ground clearance, reasonably torquey but sprightly engine for that period, and with its 4x4 powertrain it could go almost anywhere. Its reputation was further cemented by its long and illustrious career in motorsports, its use by the armed forces and state security and then the one advertisement where the driver of a Gypsy asked a kid somwhere in Ladakh if there was a Maruti service station nearby. Everyone remembered the affirmative reply, and established Maruti's credentials as the manufacturer with the widest network across the country. First gens were codenamed the MG410 or Maruti Gypsy 4-cylinder 1.0-litre engine. The Gypsy eventualy could not meet emission or safety regulations and had to be discountinued, but it will be replaced next year by the new Jimny, the SUV it was based on.
Maruti 1000 - 1990
Despite being the first 'luxury sedan' in the country, the Maruti 1000 in comparison to others in the range had a short life span, winding up business in 2000, 20 years after it started life. Understandably so, since it was every expensive for its time with a price tag upwards of INR 3 lakhs, and was underpowered with just 46hp coming from its 1.0-litre engine. Later on despite the introduction of the Esteem, which had a larger and more powerful engine, a 1.3-litre petrol with 65hp, there was competition from Daewoo, Ford and Honda pushing it out of the luxury sedan space. Nonetheless it did enjoy a reputation of being quick, thanks to an incredibly light power to weight ratio and was extensively used by motor racing enthusiasts both on race circuits and in rallying.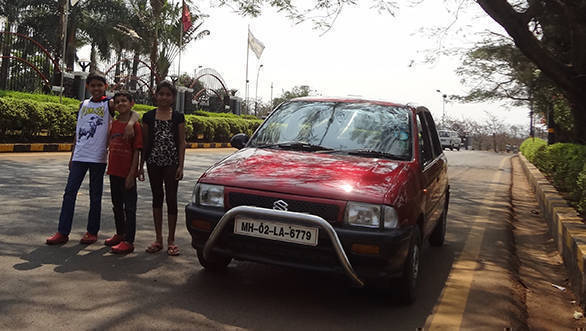 Maruti Zen - 1994
When the Zen came out, it majorly influenced younger audiences looking for a fun to rive, personal car. It built on the values of the 800 and the Alto, but lent a more intimate relationship with its wner. This was not a family car and in that sene, it was pretty bold of Maruti to the Zen at the time. The Zen also spawned several interesting variants such as the Carbon and Steel twins, which were a 2+1-door version. Its zippy 1.0-litre engine churned out around 54hp, and in 2000, Maruti introduced multi-point fuel injection to the Zen bumping power up to 60hp. It was quick undoubtedly, but also played a larger role in establishing Maruti's export venture, being one of the first cars built in India to be sent to Europe.
Maruti Esteem - 1993
As the Esteem got more popular on the Indian motorsport circuit for being an economical, easy to maintain choice, in stepped the Baleno. This sedan took over from the Esteem bringing in a larger footprint, more space, superior features and performance and dynamics that were comparable to the MItsubishi Lancer that was also sold in India at the time. Its 4-cylinder 16-valve, SOHC mill was extremely popular. It sold for a very short period, between 1999 coming to the end of service in 2006. Compared to most other Marutis, that is an extremely limited run. Nonetheless the Baleno made a mark for itself in the country by offering someof the best performance and dynamics. It even went on to win National rally championships, and achieved cult status in a very short time.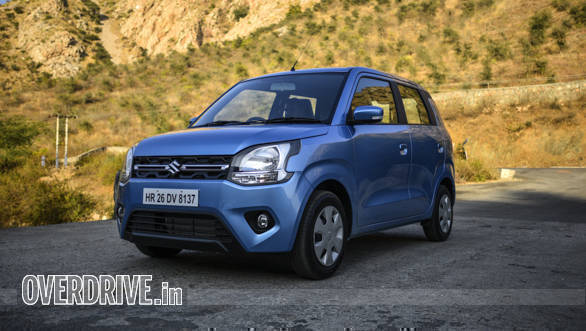 Maruti Suzuki WagonR - 1999
The WagonR is the one of the first of the tall boy, Japanese kei cars to be introduced in India. It is also one of the highest selling cars in the Indian marketplace, having sold over 2.4 million units since its inception in 1999. It was at the time the perfect small car solution for families, offering enormous space despite its compact footprint. The WagonR also had a modern engine, more power and good efficiency were its hallmarks. However it was also criticised for its lack of safety features, given epecially how its tall boy design sitting atop skinny tyres made it significantly more unstable than regular hatchbacks. Over the years the WagonR has gotten much more superior.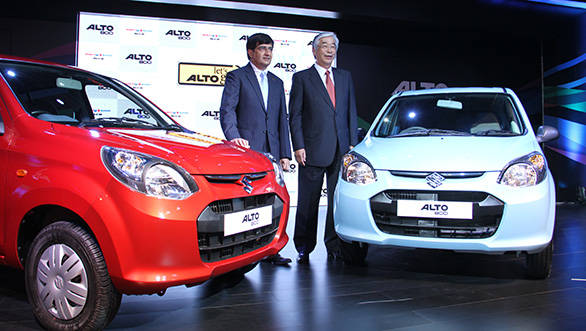 Maruti officials with the Alto 800
Maruti Suzuki Alto/ Alto K10 - 2000
Possibly as significant to Maruti Suzuki as the 800, the Alto has sold over 42 lakh units in the 22 years its been on sale, making it India's best-selling car by far. It was a worthy replacement for the 800 and has brought the idea of an affordable but easy-to-use family hatch to the modern era. A series of updates have kept it fresh and still appealing despite the SUV revolution. Read about the newest Alto here.
Maruti Suzuki Versa - 2001
The idea seemed a novel one. The Versa was the second MPV from Maruti Suzuki after the Omni and was pitched as a more upmarket machine, an alternative to the sedans that were ruling the roost then. The idea of a fairly plush car for the larger family didn't quite translate well enough in the flesh, its pricing and still quite bare look being some faults.
Suresh Rana has to trade in his Grand Vitara for a Gypsy in order to compete in the 2014 Dakshin Dare
Suzuki Grand Vitara XL-7 - 2003
Just as global carmakers came pouring into the country in a quickly maturing Indian car market, Maruti Suzuki brought in its global flagship to reiertae its position as the market leader. The Grand Vitara was, by all accounts, as good as anything else you could buy at its price. A proper SUV with AWD and a V6 powertrain, the car is now a cult favourite in the country. But the Maruti brand wasn't premium enough for Indian buyers and the steep pricing, it was a CBU, didn't help either.
The first-generation Swift was the first car that won the Indian Car of the Year award in 2005
The hatchback that transformed India's idea of a small car. The Swift was stylish, had a nice interior and was a sharp one to drive, a far cry from the quite bland, family-focused competition. It also happened to be Maruti Suzuki's successful big push into diesel cars. These factors birthed an entirely new segment of premium hatches where buyers didn't need to settle for less just because the wanted a small car.
Maruti Suzuki Zen Estilo - 2007
The Zen, a peppy enthusiasts' favourite was turned into a much more straight-laced beast with this generation change. It didn't work. Buyers didn't take to the looks or the generally uninspiring driving feel and interiors, though it was spacious. The iconic Zen nameplate died with it too.
Maruti Suzuki SX4 -2007
The replacement for the original Baleno took quite a turn. A sedan derived from a high-riding hatch, the SX4 was initially popular until newer rivals upstaged it. Still, it was a good comeback to the sedan segment for Maruti Suzuki with its efficiency, spacious interiors and good ground clearance.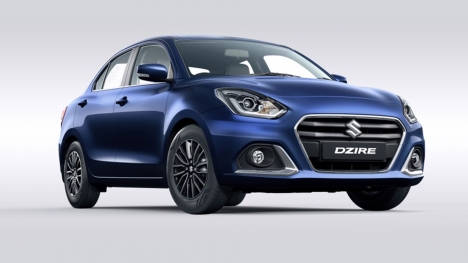 Launched in 2008, the Dzire started living life out of the Swift name as it was quite obviously an elongated version of the Swift. It became remarkably popular in the country as it had just that little more room than a hatchback and after over 10 years, the car is very much still in production, just under the Dzire name.
Maruti Suzuki A-Star - 2008
The A-star was based on an Alto and was specially made for the Indian market. It drove in good sales numbers for Maruti Suzuki and not is being succeeded by the Maruti Suzuki Celerio in the Indian market.
Maruti Suzuki Ritz - 2009
The Ritz was one of those fun drive cars which had a decent size fanbase in the country. And why not? Stylish back in the day, a peppy engine and we could never forget about that tachometer that was placed atop the dashboard so you never had to look down to see the redline. The Ritz probably did not have a very long time in production but sure did have a memorable one.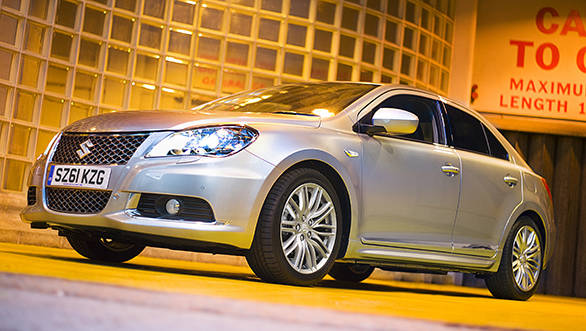 Suzuki Kizashi
Suzuki Kizashi - 2011
Another great car whose prospects were foiled for much of the same reasons as the Grand Vitara was this slick-looking sedan. It was again right up there or even surpassed, the likes of the Civic and Octavia. It was larger, better equipped and quick but could quite capture the hearts of badge-influenced buyers.
The Maruti Suzuki Ertiga Is a fan favourite among Indian families. The car has been here forever and from the looks of it, will continue to do so. 3-rows of seating and a decent number of features, what else can an Indian household demand? Maybe that's why the car never faced any serious competition from any other manufacturers in this segment.
Maruti Suzuki Celerio - 2014
The Maruti Suzuki Celerio in its new avatar looks quite an exciting car, inside and outside. Bought in to replace the A-Star, the Celerio name picked up very well with people loving the simple yet clean design and the low asking price made the car look like more of a bargain than it already was.
The Maruti Suzuki SX4 was replaced by the Maruti Suzuki Ciaz and the car did relatively well in the market. Spacious interiors, good equipment and a sleek design garnered many customers to the Nexa dealerships to check the only sedan in Maruti Suzuki's lineup.
When the Baleno was launched in 2015, everyone was a little surprised as we had only seen the Baleno name on a sedan earlier. But this hatchback and more than enough space for 5, a large boot, a punchy engine and very good features. All this led the Baleno to become one of the best-selling cars in the country, since its launch.
This premium offering from Maruti Suzuki was more of a crossover which was promised to be very capable. Well, it was a very appealing car to look at and did offer quite a bit. The S-Cross now though is nearing a generational upgrade which we except to see very soon this year.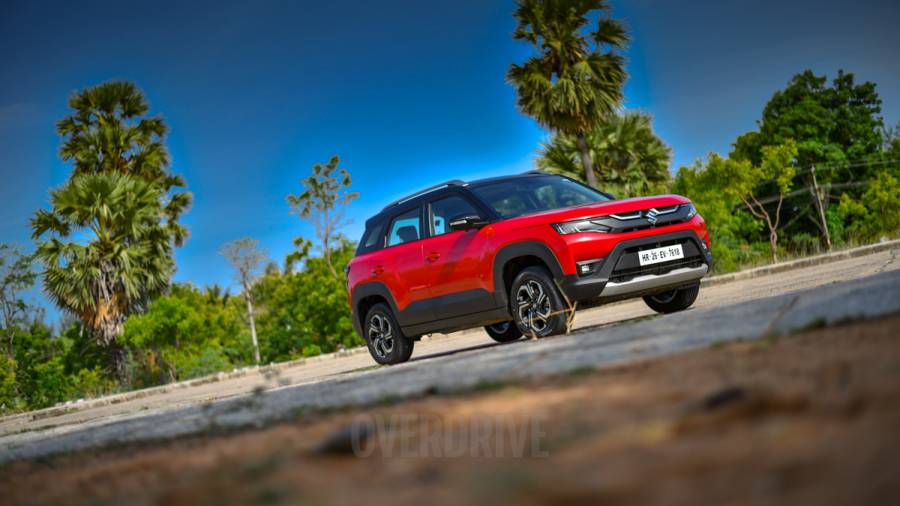 Maruti Suzuki's first model in the sub-4 metre subcompact crossover SUV segment immediately went to the top as India's best-selling SUV. It held on to the tag for five staight years befor rivals caught on. The second-gen has moved significantly further upmarket with its more nuanced design and loads of tech and comfort features.
Launched in the year 2017, in both diesel and petrol variants, the first car to have AMT in both. The first hatch sold from their premium Nexa dealerships, the Ignis stands out for its spaciousness and the qurky retro-themed styling.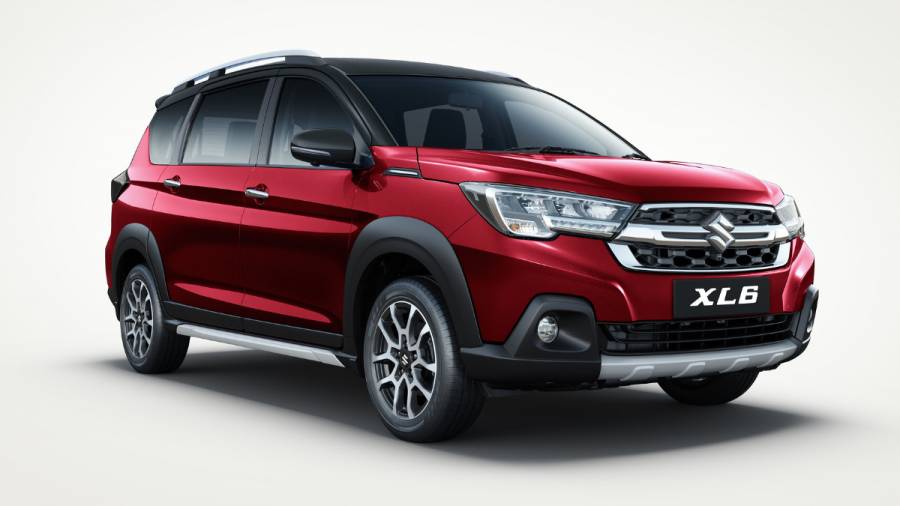 The first premium MPV from Maruti Suzuki after their successful Ertiga, it has both manual and automatic options. The petrol-only car held a 1462 cc K15B smart hybrid engine and gave a maximum power output of 102 bhp @ 6000 rpm with a maximum torque of: 137 Nm @ 4400 rpm.
The latest versions are priced between 11.29 - 14.55 Lakh.
This was a hatch placed above the Alto which has gained popularity due to its SUV-like design and compact size and is available in both manual and automatic options. The petrol-only versions have a 998cc 3 cylinder petrol engine with a maximum power output of 66 bhp @ 5500 rpm and a maximum torque of 89 Nm @ 3500 rpm.
In 2022 Maruti Suzuki unveiled their big C-SUV, also its first hybrid model for India. A 1490 cc engine mated with a 177.6 V Lithium Ion battery, a first from Maruti Suzuki.
This unique combination produces a maximum power output of 68 kW@ 5500rpm [92.45 PS @ 5500 rpm], and maximum torque of 122 Nm@ 4400 - 4800 rpm.
The price of this vehicle has been estimated between Rs 11 - 18 Lakh.
Text: Bertrand D'souza, Tuhin Guha, Kenneth John, Anirjit Hore
Also read,
2022 Maruti Suzuki Grand Vitara review, first impressions – hybrid SUV shows early promise
2022 Maruti Suzuki Alto K10 review, first drive – still India's default car?
2022 Maruti Suzuki Brezza review, first drive – More than just skin deep
Price (Ex-Delhi)
Starts Rs 6.35 Lakhs
Price (Ex-Delhi)
Starts Rs 7.99 Lakhs
Price (Ex-Delhi)
Starts Rs 4.99 Lakhs
Price (Ex-Delhi)
Starts Rs 8.2 Lakhs
Price (Ex-Delhi)
Starts Rs 6.09 Lakhs
Price (Ex-Delhi)
Starts Rs 8.35 Lakhs
Price (Ex-Delhi)
Starts Rs 4.89 Lakhs
Price (Ex-Delhi)
Starts Rs 8.39 Lakhs
Price (Ex-Delhi)
Starts Rs 4.25 Lakhs
Price (Ex-Delhi)
Starts Rs 5.73 Lakhs
Price (Ex-Delhi)
Starts Rs 11.29 Lakhs