Mahesh Babu on Mahindra Electric's plans for EV infrastructure, learnings from Formula E and future products
We caught up with Mahesh Babu, CEO of Mahindra Electric, on the sidelines of the flag off event for Mahindra Electric and Zoomcar in Mumbai. We spoke to him on a range of topics related to where his company stands in terms of the electric vehicle ecosystem in the country. Read on to find out
Interviewer: Hi Mahesh, Thanks for speaking to OVERDRIVE on the sidelines of the Mahindra Electric and Zoomcar event. See, there is a lot of progress in the field of electric vehicles in terms of acceptance, especially by corporate fleet owners like Zoomcar. So, as a company, what are you doing on the infrastructure?
Mahesh Babu: With EVs, the criticality of percolation in the market depends on infrastructure. So, initially when we started in 2010, and up to 2015, we have done some work on EVs. Now with the Zoomcar tie-up, we are going to put about 300 cars on their platform. Customers can drive EVs with this on a daily, monthly or hourly basis. So the whole ecosystem development now is around charging, pilot projects and then usage. Our focus is going to be mainly in the cities. Hence, the challenge of handling charging in the cities will be much easier when compared to other areas. So our tie-up also includes the working out of what customers are coming into the Zoomcar platform, also how do we handle charging, how do we handle usage. We have telematics, we have the data to research this in a very nice way.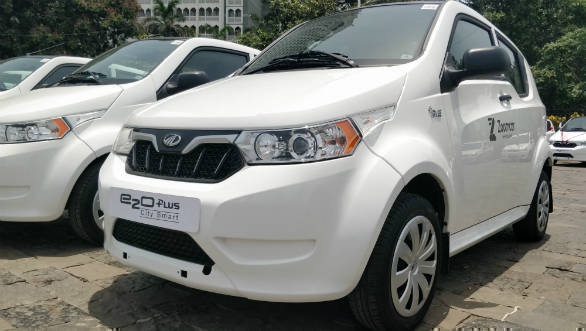 Int.: Mahindra Electric, we all know has had a lot of success in Formula E. Technology is not a limiting factor. So how will you use this technology in your road cars? Will we see any new products that use this technology?
Mahesh: We are already working on a race to road program between Mahindra Racing and us. This stretches the efficiency and performance of the powertrain, the battery systems and electrical components. So there are a lot of learnings that we take from this to use in our logical algorithms for making the battery management systems, the vehicle control unit and electrical components. So there is already some progress happening and we will take on more such learnings. Also, some learnings from our road car programs have gone to racing.
Int: Do you have any products in mind to cater to whole urban SUV fad? Any SUVs you want to electrify from your present portfolio?
Mahesh: During the Auto Expo we have displayed the electric KUV100. We are working on this and it is in the market evaluation stage.
Int: Any tentative launch date for this?
Mahesh: We are working on it. It's too premature to specify a date. We'll announce it soon when we feel the time is right
Int: Mahindra now also has the Automobili Pininfarina brand. So can we see any synergies between Mahindra Electric and Pininfarina? Will you partner with them to get cars to India?
Mahesh: Right now Automobili Pininfarina is in a different category. It is aimed towards a different market. Mahindra Electric's focus is on making mass-mobility successful in India. Right now these two brands have a very deep focus on individual markets. Maybe in the future, there may be an opportunity to learn from each other. But right now, it is two different markets and we will keep focusing on that.
Int: How has your experience been with EESL's initiative and do want to further that partnership in any way?
Mahesh: Our experience has been good so far. We have already given 100+ cars to them. The offtake is slowly picking up. There are plans to get into new markets. EESL is trying to get into a mode where they can focus on mass adaptation of electric vehicles in various governments. Already, today they have signed a MoU with the Maharashtra government as part of the EV policy. We have signed a MoU with Maharashtra government for manufacturing and development of Evs. I think all of this is coming together well enough. Going forward, the next six months to one year will be critical where we see
Int.: Will there be any improvement in the cars you sell to the general public after the work you have done with the EESL cars?
Mahesh: Mass adoption and volumes help to invest more and make more vehicles which will give us a lot of experience. I'm sure when we make in mass numbers there will be a learning which we will keep improving over a period of time.
Int: Thanks, Mahesh. Thanks for talking to OVERDRIVE
See the full interview below: