Living with the Superbike: Ducati Monster 795 in India
The Monster 795 is the most affordable Ducati in the world. Made in Thailand, it combines a 696 chassis with a 796 powertrain to create a light, compact, easy to live with package.
Seven days
Shumi took the Ducati everywhere he might normally take his own motorcycle to get a sense of life with the bike. And by the end, Shumi almost could not return it without external coercion and encouragement.
Commuting
Off to work
Commuting on a big motorcycle isn't as easy as you think. You spend a lot of time on closed throttle and keeping things smooth and swift is very difficult. The Monster 795's electric throttle response and brake reactions made it very hard to ride smoothly until you get used to making really small wrist and finger movements to exert control. After that, the 795 is a thrilling daily ride but not an effortless trafficator.
Traffic
Can a big bike hack Indian traffic or not?
The Ducati doesn't throw as much heat on to your legs as most big motorcycles and the coolant temperature usually hovers at half. This makes crawling in traffic or standing at traffic lights a lot easier than I imagined. Shorter riders will also appreciate the low seat height here.
Light traffic
The Ducati loves light traffic. But beware. Mumbai's polished concrete roads did not mix well with the Ducati's hefty dollop of mid-range torque and more than once, I enjoyed the delicious sensation of the rear tyre spinning up before I gently admonished myself and backed off the gas to restore order. On the other hand, I was quite amused at how easily this compact 803cc V-Twin slices through light traffic.
Motorcycles
How can you live without them? I met Joshua Crasto, a friend and Ashok George with the motorcycles in tow. Candies in Bandra is the one place in Mumbai where the motorcycle can almost literally join you at your table for breakfast. And the next few hours were spent bench racing, discussing Joshua's self-built custom Honda twin tracker, the Ducati and much, much more...
Luggage
I ordinarily use a tail bag but the proximity of the exhaust gave me pause. I opted instead for my trusty backpack and successfully carried without discomfort nearly 4kg of stuff (camera stuff, what else) on occasion. The matte plastic tank top should allow you to mount a strap-on (magnets won't work) tank bag if you don't like carrying stuff on your back.
Grindy brakes
What? - Turns out to be a false alarm.
The problem was quickly identified as a vestige of a past journalist's ride when the rear disc pad wore out all the way to bare metal leaving a nasty score on the rotor surface. Manifests as a grinding feeling on the bike but not as a lack of brake force. Took 20min to diagnose. Free!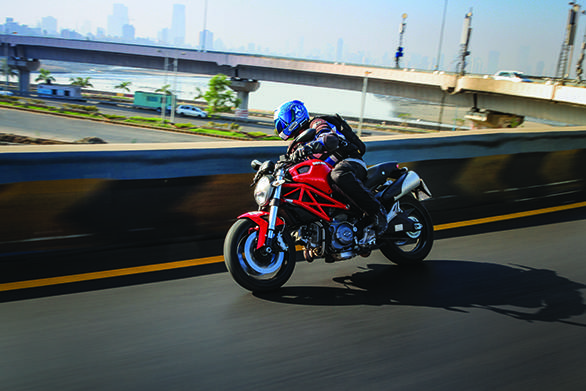 Parking it
Slotting the Ducati into the office parking (that's the actual pic) is a tough ask. You can feel the weight and heft as you try to squeeze into a tight little space. And yes, I recommend you park with the motorcycle pointed towards the exit - makes things easier when it is time to go. What wasn't easy? Returning the motorcycle to Ducati once our time was up!
Price (Ex-Delhi)
Starts Rs 10,99,000