Living with a supercar: BMW M3
What is it?
The BMW M3 is a high-performance four-door sportscar based on the 3 Series sedan. The M3 was born 30 years ago since it had to be homologated for touring car racing. Today, the model is in its 5th generation.
Jammed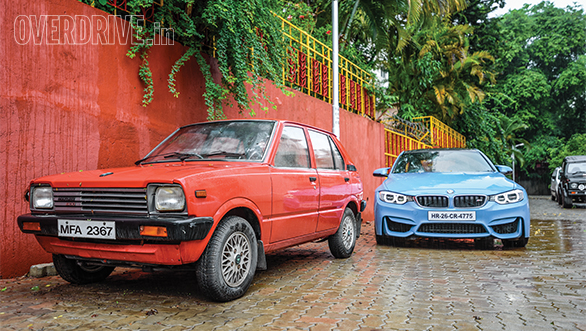 Ignored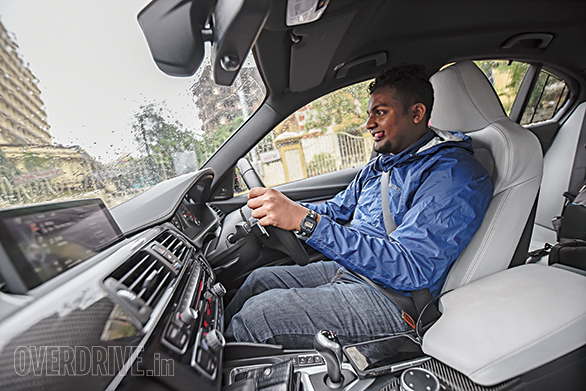 Entertained
Admired
BMW's M division has always offered special colour options that go well with the M models. The colours are generally named after popular motorsport venues. The Yas Marina Blue is named after the racetrack in Abu Dhabi.
Dressed to match: Blue is my all-time favourite colour. It's my choice when it comes to cars, motorcycles, clothes, shoes and a whole lot more. When the Yas Marina Blue M3 came to me for a week, one day had to be dedicated to blue! Incidentally, blue also represents BMW and Bavaria
Urban obstacles
While the M3 is a four-door car that is based on the 3 Series sedan, the ground clearance and wheel arch gap is like a proper sportscar. This meant driving through Mumbai's potholes and broken roads in the monsoon wasn't easy. I had to take it really slow over these obstacles and guess what? The car's underbody and bumpers didn't scrape even once!
Below - the beautiful and super light carbon-fibre roof and interior detailing.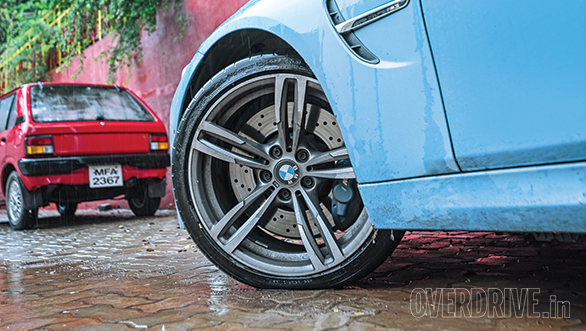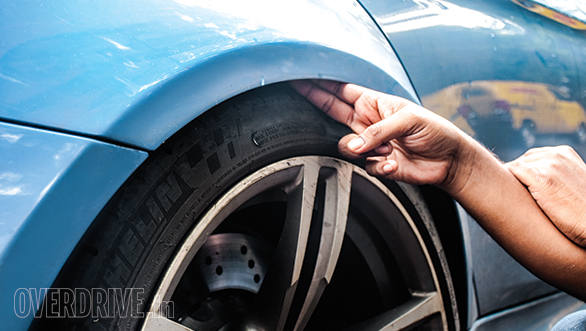 Pure driving pleasure:
The M3 is a perfect example of how sportscars should evolve. Well, the naturally aspirated V8 under the hood is now a straight-six. But it gets, not one but two turbochargers to push in a humongous amount of air into the cylinders. This makes it much quicker than before, less strained too. And look, a manual handbrake!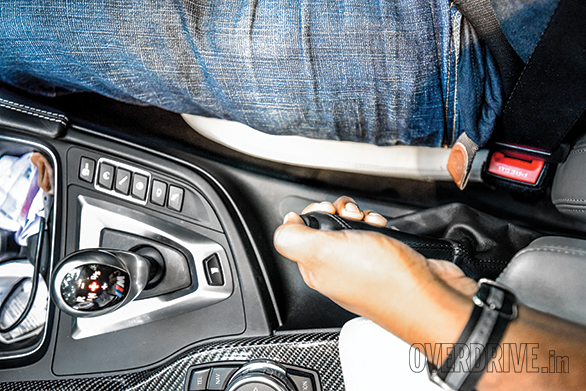 That rear end!
A flared rear fender is one of the best details on a powerful car. The M3 gets one of the most muscular rear ends, thanks to its wider track. You could stare at that rear for days on end. The quad-exhausts are an M trademark, and they sound great and look mean at the same time.
Bass Rani
You could call the M3 that! The 3.0-litre straight-six twin-turbo motor is not just high on power but also on bass! Not once did I turn on the stereo!  The M exhausts and motor produce the best soundtracks out there. It's one of our all-time favourite sportscars. Mousepad at work says so too!
Side by side
I always thought that one could make the standard 3 look like an M by dropping it and adding larger rims. Look at them side by side and you know that's not true. The M3 is a completely different beast!
Look! Four happy Halleys!
431PS, four doors and then there're four comfortable seats! There's enough room for four adults to sit comfortably, and the M3 will still hit 100kmph in under five seconds! Very few cars blend motorsport genes and everyday usability this well.
Change profiles instantly: The M3 offers switchable modes that alter steering, suspension and power delivery settings. Each of them gets various levels ranging from Comfort, Sport and Sport+. Even the transmission shift speed can be altered, The best features, however, are the mode shortcut buttons on the steering. Save your profile and just hit the button based on your need.
Huge boot?
With the M3, you don't compromise practicality over performance. There's even a huge boot on offer. Our test car, however, had this full-size spare tyre. This meant there was no space to load my brother's gear bag. I'd choose this spare over the run-flat tyres though.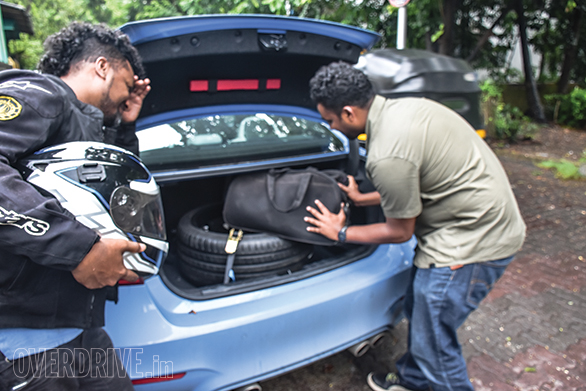 A week in the M3
I lived with the M3 for a week and drove to all the places I go in my own car. From eating out to driving through the narrowest of Mumbai roads. I didn't even miss out on my Aarey milk!
Understated? BMW is known to make understated sport saloons. This new-generation M3, however, definitely isn't. The blue hue and the sportscar-like presence with that loud exhaust note can turn a lot of heads. Even this kit Countach thinks so
There she goes...
BMW is definitely the master in creating sports saloons. We knew the M3 is super quick, but it proved to be practical as well. It did everything a sedan could. It's the perfect sportscar if you end up driving more in town. It was an entertaining week and I was sad to see her go.
=Servicing the M3 costs Rs 30,000. This includes engine oil as well as air and oil filter replacement. First service is at 10,000km and then 10,000km apart for every service interval. All M models get a two-year/unlimited km warranty.
Price: Rs 1.48 crore (on-road Mumbai)
Fuel filled: Rs 7,560/ 105 litres
Other costs: Rs 2,400 (lunch, dinner, tolls)
Images by: Anis Shaikh and Halley Prabhakar