Living with a superbike: Ducati Diavel Carbon
What is it?
The most bonkers Ducati out there. The Diavel delivers as much acceleration as a F22 Raptor. Okay, maybe not. But you get what we're saying, right?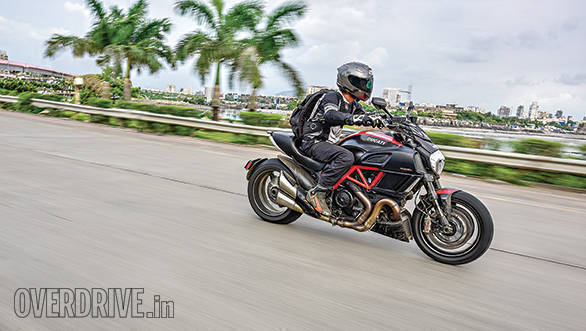 230km of range!
For a bike that makes 130Nm, not bad! Initial worry was that the trip back from Pune after picking up the bike would need at least one refuelling stop. After all, this one's acceleration is second to only the Aprilia Tuono V4 1100 Factory. So don't blame me for being surprised at the 13.5kmpl I managed to get out of it. As massive as the Diavel is, the low seat height makes it easy to wheel around. At 5'8", I had no problem getting both feet on the ground and walking the bike around.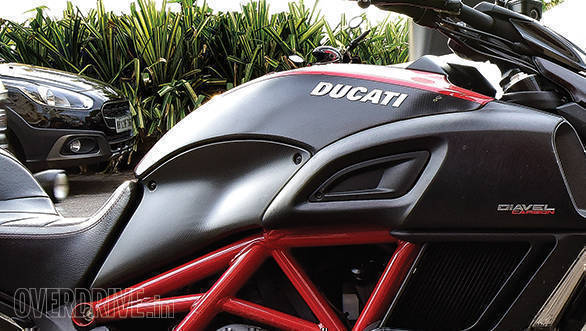 Testastretta 11°
The Testastretta 11° is a proper torque machine. With 162PS and 130Nm on tap, the Diavel can accelerate from 0-100kmph in a mere 3.03 seconds. Yes, that's dangerously close to Tuono territory. But hold on, the engine delivers upwards of 100Nm from as low as 3,000rpm. You don't even need any throttle input to get this motorcycle moving. Just let the clutch out.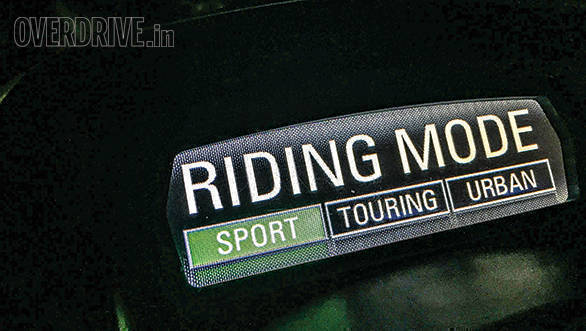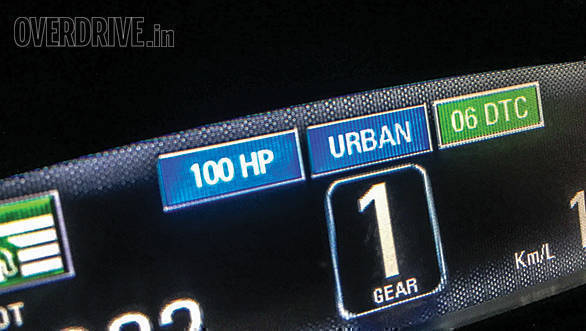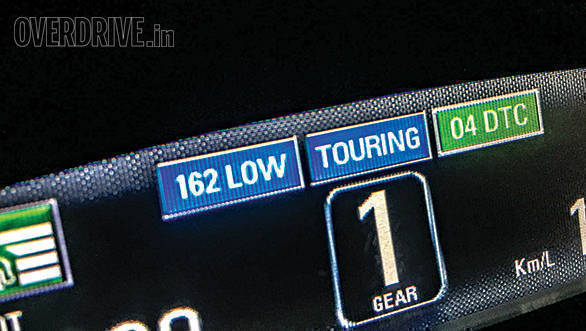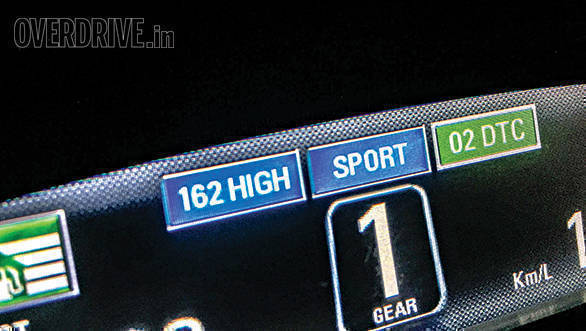 Riding modes: Three to choose from - Urban, Touring and Sport.
Urban: Only 100PS, full TC and a puppy dog throttle.
Touring: Full power, a heavy handed TC and a tad more engaging throttle.
Sport: Full power, minimal TC intervention and as much power as your right hand wants!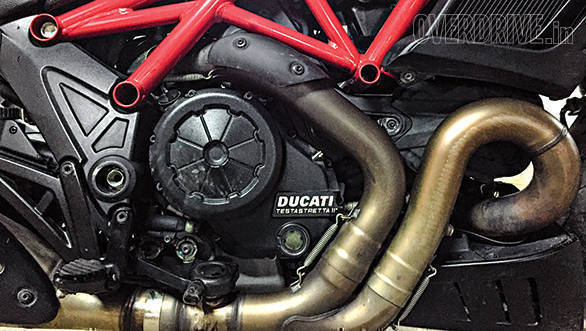 A week isn't a lot of time with any motorcycle. But in the seven days (bar a two-day hiatus as Bert stole it), Ashok managed to clock an average of nearly 100km a day on the Diavel. He brought it to work, took it out for joyrides and has also been found guilty of laying darkies all over Bandra.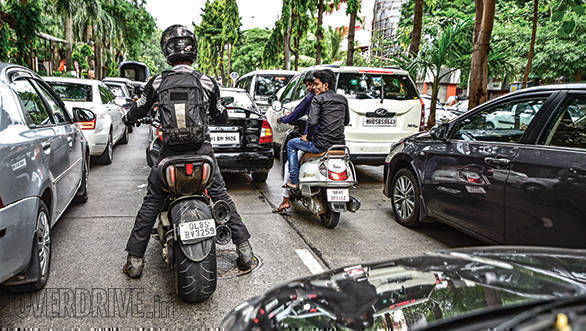 Traffic!
Man, this bike is  handful in traffic. The clutch is heavy and it takes tremendous effort to turn. Oh, and let's not forget the heat. The newer engines manage heat a lot better. The  Diavel still sees temperatures north of 110°C regularly. You don't tend to feel the heat if you've got full-length boots on. But if you don't, well, just wear full-length boots, okay?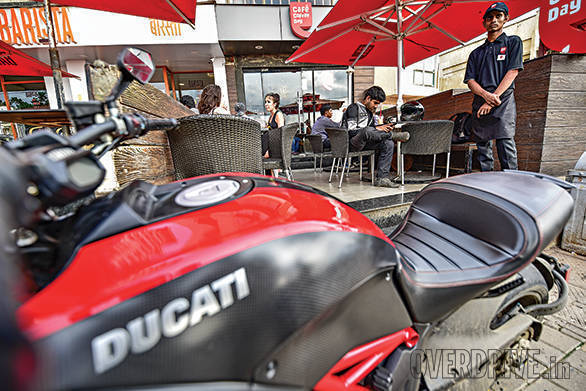 Attention magnet
The Diavel is a real attention magnet. Ashok is seen here noting down the number of people who stopped to stare. The count was 1,673. Maybe more, but he stopped counting after that. The point is, it is not a motorcyle that will slip by unnoticed. If the looks don't catch people's eyes, that V-twin soundtrack surely will. It sounds like thunder sent down from the heavens.
I like big...
Even most cars don't get tyres this wide. What is one thing that the Diavel and the Triumph Rocket III have in common? A 240-section rear tyre. The difference here is that unlike the Rocket III, you can actually get the Diavel to obey you with a firm hand. Oh, and it also doubles up as a spare dinner table for two. The wide rear tyre has the obvious benefit of helping convert the Diavel's torque into ridiculous acceleration. The flip side is that it also makes the rear end very sensitive to undulations on the road. Gotta be wary!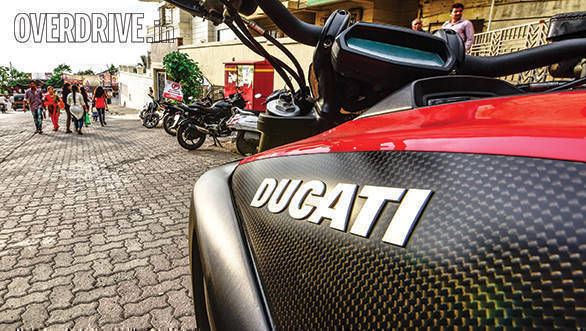 There are three names that everybody in India is familiar with - Ferrari, Harley and Ducati. Drive around in a sportscar and you hear: "Woh dekh, Ferrari." Ride around on a cruiser and you hear: "Woh dekh, Harley." And the rest of the motorcycles are all classisified under the Ducati category. Thankfully, the Diavel is a Ducati, so no lengthy explanations required here. Just a nod of the head. Phew!
Stolen!
You see, all this while Bert didn't have a helmet. So whenever he said he wanted to borrow a motorcycle, we refused citing concerns for our dear editor's well-being. This month he managed to pick up a new Arai while in Japan. And just when I got the keys to the Diavel, he decided it was time to test out his new lid. And everybody knows you can't say no to your boss.
Dirty business
Receeding monsoon plus Mumbai roads equal dirty bike. Mumbai's roads have the best quality dirt on them. Just try riding down the Western Express Highway in the rains and you'll know. The thick layer of muck that a bike collects needs a pressure wash to get rid of. Good that the friendly neighbourhood bike wash was up for the challenge. Every single big bike I've ridden in the rain has always sprayed my back with a thick layer of muck. But not the Diavel. This Ducati's splash guard works really, really well. Not a drop of dirt on my back!
Saying hello
Middle of the night visits to the Basilica of Our Lady of the Mount in Bandra is a regular affair. Usually, the moment you step out of the car or off the motorcycle, a horde of candle sellers come running towards you. But the Diavel proved to be a great distraction. And no, we did not miss the irony of taking a 'Diavel' to church.
Rain and more rain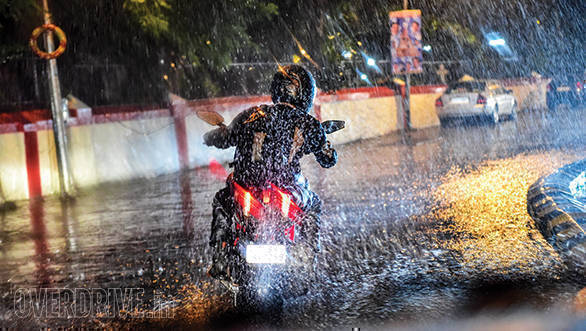 Receding monsoon. It hit right after a day of perfect sunshine. Good, then, that the Urban mode in the Diavel cuts power. In Touring and Sport modes, the Diavel lights up its rear tyre quite happily. This is great entertainment. But when you're wet, cold and miserable and just want to get home as soon as you can, Urban mode is your best friend. Be as unruly and ham-fisted as you want as you make your way home.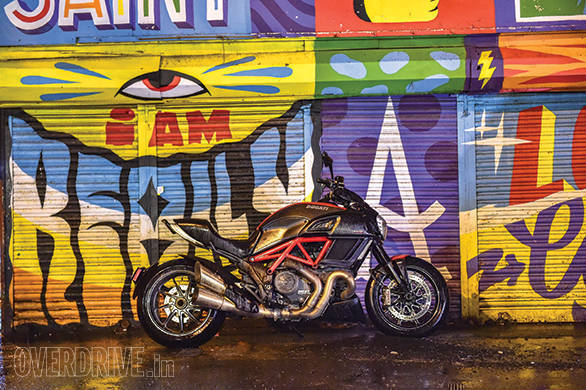 Hot damn. The Diavel may not be the perfect motorcycle out there. Especially if you plan on commuting to work on it every day. But there's no denying that it is special. Every time you ride it, there is a sense of occasion. And the way it accelerates! Oh man, you need to experience it to believe it.  Wonder what the XDiavel is going to be like. Say, Ducati, are you listening?
Price: Rs 23.51 lakh on-road Mumbai
Fuel filled: Rs 3,500, 51 litres
Other costs: Rs 200 (washing)
Photos: Suresh Narayanan and Anis Shaikh