Like a broken record: Our ode to the Nurburgring and Pikes Peak record runs
First there was a car,
then there were two,
then came the very first motor race
of which we knew.
Time went by,
and the speeds, they grew.
Laps were aplenty,
but the days of reckoning were few.
The sport spread far and wide,
championships were born,
racetracks became hallowed ground,
and every now and again "racer" changed to icon.
There were feats of bravery,
- acts of such derring-do -
that racers became legends,
until records were broken and things began anew.
This is one such tale
of racers that from far and wide came,
to a place both revered and feared
- the Green Hell was its name.
Victory here was special,
because leaving uninjured was a feat.
The Green Hell had claimed so many;
racers that you and I would never get to meet.
This place had another name,
Nurburgring - the 'Ring for short -
and over its vast expanse of tarmac,
many a battle had been fought.
It wasn't always a quest for victory,
often it was a race against a clock.
Who could lap the 'Ring the fastest?
It was a matter of action, not talk.
Times were set and times were broken,
quicker and quicker they went,
until one day Stefan Bellof showed up -
ah, now he was quite a gent!
Bellof had raced in F1,
but in sportscars he made his mark.
The fastest man at the 'Ring - 6 min 11 sec.
As the Germans would say "Stark!"
That record, it stood for ages,
a full thirty-five years - wow!
But the numbers at the top of the timing sheets
were going to change and how.
So it arrived at the Green Hell,
determined that it would outdo
the Porsche 956 that had blitzed around once,
it was the time of the 919 Hybrid Evo.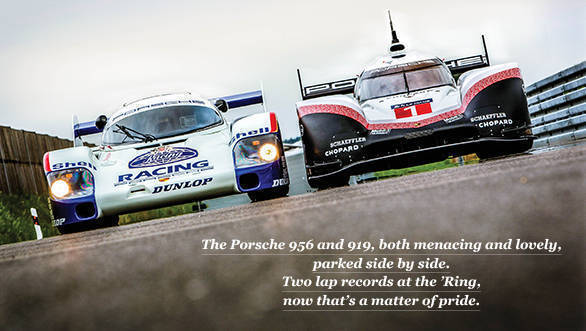 In a previous iteration,
The 919 had won at Le Mans thrice.
Now its unrestricted V4 made 1,200 PS,
and it seemed that only a lap record would suffice!
The man chosen for the job
- Timo Bernhard - no less,
he who'd slayed nearly every 24 hour race there was.
It seemed like they were being set up for success.
But this was the mighty Nurburgring,
and the people who'd conquered it were few.
The slightest error could be disastrous,
oh, there were just so many things to think through.
The men from Weissach were prepared,
although a little cautious, which was wise.
They held their breath as Bernhard set off down the track
for the first couple of tries.
"Let's show the world what the 919 can do,"
was what Bernhard had told the press.
The actual lap-time wasn't his focus,
he was just going to try his best.
The first lap had done it -
they'd managed to duck under the time!
But Bernhard kept at it.
The result - 5min 19.546sec - sublime!
He'd speak later of how tough it had been,
"It was not a walk in the park!" he'd say.
After all, there'd been no room for error, but,
"We achieved what we wanted to achieve today."
Thirty-five years after that day in '83,
that mind-boggling record had finally toppled.
As for Bernhard's respect for Bellof?
Now that had quadrupled!
See, since back when Bellof set that time,
much of the technology had changed.
But that Bernhard would get to break that record,
it somehow seemed foreordained.
Things have a way of moving forward,
it certainly is important this progress.
Ever onward, faster, more powerful,
the human race will settle for no less.
And so it transpired that
it wasn't just one record that was broken,
for far across the pond, in Colorado Springs,
hushed words were being spoken.
A 670 PS beast, the voices whispered.
Yes, it was an intriguing machine.
It was Volkswagen's electric racecar,
with power rumoured to be quite clean.
The I.D. R Pikes Peak,
it wasn't a machine that was loud,
but it certainly had what it took
to conquer the race to the clouds.
With Romain Dumas behind the wheel,
the miles went by quite quick.
The time was 7 min 57.148 sec
- oh yeah, he'd made it stick!
Dumas had demolished the time
set in 2013 by a certain Sebastien Loeb.
He'd even shaved 15 seconds off,
now he was the man of the mountain, the king of the globe!
Say, listen, records will always be set,
- they might even last quite a long time -
but eventually they'll come crashing down,
much like this little rhyme.
So let's never forget the fact
that while speed and time will always rule,
this particular sport that we love so much
- it can be quite cruel.
Which is why it's so important to respect
those brave mechanics, engineers and racers.
They're the ones that do, do, do,
we'll never be like them trailblazers!
And still reeling from the feats we've witnessed,
we beg to take your leave,
see there are other racers to keep our eyes on,
we wonder what tricks they have up their sleeves!