Last Keepers Of A Classic
Kunwar Pal or KP, as he is known in his circle, gets up rubbing his greasy hands with a greasier piece of cloth, after fixing the chassis of a Maruti Omni. Born in 1951, two years before the launch of Fiat 1100 at Geneva Motor Show, Kunwar Pal has a long-running history as a master mechanic of Premier Padmini, the India-manufactured Fiat 1100.
Starting at the age of 13, Kunwar Pal went on to work at a government approved workshop in Aligarh fixing state vehicles of four districts for 15 years. "I learnt to work on the Jeep, Ambassador and Fiat and have worked on the Standard Vanguard, Studebaker and Ford" says Kunwar Pal with a sense of achievement, recalling the days of his glorious past, "but, Fiat was the one that brought me recognition."
Kunwar Pal, 68, at his workshop in Church Compound Area, Aligarh
At a point in time, Fiat was owned by many in the intellectual circle, from lawyers, professors to artists, and a part of the privilege trickled down to their mechanics who kept the rides of the wise up and running. Kunwar Pal, too, claims to enjoy the fruits of his endeavour that came with fixing a Fiat, like an occasional favour or two from the government officers.
Recounting his experience with a Fiat, Pal said that he likes the sound of its engine and the suspension, which was a bit costly but once adjusted, ran without any hiccups for five to six years. In his 54 and still counting years of work, he has overhauled just three to four gearbox systems which he claims to be one of the sturdiest among its contemporaries. "The car with its heavy chassis and suspension, was able to absorb impact in an accident making it safe for the passengers," he adds.
For Kunwal Pal, however, it is the love of one of his customers for Fiat that has kept the dominion alive. Shireen Moosvi, 71, former Professor of History at Aligarh Muslim University and a member of the executive committee of Indian History Congress, has been driving one since 24 years and trusts only Pal (Kunwar Pal) with its maintenance.
"To own a white color Fiat was my infatuation since childhood. It was in 1993 when my mother asked me to buy one which I did from Delhi in 1994 for Rs 95,000," says Dr Moosvi. "The other peculiarity was that I wanted a Fiat with a hand gear (column-mounted gear shifter) while at that time most cars on sale were with floor gear, which I detested. The seller, a Sardar Ji was so attached to his car, a 93 Padmini, that he enquired about my usage before closing the deal. He said that he did not want to part with it but is happy that the car is going to a good home and that I would treat it as my own daughter," adds Dr Moosvi.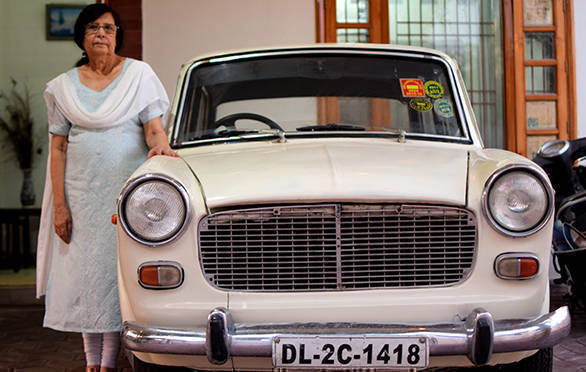 Dr Shireen Moosvi with her 1993 Padmini at her residence
Whether it was a family trip to Delhi or Agra, a leisure trip to Shimla or a work-related trip to LBSNAA Mussoorie, Dr Moosvi used to travel by her car. Now, it is only in the city where she drives 10-15 kilometres daily, once when she takes her dog, a german shepherd, out for a drive first thing in the morning, and when she goes to the University after. The car gives a fuel economy of 10kmpl. If the Sardar Ji was to see the Fiat today, he would have marvelled at the sight of it.
For many like Dr Moosvi, an attachment with their car can be enigmatic but not inscrutable. As per a 2013 AutoTrader survey, more than 70 per cent of respondents were found to be very attached' or 'somewhat attached to their cars, with 36 per cent describing their vehicle as "an old friend" and more than a quarter said they felt sad when they thought about parting ways with it. Without any guesses, dependability (65 per cent) and comfort (52 per cent) were the primary drivers of attachment. The survey also finds that more women were attached to their cars because of the way it looks, while more men bond with their cars because of fond memories they shared together.
While for Dr Moosvi, it is the liking and durability of the Fiat and a question of it being a part of her identity; for Ahmad Salman, 33, it has been about reliving his childhood memories. "I bought a 95 Padmini in 2013 as it is almost a family heirloom, paying respect to the good old days when my grandfather had it," says Ahmad who works as a Business Analyst in Gurugram and drives a Fiat Linea.
Ahmad's maternal grandfather and uncle ran a business born out of an interest for cars, where they used to buy used cars and motorcycles to keep them for a while before selling them. "My father who was working at Tata Steel in Jamshedpur, used to buy a truckload of Ariel motorcycles used by Indian Army at auctions at Ramgarh cantt near Ranchi in Jharkhand and sell them. In the 1930s, almost every motorcycle in Jamshedpur was supplied by Babu Ji," says MN Haque, Ahmad's uncle and an auto enthusiast. "We once bought a 1941 Buick from Raja Browne of a princely state near Allahabad and supplied a 1954 Buick to Bidhan Chandra Roy, Chief Minister of West Bengal from 1948 to 1962," says Haque, now 73.
Ahmad finds his 95 Padmini's simple mechanicals easy to repair, with no electronic wizardry to deal with. A carburetted engine that can be manually adjusted, with a rugged suspension to take on big potholes is his recipe for leisure. "The car's manual column shift is the best part, as it is a rare thing to have now and I enjoy changing the gears most," says Ahmad. "My fiat was made in the final years of its production so it has some of the features that no other Fiat had before, such as good fuel efficiency due to a better carburettor, or better cooling with degaussing tank that maintains coolant pressure."
Ahmad Salman with his 1995 Padmini S1 Deluxe
For a car that was discontinued in 2001, maintenance is the prime issue cited by those who still continue their affair with it. For Ahmad, availability of good quality spare parts and knowledgeable mechanics are major concerns. "I always have a stock of parts that might be on their way out. Many a time, the seller quotes absurd prices for the parts as they have become rare. I don't keep track of running cost as it is emotional and I keep financials out of it," he said.
For Dr Moosvi's Fiat, Kunwar Pal is the saviour who keeps the spares stocked beforehand sourcing them from Delhi, Meerut or Agra. After all, if it was not for the mechanics, vintage and classic cars would have died way before.
Such is the connection of the mechanics who have worked on the Fiat, that they still go to great lengths, fixing it for their owners. "As for the Fiat and other classics, the electricals could be checked by a single wire without worrying about short-circuiting the system, while now the cars have a thousand wires. It is a mess under the hood!" exclaims Shamsuddin, a thin-built man in his forties, who was the second in command for fixing Fiats in Aligarh. Starting in 1983, he has changed his associations with people and cars alike, along with a brief stint of two years with Kunwar Pal. "Initially, I worked on Fiat, Ambassador followed by Jeep, but when Maruti came with its refined technology, we had to shift our focus gradually towards it," Shamsuddin told OVERDRIVE.
Officially, he stopped working on Fiats 10 years ago, but it hasn't clouded his ability to fix its engine or adjust the carburetor perfectly to its original condition, and does it occasionally for his customers. "Though the work was more, the labour cost for fixing a Fiat was less compared to the cars that came after. Now, in many cases the car needs a laptop to run the diagnostics, while earlier it was just a mechanic handling everything from oil filter to even repairing the chassis. There was a sense of achievement we had after fixing a car from our experience. Now, one has to be literate to be a mechanic."
Shamsuddin at his workplace at Palika Bazar, near Tasveer Mahal, Aligarh
Driving a classic does not come easy on everyone and Mohammad Omar, 43 can be a witness to that. When Omar returned to India in 2016, after working in Spain for 16 years, the first car he drove was his uncle's 96 Padmini, that was eating dust after he passed away in 2012.
His late father, Mohammad Farooq, used to teach driving to friends and colleagues out of passion, and a young Omar would accompany him. A few years after his father passed away, his uncle bought a Padmini and his joy knew no bounds. "After a hectic day at the workshop and a budget of Rs 15,000, I was driving my uncle's car four years after his death," says Omar shuffling his thoughts between the past and the present.
He drove the car for a year and a half after which its maintenance cost started getting a hold of him and he decided to put it to rest. "I used to take the car daily to my uncle's house for his family to cherish, but after a while a list of problems followed. The ignition went bad, followed by issues with brakes and alignment, and finally I decided to put down the keys in 2018," says Omar.
Mohammad Omar and his uncle's 1996 Padmini, now parked in an unlit basement
It has been a year since Omar handed over the keys, his uncle's Fiat is back in the basement eating dust, but the family is not ready to sell it. "If you love or treasure a car for the memories it made, you should at least keep it running if not in pristine condition. I don't understand this philosophy of being outwardly secure for something that you just lay it to waste," argues Omar.
There might be many such stories out there of cars from small towns or of insignificant people, waiting to be told, with a thing in common: relationships, of people and their vehicles. It is an emotional trait that defines and binds us. As the Fiat's first print advertisement said, "the new 1100 is not just a car with a history, it is a car with a future," and a classic lives on.
Feature story by Faizi Noor Ahmad
Price (Ex-Delhi)
Starts Rs 7.06 Lakhs