Land Rover Experience Tour of Australia 2015
After the legendary off-roading event the Camel Trophy was discontinued, some years later Land Rover started organizing four-wheel drive expeditions that are held biannually in different parts of the world.
In 2013, I was the only Indian invited to be part of the Berlin to Bombay Silk Road Expedition and I drove the Central Asia leg. This year again I was the only Indian invited to participate and in early November 2015, I drove the last leg from Balgo Hills to Ayers Rock. We flew into Darwin, which is the Northern Territory's capital. Founded in 1869 as a pioneer outpost it now has a population of 1, 20,000 and is named after the English naturalist Charles Darwin. Click here to view image gallery
The tents or swags had to be strapped to the roof
The Northern Territory covers a region of Australia equal to France, Spain and Italy combined. In fact as we know, Australia is big, really big and it's the planet's sixth largest country after Russia, Canada, China, the USA, and Brazil. It's over double the size of India and Australia also has the world's oldest surviving culture that exists wherever the Aboriginal people live. And our expedition took us to the protected region where these indigenous people of Australia stay in government run missions or communities. Yes, they no longer reside in the bush like 'Bushmen', but are housed in western style houses in such communities.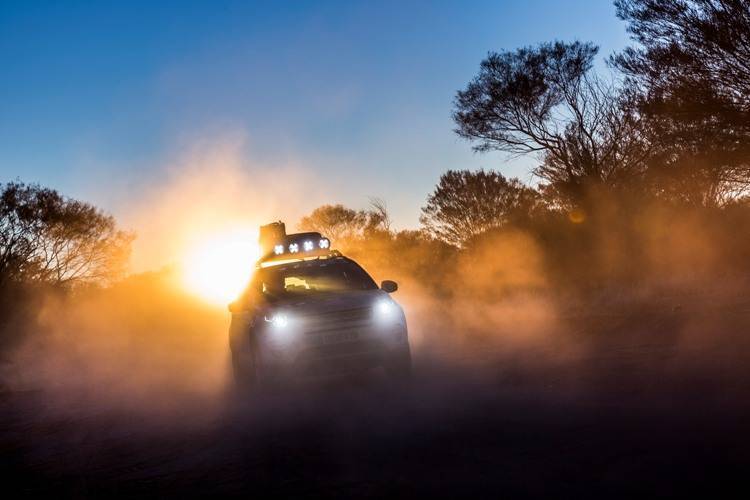 The cars did kick up a lot of dust
After a great welcome dinner in Darwin, the next day we flew on a small chartered aircraft to a Balgo Hills and landed on a dirt strip, which was a thrilling experience. Its also the first time I got a boarding pass that said "No toilet. No food". The two planes apart from carrying us also carried some 600 kgs of food supplies and also some spares and tyres. At Bagmo Hills we were introduced to the organizers, most of who I knew from before. We also met our team mates and the Range Rover Discovery Sport that we would be driving. Then after a quick drivers briefing and visit to the Aboriginal Art Centre we were off and driving in the Great Sandy Desert. The first and biggest problem of the expedition soon made its appearance- the Australian Outback Fly. They were there in millions, and soon all over you. I had to cover my face with a handkerchief and the next day I got myself a 'Fly Net' which was very comforting. But you had to take it off to eat or drink- and I must have swallowed over a dozen flies during this trip!
In the outback there was no habitation what so ever and it was just our convoy of Range Rover Discovery Sports, Land Rover Discovery's driven by the organizers and a 6 X 6 Mercedes-Benz truck that was our 'mother-ship'. It carried all our food, drink, kitchen, spares, etc. It also had an onboard refueling station with a huge capacity tank. This very well equipped truck has been designed by Expedition Leader Dag Rogge and it clearly reflected all his years of experience of driving off-road all over the world.
Camp getting ready to roll at 6.00 am- our regular starting time.
We took a break at the famous Yagga Yagga ghost town and it was actually eerie walking into proper homes with not a soul in sight. The temperature was around 47 degrees Centigrade with the surface temperature being much higher. This meant the tyres were very hot making the rubber softer and prone to punctures if you did not drive very carefully. The cars were also equipped with a 'Checkair' tyre monitoring system that showed you air pressure and tyre temperature. I was very careful about hitting stones or sharp edges and though other teams had several punctures we fortunately did have not even a single one during the entire event.
As we had a late start we had to drive in the dark and this was really challenging as the dirt tracks have no markings of any sort. The dust kicked up by the vehicles ahead did not help either. Some guys got lost, others got stuck, but we somehow after going off-track a couple of times, made it to our campsite at a deserted water station. The 'mother-ship' was delayed, so dinner also was delayed and I spent the time learning how to set up my tent or what the Australians call'swag'. It took about 10 minutes, but was really comfortable. What was simply spectacular was the view of the stars. Free of pollution and habitation, the Australian Outback provides you with the most magnificent view of the night sky and I was completely 'star-struck'.
Cars often got bogged down on the sand dunes- and then it was team work
Next day I was up early and went behind some bushes to do the morning business. I had carried a foldable toilet stand from Mumbai to be more comfortable in the bush. Soon after I finished I heard a rustling sound and saw a greenish snake less than 10 feet away. With my heart in my mouth and heart pumping at a furious pace, I very quietly made a not too graceful exit. I knew the Australian Outback is full of snakes and all kinds of insects and wildlife. But I never imagined I would see a snake so up close. Later in the expedition I did see a big lizard, but it was from inside the Discovery Sport.
Land Rover Experience Tour Australia 2015
Over the next few days our constant companions were the flies, the cobalt blue sky, deep red sand and rock and vast Australian Outback. We camped one night on the banks of the massive Lake Mackey whose salt attracts a lot of birds. We also visited the small town of Kiwikurra to take on fuel and supplies. One of the highlights was driving on the 'Gunbarrel Highway'- one of the most famous and challenging dirt tracks in Australia. It was built by surveyor Len Beadell who is regarded as the 'Last true Australian Explorer'. The road, if you can call it that, is as straight as a gun barrel but the terrain its cuts through is very varied with flat stretches, small hills, soft sand, sand dunes, packed sand, hard rock, flood plains, heavy corrugations and washaways. On day two our Discover Sport lost four-wheel-drive due to a pump failure and we had to drive very carefully to ensure we did not get stuck. With only front wheel drive it was a real challenge, but we managed well only getting stuck once. Vehicles with 4WD were getting stuck more often and this along with our puncture free record won us a lot of compliments from the other teams.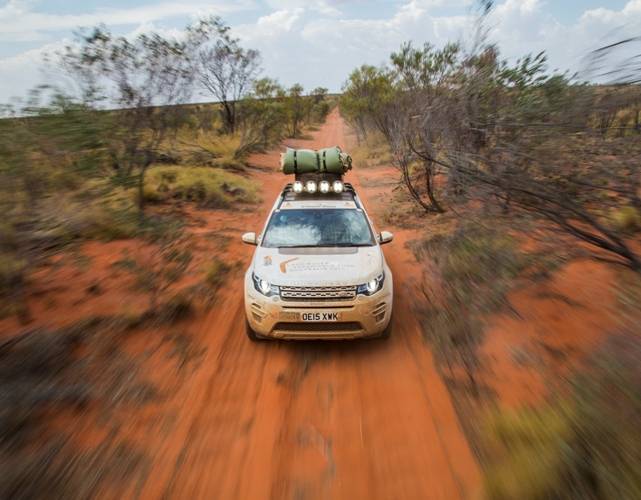 Land Rover Experience Tour Australia 2015
The driving was difficult and though you pushed hard, you covered about 250/300 kilometers in some 12 hours of driving. It was hard work at the campsite too. Apart from setting up your own tent you had to help with the cooking, serving, dishes, setting up camp, dismantling camp, etc. I did the dishes and the camaraderie between team members was admirable. As in any large group you had some cribbers and shirkers, but most of us had a ball. Those used to a luxurious lifestyle were of course the biggest whiners, but even they could not deny the region was stunningly beautiful.
At the last campsite we had a hand pump, and this was a true luxury in the bush. The finish was at the stunning Ayers Rock and I must say visiting this place that is revered by the Aboriginals was a most memorable experience. We had a farewell party on a dune overlooking the rock and everyone had a complete blast. The organizers must be complemented for running such a fine event.
On bad stretces the co-driver would get off and guide
Price (Ex-Delhi)
Starts Rs 71.38 Lakhs