Key factors that influence car buying decisions in India
Time and time again, we have heard managing directors and CEOs of automobile companies say that India is a challenging market and a tough nut to crack. Despite spending billions in market research, car companies are left flabbergasted when prospective buyers don't respond to their new products in the manner they had expected. Well, before beginning to develop a new product, all manufacturers spend hours trying to understand the needs of the specific target audience.
At times, there is a gap between what the car manufacturer perceives about the market needs and what the car buyers actually seek. Which brings us to an important question that every car manufacturer has been pulling its hair out to answer - what exactly do Indian car buyers want?
Understandably, the needs of car buyers in India will vary according to the segment they are looking at. The needs of a prospective entry-level hatchback buyer will be very different from that of a luxury car buyer. Similarly, the priorities of a first-time buyer and someone who is considering upgrading to a bigger car will be different as well. At OVERDRIVE, we receive over hundreds of e-mails each month asking for suggestions from our readers on which car to buy.
Surprisingly, in the majority of these e-mails, car buyers across segments seem to be considering similar parameters in their decision making process. We have now compiled a list of the key factors that seem to influence the car buying decisions solely based on the e-mails received from our readers over the years. We have not conducted any survey to gauge the key factors for car buyers in India. Do note that the listing is not in any particular order as some attributes might be more important to you over others.
Brand and price
For the majority of us, our dream car isn't our daily driver. That is because not all automotive creations can be called affordable. Buying a car is a financial commitment which requires weeks and at times months of planning. So, when it comes of signing the cheque, one is bound to think twice and get choosy.
Usually, the first priority for all prospective car buyers in our country is deciding the budget. It is not uncommon for an individual to consult friends and family before deciding the budget. In majority of the cases, the budget is flexible and gets extended by around Rs 20,000 to Rs 50,000. This happens as after visiting the showroom one tends to reason that going for a higher trim is more sensible as it will be more feature loaded. Buyers take into account the various benefits being offered by the showroom like cash discount, exchange bonus, free extended warranty, lower insurance premium and so on.
Along with the price, the brand of the vehicle is equally important. In our competitive market, very few automobile brands have managed to taste success. Understandably, every brand is perceived differently by buyers. Before choosing a brand, one evaluates the brand in terms of its market reputation, reliability, build quality, technological innovations, ownership issues and so on.
Styling
Yes, styling is subjective and what appeals to one be might be repulsive for another. Fact is nowadays cars are used to flaunt success, make a style statement and are considered to be an extension of our personality. So prospective buyers want their car to stand out in a crowd. They are not interested in a safe design which 'pleases all and offends none'. The Renault Kwid is a good example of how an innovatively styled vehicle for its segment has got buyers hooked. So much so that it has got the segment-leader Maruti Suzuki worried.
Fuel economy and performance
It is true that every human being is unique and has different expectations from their vehicle. However, the one common bit that strings all Indian car buyers together is their obsession for good fuel economy. Yes, times are tough, money doesn't grow on trees and every penny saved is every penny earned. But then why not avoid buying a car in the first place and save a bagful of cash? Guess, we Indians love to have our own cake and eat it too.
Typically, every car owner in our country has been asked at least once by their boss, colleagues, neighbour, society chairman, building watchman and even the toll booth attendant 'kitna deti hai?'. Heck, even India's largest car manufacturer advertises themselves as makers of most fuel-efficient vehicles. Our obsession with mileage may not change, but over the years buyers are beginning to prefer a blend of performance as well as efficiency. Cars like the Swift petrol and diesel, Vento/Rapid diesel and Duster 110PS have shown that is possible to deliver on both counts.
Space
For existing car owners looking to upgrade, this is one of the key deciding factors. For first-time buyers as well, their buying decision is governed by how much room or interior space the car offers. If the boot is spacious and can accommodate large bags and suitcases, then it is an added advantage. The Renault Kwid, Maruti Suzuki Baleno and the Hyundai i20 are not only among the most spacious cars in their segment but also the highest-selling cars in the country.
Comfort and safety features
Irrespective of whether one is buying a smartphone, a washing machine or a car, they are keen to find out what features it offers. A longer list of features not only enhances the value for money appeal of the car. Buyers prefer features like a touchscreen infotainment system with good quality speakers and tweeters, steering-mounted audio controls, electrically adjustable wing mirrors and reverse camera. These features make one's life behind the wheel a lot easier.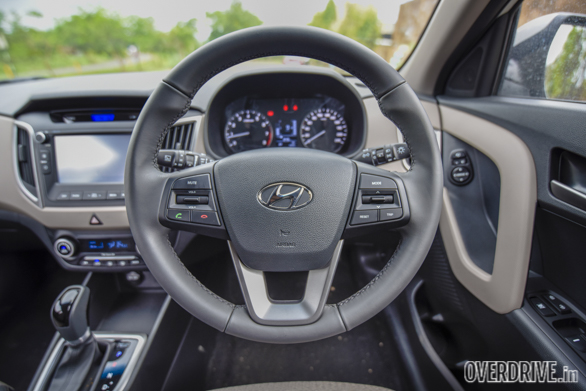 Increasingly, car buyers in India are also taking into consideration the standard safety features before making a decision. This is also one of the main reasons why the top trims of most models are being preferred over the base versions.
Ground clearance
Unfortunately, in our country, a good road is rare to find while bad roads are a harsh reality. Our roads are full of potholes and undulations. A bigger problem arises during monsoons when not only newer potholes emerge by the dozen but also the existing ones become big enough to be called craters. Now, even if you skilfully manage to avoid them, our poorly constructed, illegal and absurdly tall speed breakers will definitely end up scraping your car's underbelly and the exhaust system.
One of the key reasons why buyers shied away from the Honda Civic was its low ground clearance which restricted it to well-paved city roads. Buyers prefer to go for a crossover or compact SUV over premium hatchbacks and sedans primarily because their high ground clearance makes it easy to tackle our roads without worrying about breaking something.
Aftersales and service costs
Buying a car is only the first step. The actual ownership process begins when you start using it. That's when the wear and tear starts happening and eventually some parts will need to be replaced. Just because you can afford to buy a particular make and model doesn't necessarily mean that you can afford to run it. For example, you can buy a used 2008 BMW 3 series petrol for under Rs 10 lakh, which seems like a reasonable amount to shell out for a car. However, a regular service at the authorised workshop will set you back by around Rs 80,000 to Rs 1,00,000. Also, if some mechanical part needs to be replaced, then the bill will increase by few lakh.
A widespread dealer network is also a crucial deciding factor as that means the car can be easily serviced. Even the availability of spare parts is looked into. We have all heard stories of that one friend whose car was stuck at the workshop for days as spare parts weren't readily available.
Dealership experience
A decade ago there were only a handful of car brands for buyers to choose from. Now the options are a lot more. Our cities have also grown bigger, and manufacturers now have more than one dealer in one city. As a result, competition between dealers has increased. Prospective buyers are aware of this and are going for brands which are making them feel their money's worth.
It is becoming common to hear people reject a particular brand or dealership because they didn't like how they were treated. That is the reason why car showrooms are getting bigger and swankier by the day. They are becoming more attentive to prospective buyer needs, better prepared for walk-ins and keep vehicles ready for test drives. Buyers are even comparing their dealership experience at different brands before making a decision.
Resale value
Yes, a car is a depreciating asset and one cannot get away from that fact. However, there is still some money to be saved if one chooses wisely. In our country some makes and models depreciate much less than others. Some of the not-so-popular makes and models tend to lose as much as 25 per cent of their value in the first year of ownership. For example, Hyundai and Maruti models typically lose only 15 per cent of their value in the first year. So if your existing car hasn't depreciated much, you can give it to the dealership as a down payment for a new car.
Family requirements
Very rarely does it happen that we end up buying a car for ourselves. Mostly we end up buying what the wife or kids or extended family members, or all of them wanted. So their requirements need gets factored into the decision making process. Car manufacturers have realised this. And that's why their adverts now tend to focus on the entire family and show how it will keep everyone happy. A pick-up truck might be your dream vehicle, but if your family members find it too cumbersome to climb into, it will remain a dream buy.
As we have pointed out that for some the order of priorities is likely to different. Apart from these, are there any other factors that influence your car buying decision? Do let us know in the comments section below.
Price (Ex-Delhi)
Starts Rs 2.83 Lakhs
Price (Ex-Delhi)
Starts Rs 17.94 Lakhs
Price (Ex-Delhi)
Starts Rs 9.99 Lakhs
Price (Ex-Delhi)
Starts Rs 6.8 Lakhs
Price (Ex-Delhi)
Starts Rs 6.35 Lakhs
Price (Ex-Delhi)
Starts Rs 8.35 Lakhs
Price (Ex-Delhi)
Starts Rs 4.5 Lakhs