Karun Chandhok answers your motorsport queries: Part 2
Manzul Salve : I want to know what the prospects are for the Force India team in 2015. Like last year, will they continue to be a mid-table team? Have they got enough improvements that can take them to the top five this season? How are Nico and Checo going to fare with the new car this season? After two races, they are seventh in the Constructors' Championship, but they seemed to be struggling for pace in Malaysia. Will this prompt new updates? Is there any chance that they will be able to overtake Toro Rosso and Sauber? After a long time both these teams look like they have the jump on Force India.
Karun: Force India look like they're in for a bit of a tough season this year. They did a great job to fight against big teams like McLaren last year but pushing their development last year has potentially hampered the funding they had available for development of the 2015 car. Their financial constraints over the winter have been well documented and therefore their car development process was delayed and they arrived in Melbourne having only attended two full days of testing instead of twelve.The team has done well to score some early points despite these delays but in terms of outright pace and performance, they're in for some tough times because their real performance updates won't come until the Austrian Grand Prix later this year. This will make the battle between them and the other mid field teams a tall order for them.
Justin: Formula 1 isn't all that popular in India because most viewers don't seem to understand the sport. Can you tell us what steps you took to get into Formula 1? Where are the training academies located? And how come there aren't any races at the Buddh International Circuit?
Karun: There are training programmes run by a few individuals in India but at the moment there isn't a full structured academy. I started off racing in Formula Maruti, but since then JK Tyre has set up a full karting championship with two-stroke Rotax karts which are a global standard. This allows drivers a great chance to start of competing at a high level in karts that will train their technique and style that could be beneficial all the way up to Formula 1 or sportscar racing. Hosting an F1 race is a very complex process. In most other countries, apart from the UK and Japan, the race is hosted and organised by the government or in partnership with the government. In India, this wasn't the case and we relied solely upon the Jaypee Group to organise and underwrite the cost of the event. Realistically, they can't be expected to keep facing the annual cost of $50 million to host the race without any support from the government or the sports ministries.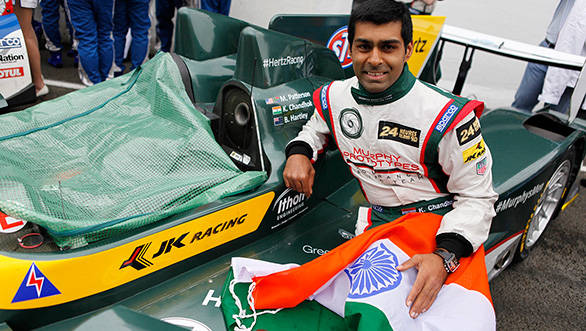 Anjan: I am a Bangalorean with a lot of dreams of autocross and off-road events. I own a Royal Enfield Classic 350 and I want to learn about and then start participating in off-road events. However, with no one to guide me or teach me how to realise these dreams, I'm at a loss. Can you help me?
Karun: Sounds like you have a lot of passion Anjan! Being a man who enjoys riding bikes, I would suggest you look at entering rallies, autocross or motocross events. There are several of these that happen across the country and I would suggest you take a look at these. Once you get a high level of experience, you should try and look at events like the Raid de Himalaya or the Desert Storm which are designed for more experienced riders.
Price (Ex-Delhi)
Starts Rs 1,84,374