Jeepers for a cause
Every time we find ourselves in the Himalayas, we can't help but be humbled by their sheer scale and beauty. These mountains have seen explorers and globetrotters since the beginning of time, each generation of visitors leaving in equal awe of the landscape. But over time, this has also meant that the pristine and delicate environs of the region have been subjected to ever-increasing human interference, most harmfully through the waste that we leave behind. It is the sanctity of this region that Jeep India recognises needs to be preserved at all costs and hence decided to lead by example. It only helps that Jeep is known to build rugged SUVs that are right at home in these difficult conditions and are the best possible tool to explore the challenging terrain here. Every year Jeep India gives its loyal customers a chance to come together and head out on an extraordinary adventure, and with sustainability the buzzword after our experiences over the past 18 months, an expedition to give back to nature seemed the way to go.
This year marked the third edition of the Legendary Jeep Trails and the route was chalked out to test the spirit of both man and machine over 10 days and 2,000+kms albeit with a social bent of mind. A large group of 12 customers and 20 support staff in a convoy of Jeep SUVs would be taken through the lush green landscape of Himachal Pradesh to the majestic region of Ladakh and finally culminate at Srinagar. The Jeepers would not just drive through the various regions but the idea was to instil a sense of responsible adventure. To realise Jeep's flagship CSR initiative, Mission One Earth, the team joined hands with Healing Himalayas, a non-profit from Himachal Pradesh renowned for organizing clean up trails across the Himalayan belt. Healing Himalayas founder, Pradeep Sangwan accompanied the enthusiastic Jeepers through the trip to identify clean up trails and educate all about the recycling process of plastic and MLP (multi-layer plastic) waste.
The drive commenced from Shimla, the 'Queen of Hills' in Himachal Pradesh with a convoy of 35 capable Jeep Compass and Wrangler Rubicons geared up to traverse the varying terrain of the mighty Himalayas.
The drive's strong sense of social responsibility was at full display at our very first stop at Chitkul, an enchanting village nestled at an altitude of 11,319 ft in the Kinnaur district, famously known as the last village on the Indo-Tibetan border. Despite being relatively difficult to reach it was shocking to see the amount of plastic waste left behind by tourists seeking a few moments of bliss. Being the flag bearers of Mission One Earth, the Jeep community donned their cleaning hats and gloves in record time and collected a substantial amount of recyclable waste that was an eyesore in the otherwise picturesque village.
While cleaning up the village, Dr Surekha of Bengaluru observed, "People like us, we appreciate nature, we say wow but what we leave behind is not at all wow! Chitkul is the last post of India and imagines if here there is so much waste to be collected here, how much would there be in the rest of the country? Hail Mission One Earth & hail Healing Himalayas."
Fellow Jeeper Mohammed Riaz from Gurugram too was amazed at the amount of waste left behind in a small village like Chitkul, "I always wanted to come on Jeep Trails because I feel it's a great adventure but what I feel is most interesting about this trail is that we are cleaning the Himalayas. It'sadventure tourism with purpose. I never realized even in a small town like Chitkul with less than 1,500 residents, many tourists visit here. What amazes me is how dirty people make their environment. I'm hoping tourism efforts like this will make a difference."
Onwards and upward then the Jeep Trails blazed through to an elevation of 10,760 feet to join hands with the residents of Tabo town in the Lahaul and Spiti district to restore the level of cleanliness that once was before the current tourism frenzy took over. Taking Mission One Earth into a higher gear Jeep India in association with Zeleno India gifted the residents of Tabo their very first reverse vending machine capable of crushing large quantities of recyclable waste. The waste collected from this reverse vending machine would be recycled to make environmentally-friendly Jeep merchandise. Tourists feeding plastics into the reverse vending machine would receive a coupon that can be redeemed for the Jeep merchandise and would be sent to the person individually by Jeep India.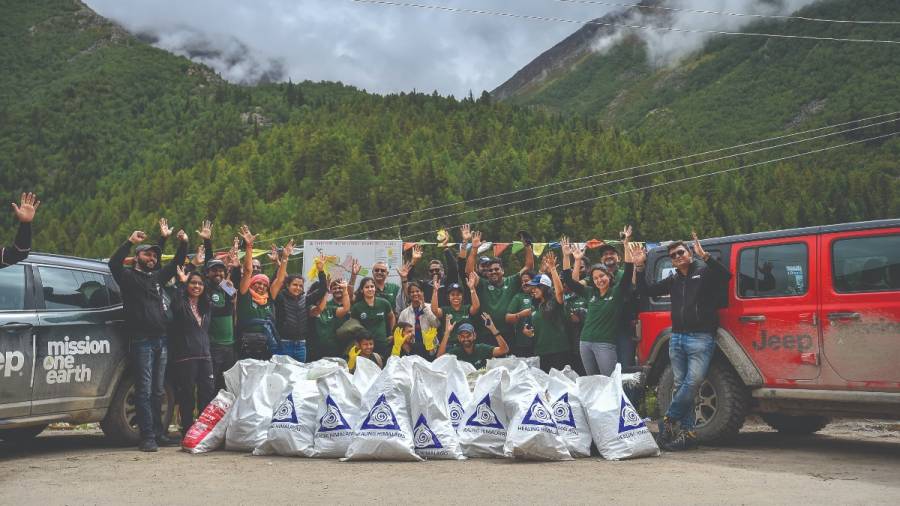 Speaking to us during this event Sonam Kunga, Tabo Monastery in charge said, "This is a very significant day for us because with tourism on the rise, plastics are also increasing and reusing plastics leads to many illnesses. With this reverse vending machine we'll be able to segregate the waste and it will be sent for recycling. The usage of this machine will definitely benefit us."
The road from Shimla to the town of Tabo and thereafter to Kaza in Spiti Valley was tackled in relative comfort by the Jeepers. Even the narrowest of blind turns were navigated smoothly thanks to features like the proximity sensors & 360-degree cameras that heightened the sense of driver confidence even in the tightest of road margins. After a 400km drive through Himachal Pradesh, the convoy took yet another important step in stating their intent for a responsible adventure this time at the world's highest fuel pump in Kaza, Spiti Valley. Jeep India inaugurated the second reverse vending machine to ensure proper disposal of recyclable waste in this region and to mark this momentous occasion the inauguration ceremony was attended by special guests Mahender Singh Pratap, Sub-Divisional Magistrate of Kaza & Mohan Dutt Sharma, Additional District Magistrate of Kaza.
Speaking on this happy occasion Mahender Singh Pratap, Sub-Divisional Magistrate of Kaza said, "This place is famous not only in India but throughout the world and water being a necessity they purchase PEP bottles from restaurants and shops. We are living at an altitude of over 12,000 feet & garbage like plastic is not something that is easily degradable so definitely, it (RVM) will be useful for all locals and tourists and its all thanks to Jeep India who have provided us with this machine for the first time in this place."
Pleased with Mission One Earth's initiative Pradeep Sangwan, founder of Healing Himalayas said, "The machines that have been installed by Jeep India in Tabo and Kaza will compress the plastic bottles and MLP which will be collected once a week depending on the amount of waste being pushed into it and then eventually, we'll take it to our material recovery facility. From there we'll send it to our recycling facilities and from thereon we'll make t-shirts, chairs and tools out of it. But for that, we need systems in place where we can get segregated waste and this is the very first step we've taken along with Jeep India to collect that MLP. So this is a small but a very effective step to start off."
We started Jeep Trails in 2017, after the Jeep Compass was launched and since then it has been hugely popular. Jeep owners wait for the next Jeep Trails and are quick to sign up for it on our Jeep Life app. This year is extra special with the kick-off of Mission One Earth. We have a higher purpose. Our plan is to reduce plastic waste in the Himalayan region. It's a small step but one with a firm resolution of helping our Earth breathe. The response this time to has been very encouraging and we are excited to do many such initiatives that Jeep brand can help conserve the environment and promote Responsible Adventure, explains Rahul Pansare, head of marketing and PR, Stellantis India.
To make the day a bit more legendary the convoy headed to visit the world's highest post office in Hikkim village and higher up still to Komic village, known to be the world's highest motorable village. A village that stands at an elevation of 15,049 feet above sea level and is home to roughly 300 inhabitants.
Deciding to cool off after the high-altitude excitement the Jeepers thought it was best to test the water fording abilities of their all-terrain capable Jeeps and were more than satisfied with the experience. This fun activity was just a teaser to what lay ahead over the next few days that truly made this drive memorable in many ways.
The route from Kaza to Jispa is just over 200km and was the first real taste the Jeepers got of tricky, off-road terrain and a high-altitude pass via Kunzum La. To be honest, the roughest and trickiest of surfaces we faced felt like a cakewalk in the imposing Wranglers. But it's the Compass that we were truly impressed with. Most city dwellers who chose the Compass wouldn't want to tread too far off-road with their vehicles, despite the assurance of the Jeep name. But this lot of adventure-seeking junkies seemed happy to test the full potential of the Compass through it all, with the SUV not skipping a beat. A 70-odd kilometre stretch of dry, rocky river bed made the drive a slow and treacherous one and required all drivers to be extremely attentive but the convoy aced all challenges the terrain had thrown up in an upbeat spirit nonetheless, thanks to the capable machinery at hand.
The next day promised yet another spirit-testing adventure. The drive from Jispa to Leh alerts travellers of four high altitude mountain passes, some of the highest motorable roads anywhere in the world, and the winding Gata loops, all of which are strenuous to both man and machine. The stretch between Lachulung La and Pang was the most challenging, the drivers nursed their cars through deep ruts, mud and find fesh-fesh with plumes of dust being thrown up. It was difficult for the convoy to follow each other closely so a healthy distance was maintained to ensure breathability of the SUV and visibility for the driver, but as always the Jeeps tackled this stretch without breaking a sweat. The high point of this day's drive (no pun intended) was the vast expanse of the More plains which the drivers enjoyed with some stunning sunset views.
Along this journey, the group was joined by the men leading Mission One Earth and the Jeep Legendary Trails. Roland Bouchara, CEO and MD Stellantis India and Nipun Mahajan, brand head Stellantis India, and Rahul Pansare, head marketing and PR Jeep Stellantis India, joined the responsible adventurers to enjoy some quality time with the likeminded community and enjoy a bit of adventure with the Jeeps themselves.
"This was one of the greatest trails we've organised. We had customers joining from Indore, Ahmedabad and various parts of the country who thoroughly enjoyed the experience. Jeep Trails is very symbolic to Jeep life and that Jeep Life can be enjoyed by the customers through Jeep vehicles but only through an adventure that they dream of. Jeep Trails brings people together, it builds a community and that is the biggest advantage of owning a Jeep car.
Mission One Earth fulfils one of our biggest ideologies of being a green brand. It's a mission that helps us connect with the environment. We connect with the customers, customers connect with the freedom and adventure that Jeep products offer but it's also important to give back what we take from the environment and Mission One Earth is one of the key initiatives which will help us do that", said an elated Jeep India head, Nipun Mahajan.
Dilip Nair, a happy Jeeper who drove from Ahmedabad with his family to be a part of this drive was exceptionally happy to have realised a dream of driving in the Himalayas, "Coming to the Himalayas is a dream for many individuals and my family supported me while being as enthusiastic to come along. I bought a Jeep Compass especially after seeing the adventures of the Jeep Life and the big community feeling with the brand. The Compass is a very compact and powerful vehicle and I have an automatic. Usually, enthusiasts prefer a manual transmission, especially in the mountains, but it has been too fun to drive this machine on this trip."
Overjoyed with the outcome of Mission One Earth and the Legendary Jeep Trails Roland Bouchara, CEO and MD Stellantis India said, "I really appreciate that we've been able to share not only the SUVs' capabilities with the customers but also a bit of social responsibility. The customers also got a chance to interact with the villagers while on the clean-up drive and we are extremely happy that we've collected a total amount of 1.5 tonnes of waste to be recycled by the end of this drive."
As challenging as this journey may have been, the novel purpose and the excitement of driving these Jeep in their natural habitat meant that the end of this trip seems to come at us in a blur. At the end of the drive-in Srinagar, there seemed to be a sense of satisfaction around the Jeep community having realised the aim of making the Himalayas a cleaner place. The 1.5 tonnes of waste collected will be recycled and reused to make Jeep merchandise and t-shirts. Mission accomplished, we now can't wait to see ourselves on the next expedition that Jeep has in store for its community.