It's salt good - a 1500+km tour to Kutch with the Bajaj Dominar 400
Riding a motorcycle long-distance always gives me a refreshing perspective on things. A long ride gives me a chance to take a break from the usual routines, and just get out there, brave the elements, revel in the journey and come back home to see things with a revitalised mind-set. I'm sure you must have experienced the joys that this kind of travel brings. If you haven't you most definitely should.
Clear past the city and all the chaos that comes with it, a tour on a motorcycle can be a very soothing process. For me, this time around, it was all about taking in all the sights on a new bike, trying to understand the machine better, settle into a comfortable rhythm and most importantly finding solace away from the city and the hustle. I'd never ridden the Bajaj Dominar 400 long-distance before, so when Bajaj invited OD to join in on the Rann of Kutch tour, it was the perfect excuse to break away from my usual stuff and go on a good seven-day road-trip through Gujarat to check out what the once-optional-and-now-standard accessories do for the perky streetbike and find out if the Bajaj actually holds its own as a proper touring machine.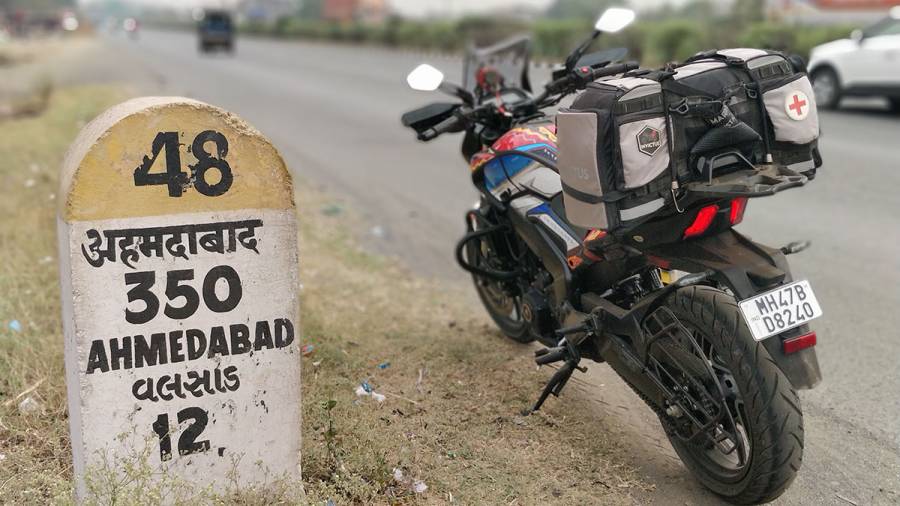 First, getting out of Mumbai city - always a task if you've not set out early enough to beat commuter traffic. The first two gears of Dominar 400 are really short and will demand that you shift down correctly to prevent a stall in traffic, but once the crowd disperses and the roads open up a bit sixth gear is a very comfortable and tractable gear to be in. The motor is a little gruff low down the band and there are a good amount of vibrations to be felt through the handlebar at around 3-4,000rpm. The vibes take a while to get used to, but more importantly, seeing as I had my phone mounted on the bike's navigation stay, I often had to pay attention to the setup because the phone would come loose and fly off at some point.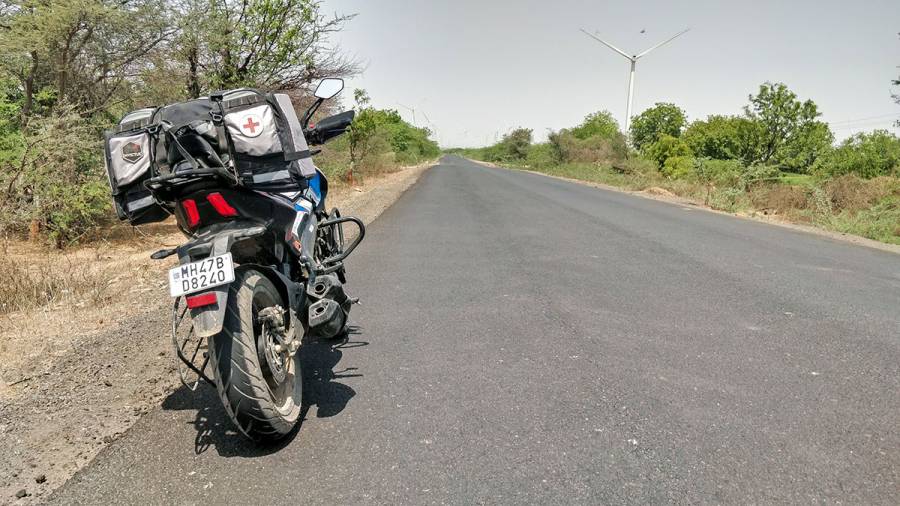 The highway from Mumbai to Ahemdabad is a rather boring one. Nothing much to see and loads of truck traffic so this is the time to be brisk. But it's easy to make good time because of the pristine condition it's' usually in. And here's where I sampled the Dominar's impressive top end performance. Acceleration is brisk and getting past trucks is very easy and quite effortless. The Bajaj's dual channel ABS also provided enough stopping power that ensured that I wouldn't have to self-administer any of the first aid techniques that were demonstrated to us in the group, pre-ride. The motor is ever-willing to be revved and the vibrations iron out nicely as you pick up the pace. There's a good amount of weight on the front end which doesn't make the handlebar feel overly light to turn in at low speeds, but it gets better with upped momentum and it didn't take a lot of effort to relegate traffic ahead to the bike's mirrors.
No pillion and just a tail bag for me on this ride, and rack at the rear along with the grab rail meant that I didn't take more than two minutes to load and unload my luggage. Long rides in the scorching heat were made just a little more comfortable by the Dominar's well-padded seat which compliments the tourer-friendly ergonomics overall - and this is something that you'll appreciate after spending multiple hours a day sat in the saddle. Even though the bike suspension is on the firmer side of things, which could make the ride lumpy in the city, after devouring kilometers for breakfast, lunch and dinner, I found it to back this bikes sport-tourer credentials really well.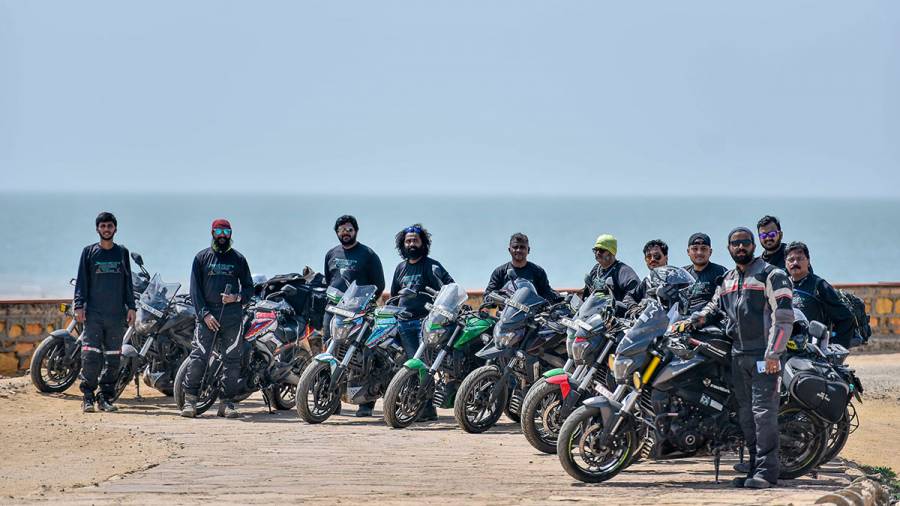 Now according to me, there are a couple of things that you can expect to encounter on a motorcycle tour. Yes, you'll make a whole lot of valuable memories and take a ton of pictures amid some stunningly picturesque scenery, but it's soaking in all the sights and sounds with a bunch individuals that eventually turn into friends, sharing stories of various encounters on rides - all this that all makes for a thorough, entertaining experience. If you're new to this kind of thing, I should tell you that riding in a group has its positives - and the biggest plus is that if something were to go awry, even if there' no support car at the tail end of the pack, there's always someone looking out for you. It's an empowering experience, in a way, and this allows you to be more in tune with all that's happening around you and better yourself as a rider.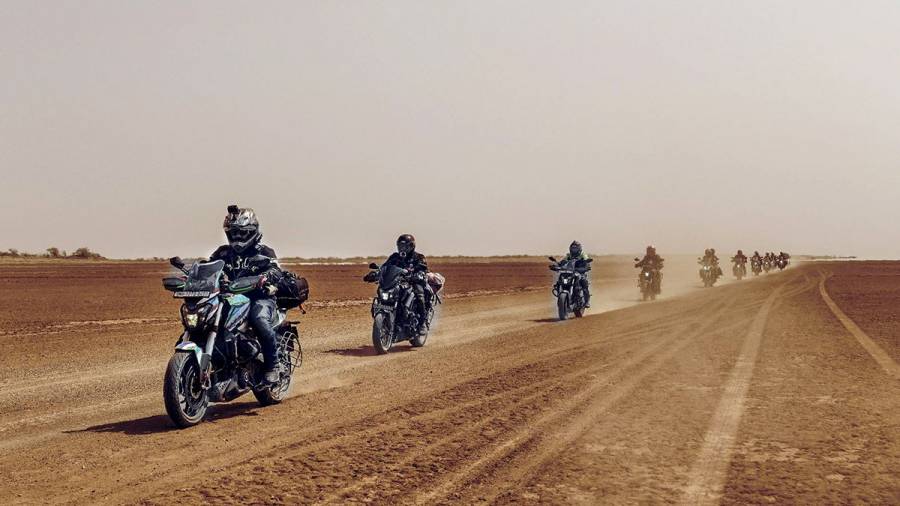 On this trip, Bajaj had all bases covered well and the instructors did well to instill confidence in the group when the ride conditions and terrain itself got a bit rough. Gujarat certainly has some of the finest stretches of tarred roads in the country, and even with heat building up ferocious in March, a distance of 500+km in a single day was easy pickings for a seasoned man and this machine. For most part on this tour, once past the 50kmph indication, slotting into sixth came to me like a motor reflex, and things pick up very peacefully thereafter. Cruising at 90kmh, the motor has a nice buzz about it and everything's zen. There's ample power in reserve and pulling ahead or steering clear of any wild asses using the road (both the two- and four-legged kind) was a cinch.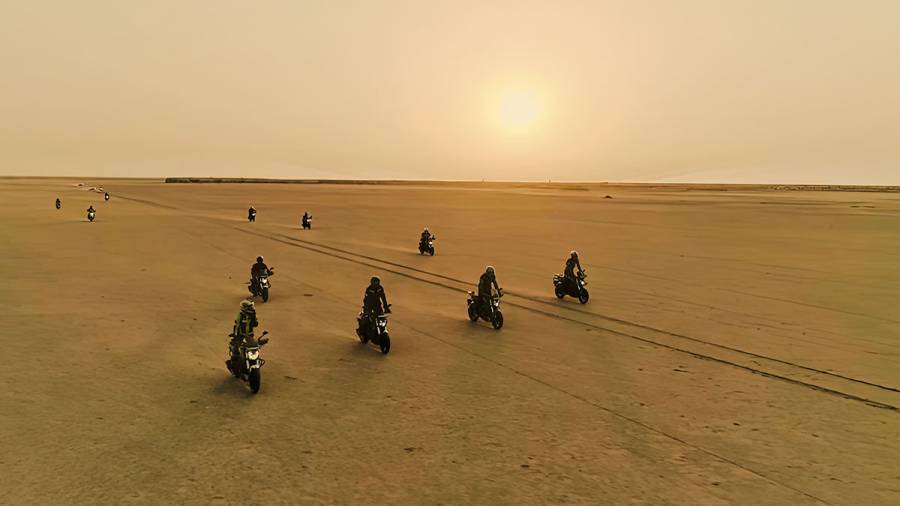 The road conditions would get trickier as we made our way to White Rann - from battered and broken roads to deep slush to sand and finally salt – and the Dominar handled everything, including the damp stretches of sand I chucked it into, remarkably well. In the sandy patches, the bike did feel a little front heavy and bog down, but there's enough room for me to stand up, grip the tank with my knees and with the right amount of throttle input, the rear always found enough traction to get clear.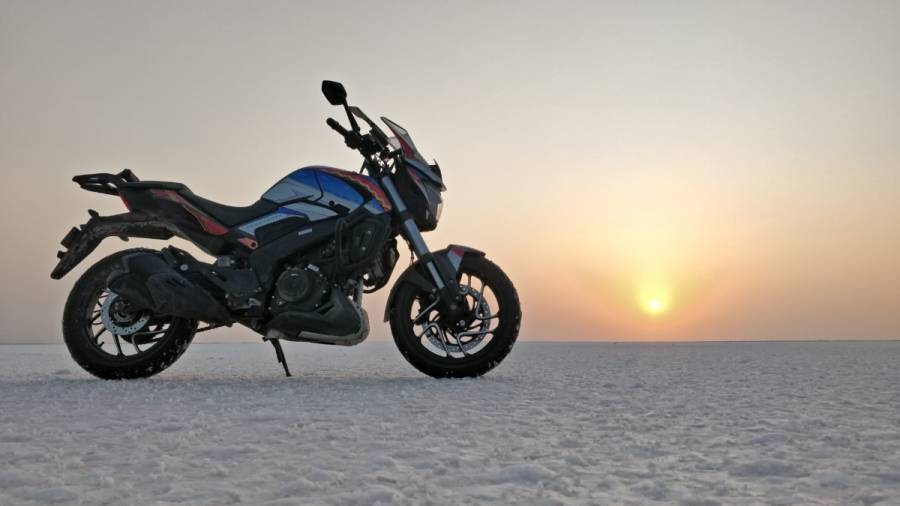 The Dominar was simply a joy to ride through the varying terrain and riding conditions in Gujarat. Surrounded by arid land, dune-less deserts with a tinge of saltiness in the air, it was easy to get into a rhythm, relax and take in all the sights at Kutch. it allowed me to prolong the feeling of euphoria as I saw fit, and that's the way i think it ideally should be. When things got a little mundane, whacking open the throttle open to cover ground quicker, felt as invigorating as sipping fresh coconut water on a hot summer's day. Still, word to the wise, a hydration pack is the most essential item you can carry on a motorcycle trip to this part of the country. The best part about this ride was the fact that, no matter how challenging the terrain or speed, it all felt easy and uncomplicated, showing me just how capable this Dominar 400 can be at managing it all.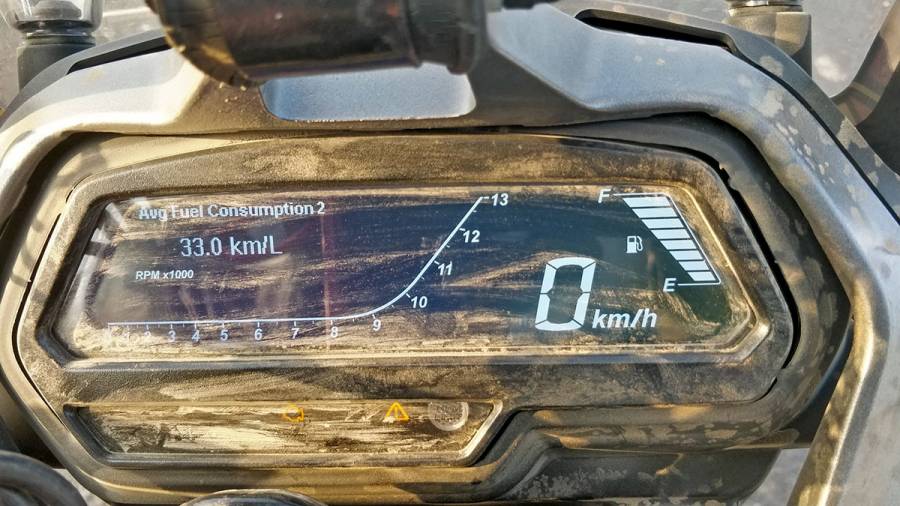 If there was one thing that I had to nitpick about the Dominar 400 on this ride, well, the best FE figure I saw light up on the LCD screen's efficiency indicator was 34kmpl which meant if I weren't riding at my efficient best, I'd have to stop for fuel every 300km give-or-take, given the bike's 13-litre tank. And there were some patches like the route we followed to Dhordo, where fuel stations were few and far between.
In the city, you might not be able to clearly see the feats that the Dominar 400 is capable of achieving, but out on a long distance tour, it comes across as a competent package which makes strong case for itself. My favourite from the list of accessories would have to be the navigation stay and the charging port which made navigation convenient. Also, from other riders in the pack I learned that you can load a normal Dominar with different branded accessories just like the ones that Bajaj provides on this fully-kitted variant, but they'll just increase the weight of the motorcycle and could even harm it – for instance some Dominar owners on the ride told me that some aftermarket bash plates can bend the chassis on impact, thereby causing more damage and increasing repair costs. To sum it up, is the Dominar 400 a sport-tourer worthy of your consideration? It most certainly is and if not, should be. Take the bike out on a long run out of town, you'll know exactly what I mean.
Price (Ex-Delhi)
Starts Rs 2,16,648