Interview: VW Motorsport India's Sirish Vissa on the Vento TC4-A racing in the ITC, the 2019 Ameo Cup, and more
Volkswagen Motorsport India has entered its tenth year in 2019. The motorsport outfit has seen a host of changes in those ten years, and has moved from running their single-make racing series, to developing and running rally cars in a successful customer pilot sport programme, and now running a factory team in the Indian Touring Car (ITC) Championship with the new Vento TC4-A cars. We spoke to Sirish Vissa, the head of VW Motorsport India, about the outfit's 2019 racing plans, and the way forward in Indian motorsport.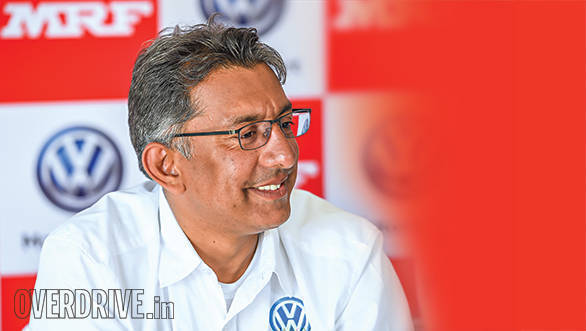 On the Ameo Cup getting national championship status:
SIRISH VISSA: It's something that we've discussed for a while. As a manufacturer, because of the way we run our championship, it doesn't change anything for us, but for the winner it makes a huge difference in terms of recognition. Because if you are the Ameo Cup champion, you've achieved quite a bit. We are possibly the best touring car championship in the country. But now the same person, when he or she wins, is also going to be considered a national champion. That has a lot more weightage to it for an individual. 
On the 2019 Ameo Cup grid:
SV: The big thing is how close the field has been in terms of the Ameo. With nine drivers coming in from last year, and nine newcomers, this is the closest field we've had yet. After qualifying, the top 17 cars were within 2.5 seconds. I think there was one car that was outside the 2.5 seconds. But that is probably the closest grid we've had. I think that is something we are more proud of than anything else. There are two aspects to the way we run our one-make championship: one is of course, getting the drivers into the series. But the biggest thing is the amount of time and effort we spend to bring them up to this level thanks to Karthik Tharani and Rayomand Banajee. This time, of the newcomers, we had two drivers who had never driven a manual gearbox car in their lives. So, on the Monday before the race weekend, we had two drivers who had never used a car with a clutch. And had never been on a race track. They went from that, to being able to get the cars up to speed and compete by the weekend. It's really a testament to the effort that we put in, in terms of driver coaching and driver training and working with them to bring them up to speed. 
On the VW Motorsport India-developed Vento TC4-A competing in the ITC:
SV: The Turbo Class being merged with the ITC was discussed in the racing commission, who decided that this was the only way to make the sport go forward. We competed in the Turbo Class last year. Competing in the ITC itself is something that we want to do until there is traction and the Turbo Class takes off as a separate category. We also wanted to make sure that we support the efforts of the FMSCI and the racing commission, who want to have a forward-looking set of regulations. Because if you don't have this class, you don't have a class for top-end touring car racing in India, where you are getting in modern equipment. I consider it our civic responsibility, if you will, to make sure that when the FMSCI has come forward and has put this set of regulations together, we run our cars in it. We want to ensure that this continues and builds momentum. 
Karthik Tharani leading the ITC pack in the first round of the 2019 National Racing Championship at the Kari Motor Speedway
On the VW Motorsport India factory team in the ITC:
SV: As a manufacturer we would like to be competing with other manufacturers for sure. When it comes to rallying, we have so many customers that are running Polo rally cars, that it doesn't make sense to go and compete against our customers. Whereas in racing, we are trying to support the sport, and grow the sport, so it made sense to support the FMSCI's decision. So the decision to run it as a fully factory-backed effort is because we are trying to make sure that the sport is growing. There is interest from us, and we are setting an example hopefully for others to follow. 
On the choice of factory drivers - Karthik Tharani, Ishaan Dodhiwala, and Dhruv Mohite:
SV: Our single make series champion has always been given a racing opportunity in another series the following year. Initially, when we didn't have a presence in the touring car arena in India, we had put them into single-seaters. The choice was easy to put Dhruv into our factory team, since he won the Ameo Cup title in 2018, and we are committed to supporting his career this year. Instead of putting him into a single-seater, since we have this car, we thought it made sense to put him in it. He's going from a touring car to a touring car, so the transition would be much better for him. Karthik, has been part of our programme as a driver coach, and has been responsible for developing the Vento TC4-A, so he was a natural choice. And while Ishaan's results in the Vento TC4-A last year did not meet his expectation or ours, we did see a lot in him. I think in terms of his drive and motivation and his focus, he's right up there. He's always been a team player with us. And he's been a part of the family, so it made sense to try and get him in, and support him. And we've got the youngest driver line-up there is in the ITC!
On the introduction of the success ballast that adds weight to the top-three finisher's cars: 
SV: Ultimately, it makes the racing more interesting. Because what we would like is for the field to be so close so that we can have any one of the cars competing emerge as a winner. What we ideally don't want to see is what we had the first weekend, with three cars running away at the head, or the Turbo cars running away and the naturally aspirated cars left behind. We want to see close racing. Considering that the success ballast is the same for everybody, and there isn't one particular car or make that's being handicapped, it works well. The question is whether it makes sense to do a combination of the success ballast and the reverse grid. That is a discussion that is being had at the moment. But  if at the moment we need to have both to make sure that the racing is closer and to make sure that we have more uncertainty as to who is going to win a race, I think it's worth it. I think once we get more cars that are that lapping closer together, then the combination of the success ballast and reverse grid won't make sense. For now, we need to put our thinking caps on and make sure that we make our car sort of handle the weight better. 
On the hope that other manufacturers will join the ITC in the future:
SV: Honestly, the best I can say, is that we've had people express interest, we haven't seen anything beyond that. This I think probably comes down to the fact that most of the marketing departments with automotive companies in India today, still haven't and don't consider this to be a valid sort of marketing platform. Unlike the four-wheeler guys, the two-wheeler guys seem to understand how much value motorsport is and are doing a lot more around it. I think there is a lesson to be learned, for a lot of the four-wheeler manufacturers here, from the two-wheeler manufacturers who are already involved in motorsport. It is a fantastic platform, and you just need to figure out how to do it. There are ways of doing it where it is cost-effective, and you do not need to spend obscene amounts of money. Because I think that's what people fear - that the budgets will go crazy and out of control. There are ways of making sure the budgets are in control. I think with the regulations that we have in India, it's not something that would be cost prohibitive for other manufacturers to try.
On the competition the Vento TC4-A faces in the ITC:
SV: It will be interesting to see what happens in Chennai. Arjun Balu's team and Race Concepts have a fantastic handling car. And Chennai is a track where handling is critical, so I think they are likely to set the benchmark over there and we will have some catching up to do. We have been working on developments for our car to try and catch up. But we haven't managed to do a test yet at Chennai, so it's going to be an unknown quantity until we get there and do a first run. 
On the Vento TC4-A being available for customers to order:
SV: Anybody who wants to go racing can order a car from us, and you can pick and choose in terms of bodyshell. We can essentially run a similar configuration of car in an Ameo, Polo or Vento, and so we can build it up that way. We can build it with either a 1.2 TSI, or the 1.8 turbo, or even a 2.0-litre turbo if needed.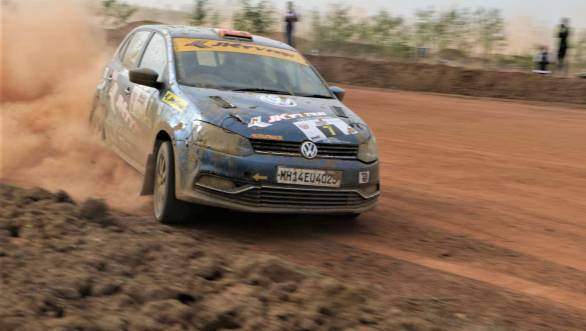 Dean Mascarenhas in action in his VW Polo during Round 1 of the 2019 INRC in Chennai
On VW Motorsport India's plans for their single-make series and future in Indian racing:
SV: We run our programme in a completely different manner than a normal factory programme. We are able to offset quite a lot of our expenses because of the sponsors that we carry on our cars. So, we actually are extremely cost effective as a brand, because of the way we have been working towards making this programme function. Because of a combination of sponsors, tie-ups, barter agreements, etc, we have actually managed to make this programme very cost effective. And this is the reason we've been able to survive despite having budget pressures internally. I think overall the market is seeing quite a lot of pressure in terms of trying to save money, as have we. At the same time our management sees value in what we are doing, because it isn't just about using this as a branding or marketing exercise. It is also about contributing to motorsport in India and developing drivers. We look at it as a win-win. We anticipate more pressure in terms of trying to find budgets and reductions in budgets in the future due to the economic climate, however we are looking to continue our one-make championship for the near future. We are also waiting to start working with the next generation of cars and vehicles that we will be introducing into the market once our MQB platform rolls out. We're not going to go anywhere. We are going to be here and looking to do more for sure. I think with what we've done with rallying with our customer sport programme has been a huge benefit to us. For sure we would like to do something like that on the racing side as well. We would love to be in a situation where there are enough people running Volkswagen cars in racing that we don't want to compete with our own customers as a factory team. So a situation where we are fully backing and supporting our customers, until we get another manufacturer coming in that we can compete with. 
On the 2019 Indian National Rally Championship:
SV: The INRC is going to be more interesting this year, with the XUV300 that Mahindra have brought in. I think now it is more fair competition, because they are running similar-sized tyres as the Polos are running, they have a similar power-plant, and they are running to a similar set of regulations. We have customers who are running in the INRC, so we are working on trying to develop the cars further to benefit them. I can't see us getting into rallying at the moment as a factory team. That will be something that is a few more years away at least.
Here's a detailed walk around of the 2018 Volkswagen Ameo Cup Car
Price (Ex-Delhi)
Starts Rs 5.96 Lakhs