Interview: Vijay Singh Ajairajpura talks about flat tracking motorcycles
Vijay Singh Ajairajpura is a bit mysterious. He wears shades that cover his eyes completely most of the time and says short, clipped things that make complete sense and reflect an innate intelligence. Vijay's been building some fantastic customs based on a variety of machinery so far and that's what he originally became famous for. But it seems like there isn't anything he cannot do. So he went road racing and started winning and now, he's into flat tracking as well.
Vijay hosted India's first flat track school at his track, the John Singh Speedway, near Viratnagar, outside Jaipur in Rajasthan. Harley-Davidson India created the school experience with help from Marco Belli, who runs the famous Di Traverso Flat Track School in Italy and is responsible for Valentino Rossi's flat track addiction as well as the Tavullia Ranch that is almost as famous as the number 46 itself.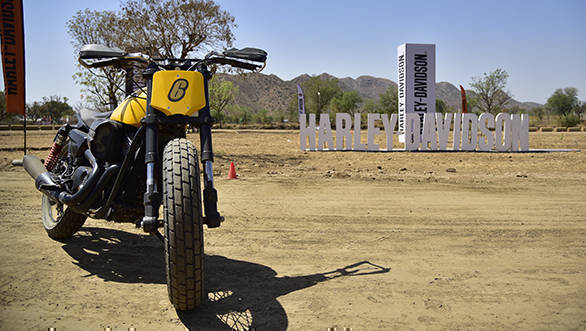 This is a Harley turned into a flat tracker by Rajputana Customs as the behest of Harley-Davidson India. It wears Shinko flat track tyres on new spoked rims, has lowered suspension and no front brakes at all. The tank also proved to be too wide for flat tracking, and it was cut to a narrower profile along with a shortened rear subframe and a flat, narrow seat.
On the sidelines of the event, I asked Vijay a few extremely pertinent questions.
John Singh Speedway?
It started because we had a concept of building a flat track. Just for ourselves - to practice. [Because] Me and a few of my friends road race. So we spoke to my dad. He had a piece of land over here at the farm which was completely barren and uncultivated. He lent that to us and he was happy with the results. That is how John Singh Speedway actually came around.
We named it after my grand uncle who is the father of motocross for us and for the country. In '72, he came back from England and he started rallying and motocrossing. In 1975 he organised the first one. [And then the] Jaipur Motorcycle Club as well. So we are remembering the heritage, celebrating it and carrying it forward as well. And not just me, this is for young riders to come through, for old riders to come back and relive some of those good times. Come out on a basic small oval, put it sideways and have fun. It's been so much more than we expected. It's just so good to have everybody here.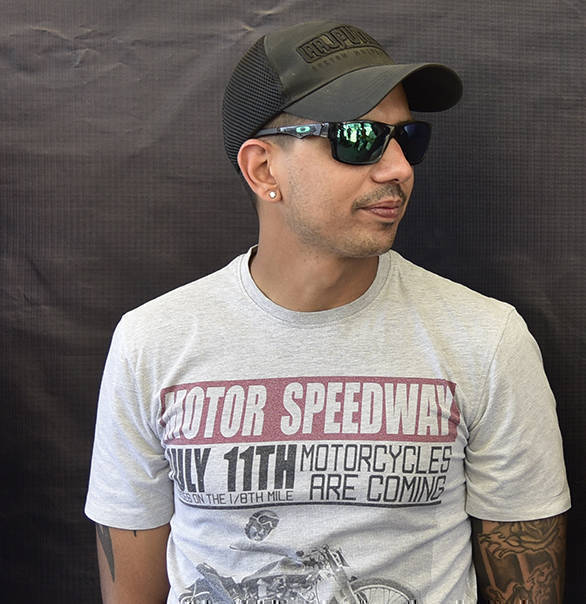 Vijay Singh Ajairajpura is famous for his company, Rajputana Customs. He built the John Singh Speedway to practice flat tracking as a way to go faster in road racing. The Harley-Davidson Flat Track School experience was the first official event at his speedway and he plans to figure out ways to allow more people to access the currently private facility
How to make a flat tracker?
For any flat tracker there are a few things that you must do. First you have to drop the suspension. It has to be nice and low. Drop the forks through the triple clamps to start with. You could go with a smaller rear... or you could also just run with the basic rear as long as the front is dropped. So your engine weight is lower and your centre of gravity is nice and low. You do have to watch the rake - the bike can become too nimble. Get all-terrain (not mud or road), Drop the tyre pressures to 15-22psi based on the weight - the lighter the bike is, the less you run.
That's all it really takes. Shed some weight, get rid of all the glass and plastic so you don't break anything.
You are bound to fall, you're probably going to fall in the drills or when you're riding around the track. It's part of the experience. It comes with the territory. And then, I think with the basic gear like boots, helmet and gloves, you're good to go.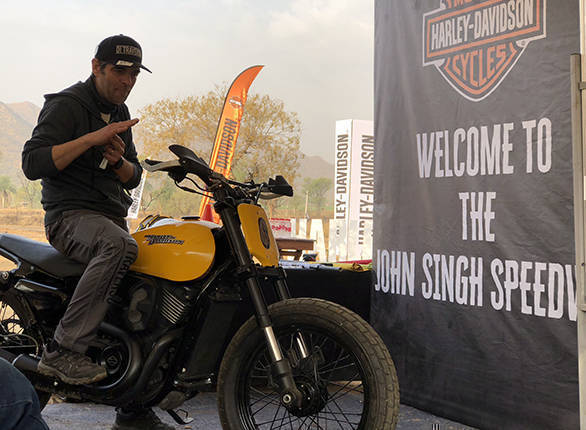 The Harley-Davidson Flat Track School experience was held at the John Singh Speedway near Viratnagar, outside Jaipur in Rajasthan. Lead instructor was this man, Marco Belli, who runs the Di Traverso Flat Track School in Italy and is famous for racing flat track as well as teaching a certain Italian MotoGP rider and helping that rider build a flat track ranch in Tavullia, Italy
Public access to the Speedway?
To be honest, we haven't figured out if we are going to open this to the public. As in, will we have official track days for people? But I guess that is the idea - to get more and more people to the track and this [event] is the first one we have done. Even though this is a media event with 25-30 close-knit people from the community who understand what this is about and really celebrate it in its true spirit and learn. It is a first for all of us and it's good to be here. But moving forward we would like to have 5-10 riders but it would be more of smaller, private controlled event
So I haven't really set anything up as yet. But I'd have a platform somewhere or the other where people can reach out to us. We can put out a few dates and say these are our track dates in the winter. The weather has to be good and we have to be slightly free. I am sure we can manage 10-15 track days like this in a year so we are catering to at least a 100-150 riders.
Price (Ex-Delhi)
Starts Rs 5,99,000