Interview: Sirish Vissa on the development of the new 205PS Ameo Cup car
Last year OVERDRIVE was able to reveal that the Vento Cup would give way to the new Ameo Cup, with race versions of the Ameo that would feature a 1.8-litre engine. Today, Volkswagen officially announced more details about the Ameo Cup, including the fact that the engine would make 205PS of power, and that the car would feature a six-speed sequential gearbox with paddle-shifters. We caught up with Sirish Vissa, head, Volkswagen Motorsport India, and asked him about how they went about developing the Ameo Cup car, and the future of the VW Motorsport programme in India.
Sirish Vissa, head, VW Motorsport India
On whether they started building the Ameo Cup car with the 200+ PS figure in mind
The TCR car was our benchmark. The aim was if someone had raced the Ameo Cup car, they'd be able to switch to the TCR car and feel comfortable. For example, even the Swedish Touring Car Championship has been adapted to TCR regulations. Now you have TCR series in the South East Asia, Middle East, in Europe. In the US also TCR has started, they are running a class alongside the Pirelli World Challenge. So TCR is so popular, like what F3 is in single seaters. So we wanted to basically bridge the gap from what we are doing, and go to making the gap from what we are doing, to something bigger, much smaller.
On the decision to use paddle shifts and the 1.8-litre GTI engine
So when we made the change to MRF, we had a tyre that started behaving like a proper racecar tyre, instead of a road car tyre. So you could feel the g-forces building in the corners, you would know when the tyre was reaching its limits, and when it was about to give up, because you'd lose tremendous amounts of grip over there. So we got the tyre and the handling side, of it was quite close to what the TCR car would be. So the next step was what we do in terms of the power, what we do in terms of the drivetrain side of it.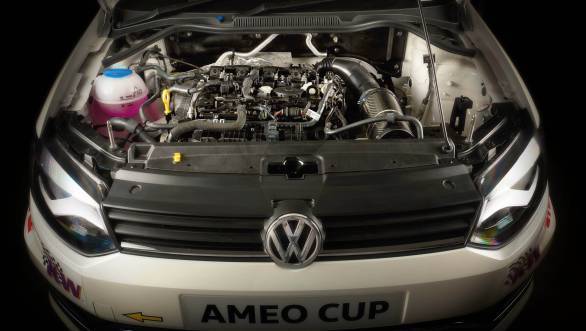 The Ameo Cup cars use the 1.8-litre engines from the Polo GT
So we've got the sequential gearbox with paddles. The reason for going with paddles was just to make it so that a complete new comer could manage and not feel intimidated by it. So I needed to keep that characteristic of the car, but at the same time make a car that was more interesting and more fun to drive for the more experienced guys. This was the broad outline that we started out with. And it coincided with the fact that we launched the GTI in India, so it made perfect sense then to use that powertrain and that engine as the baseline for our new Cup car. So it's essentially the GTI engine, but it is running on Motec electronics. All of the mapping was done right here in India by my guys, including me. That was a unique achievement for us, cause we've never done it, other than what little we did with the rally car. We've not done it to this extent before.
On the other powertrain options being considered
We weren't a 100 per cent sure, but we wanted to look at everything. So when we started out we had all options on the table. We didn't have only the GTI. We looked at a lot of other things, but we arrived at this because it made the most sense.
On the results of testing at the Chennai track
The quickest lap that we've done at Chennai is similar to the best ITC lap record at the track. Technically we can go quicker still, but now that we have full control over it, we are running the engine in a little bit of a conservative manner. We can actually tweak the engine to give us a lot more power, without making big changes, but we didn't want to get to the stage where we got a car that makes a lot of power, but it's so difficult for newcomers to learn to drive. Which is why we have stuck to where we are now, which is around 205-odd horsepower.
On the difficulty level of the new Ameo Cup car
They can manage. For sure it is more intimidating than the Vento Cup car was. It is a little more on edge, because the wheelbase is shorter than the Vento. But we worked on the car a lot, so that it is a little bit more progressive than the old Polo was, but it is not bad. But definitely a little more on edge than the Vento was. At Chennai the best ever lap time that we did was a 1min 51.780sec with Karthik Tharani at the wheel.
The new Ameo Cup car is comfortably faster than the outgoing Vento Cup cars
The best laptime of the Vento would have been around 1min 55sec. I would expect from the new crop of drivers the lap times to be in the 1min 55sec and 1min 56sec range. I would not expect them to dip down into the 1min 51sec range. The more experienced guys, the ones who have raced before should be able to get down into the 1min 52sec and 1min 53sec range. But again, it all depends on what we do in terms of our tyres. We are still working with MRF and going development on our tyres, so let's see. Because now the car has so much more power, it's a lot harder on tyres than the old car.
On the format of the Ameo Cup
No big changes in how we run it. We are quite happy that all the cars are built, run, and maintained by us. So people pay us for a race seat. They come in and do the season. If they damage the car, then they pay us the charges to repair the car and bring it back to what it was. But if you're one of the quick guys, then you're running away at the front, and you have very little damage and you get really a fantastic package in terms of value for money. Because what we are charging now is Rs 8.5 lakh a year, which is around €12,000, for 10 races in, what I would definitely say, is a world class racecar, I would definitely say it's very good value for money.
On the prize that the winner of the 2017 Ameo Cup will receive
That is something that isn't confirmed. But it will be something similar to what we have been doing in the past, which is that we will definitely put them into competing in one of the single seaters with MRF. We always have exchange programmes with our colleagues from China. Now with the new car it would make sense even for them to go and jump into a Golf. It won't be such a drastic change. So, we are working with other various programmes around the world so that we can do partnerships and driver exchanges with them. I am not sure if we are ready to do a season in Europe yet, the reason is that for somebody to go do a season it requires a lot of effort not only from us, but the driver as well. To be honest I don't think the people are ready yet to commit the sort of resources it takes, both time and money, to be able to go and succeed over there. Even if we give somebody a seat in something like a TCR Golf, the problem is for them to be competitive it requires them to go there, spend at least two months before the season starts, testing, so that they know the car in and out and they know the tracks they will be racing at. Until somebody is ready and willing to commit that sort of resources, it makes absolutely no business sense for us to spend the money and get them a seat in something like this, only for them to fall flat on their faces because of a lack of testing. It defeats the entire purpose of our activity over here. What we are trying to do is build them up, and build their careers up. And something like that is a setback at a very young age. When we have guys who are winning here, and they go abroad and aren't even midpack - it destroys them mentally and we can't afford to do that. The winner of the Junior Cup however will get a fully-backed season in the Ameo Cup.
On the future of the Ameo Cup
In terms of the Ameo, this is our first year. If everything goes according to plan we will continue with the same thing for the next couple of years. Because of the way we have engineered the cars this year, because we have full control over the electronics package, we have options and opportunities now to keep improving what we have year on year, without having to do a crazy amount of investment.
Plenty of options in terms of the future of the Ameo Cup car
We can add additional functionality as we go, in the cars. Something like a push-to-pass for example. So the base infrastructure, the foundation that we've got is stronger than it's ever been in the past. We've probably got one of the best electronics packages available in the car and we have full control over what to do with it.
On the future of the VW Motorsport programme in India
At the moment a lot of it is determined by what cues we get from Germany in terms of where we are going. So it isn't an easy question to answer at this point of time, but the commitment is definitely there for motorsport, and for making sure that we continue our support of motorsport in India. If you look at the direction we are moving in internationally, it's more customer sport oriented stuff. So it's away from running factory teams. We're firmly on that side of it, because even though we are running the team as a factory, because we are charging customers and we are off-setting our expenses, via income from our drivers and sponsors, technically it also considered a customer sport programme. So one of the things we would like to do in the future is offer cars like this that we have developed for people to use as a track day car, or to compete in other series with. We would like to offer customers the option to buy a track-ready car from us to be able to use for their own independent track days, but also to go out and race in some other series. Like the new turbo class in the ITC. It's easy to take the base that we've built and fine tune it to suit other requirements. This is something that we are always open to doing. There have been a couple of people who have been interested in track day cars, so it's something we are working on. But at the moment we are flat out trying to get everything done for the Ameo Cup. But we should be in a position in a month's time to look at these possibilities.
On their prospects in rallying
As far as rallying goes we will build cars for customers. We will not enter as a factory team as it makes no sense for us. We are very happy building cars and giving them to customers, because not only are we supporting customers, but we are also supporting the entire batch of tuners who are there, who rely on rallying as their main source of income.
On going electric in the future
That is something that isn't on the immediate horizon for us, but for sure we would like to look at alternative fuels as something going forward. And eventually we want to look at something to do with hybrids and electric power, and things like that. You've got Formula E that's catching on very quickly, you've also got the Electric GT championship that is going to be starting. So globally all that is happening. For us we have to see what the market and situation demands in India, and then respond to it. But as a company all of this is something we are ready to look at and move forward.
Price (Ex-Delhi)
Starts Rs 5.96 Lakhs