Interview: Founders of Northern Motorsport on bringing the Dakar Challenge to India
Northern Motorsport recently announced that the India Baja 2017, a cross-country rally held in Rajasthan, will be a Dakar Challenge event. This means that the winner of the event will get free entry into the 2017 Merzouga Rally and the 2018 Dakar Rally. We spoke to the founders of Northern Motorsport, Raj Kapoor and Jayesh Desai, on what it took to bring the Dakar Challenge name to India and what it means for the competitors. Here's what they had to say.
On how the India Baja began:
The idea was to create a slightly more complex rallying format, which, while retaining its difficulty quotient, is not a long endurance rally. What is happening currently is that people don't seem to have the bandwidth to do a long cross-country rally. We are seeing that there is a trend towards high-intensity (rallying), but with all of that packed into a far shorter package. And there seems to be an influx of better bikes now, unlike what was happening over the last 5-10 years, where you know, these endurance bikes were not being seen in this space. We were seeing some cars, but we were seeing just Group C bikes, which were Indian bikes, or we were seeing Group B motorcycles which were Indian bikes with some foreign parts. But now, there seems to be an influx of Group A bikes, which are purpose-built rallying machines – you see a lot of these 450cc bikes which are being bought by people and they want to do off-road racing. Hence, the desire to build a format which answers these particular requirements. And we have a tendency to hang around Rajasthan because we do a lot of stuff there. And, actually the terrain is also only available there in case you're looking for, you know, extreme terrain and low population density, Rajasthan is the place.
On the maiden event in 2016:
It went rather well – we had an interesting mix of bikes and cars. We had experimented with some purpose-built buggies as well. This rally has seen these old and steady vehicles which have been hanging around forever. There is a requirement to shift that comfort zone that people have in picking up an old Gypsy and then working that. It's rather boring to see the same car year after year, but that is what seems to be suitable, because we don't have any other products. So we've been trying to create possibilities and an environment where these purpose built machines can start to prosper. We've been experimenting with Polaris now for a few years and last year, we tried out the Rage buggy as well. That's a UK brand which builds nice off-road buggies. This year too there have been some developments with the buggy which we've worked on. It had a slightly short range, so we tried to increase that.
So, these are all learnings and experiments that one's trying to do, to come out with a product which is interesting to participate in and interesting to watch and cover by people who are enthusiasts.
The Rage buggy, which will be competing in this year's event
On the idea behind the India Baja becoming a Dakar Challenge event:
We've been in the cross-country endurance rallying space now for 15 years plus, and the pinnacale of this particular format is the Dakar. So what better opportunity than to bring something like that here, so that people wanting to do that, get an opportunity by a) trying out a sample version of it, and b) finding a funnel from this into the Dakar.
For a winner to get an opportunity to get a free entry into the Dakar is not a small thing, because they normally have these stringent registration processes and they don't actually let people come in without credentials. And we don't have any way of establishing credentials without spending serious amounts of money. So only if a corporate comes in, can someone even hope to get there. Now this might just enable the privateer to find a slot there
On the challenges of bringing the Dakar Challenge to India:
The biggest challenge of course, is establishing credibility with a global organisation because the Dakar is a massive operation and there are a lot of things there which are taken for granted. The way they run, the sheer scale of it and the way they handle that scale and the safety net that they create. Now those are things that might be natural in that environment, but in India it is all a challenge. Trying to get access to something as simple as a sat phone, which they think is no big deal, is a nightmare here. Trying to get permissions is next to impossible. The entire safety net that they put up hinges on this.
We tried to do something similar in a modified fashion using GPRS and GSM backup, but when you start to run in really remote areas, cell signals are scattered. It's a challenge to try and ensure that you have a safety net like a tracker which is installed in your car to give you precise information anywhere and everywhere, at all points in time. It's very difficult to achieve that and things like having a few choppers flying around here and there is no big deal. But for us, the red tape that surrounds that entire air-evacuation scenario is almost impossible to break through. Even if you do manage to break through, the regulations ensure that in case you do require to evacuat- somebody at a particular spot, you just might not get permission to land there. So, things as stupid and simple as these will be a challenge if you want to do something similar here. Those things are never ending – the list is huge.
Stuff that they expect will happen automatically, we have to try and counter with large amounts of manpower. A lot more effort is required just to achieve the same result. They will run a 500km stage with one third the manpower, just because they have technology supporting them.
Slowly but steadily, it took us over 4-5 years to make them see that yes, there is value in association; there's value in trying to build something here and bring the brand here. What we find in terms of ideas is that they have a very strong process in terms of trying to train and to develop talent and then slowly bring it up. Each thing that they do has a very specific process behind it and I'm sure that if we adopt a few of them or all of them, it will be good for the sport and it will help it move in the right direction.
On the prize for winning the 2017 India Baja:
The prize covers all the entry fees and the whole process of screening and credentials for the Merzouga Rally and the Dakar Rally. It gets you there. Now from there onwards the winner also has to put in some effort – he has to get his bike there, and again, there will be some support available from them. They (the organisers of the Dakar) said that they will try and help out and try to get the winner attached to somebody who can support him in terms of service and logistics. The idea is to create this opportunity and handhold till he gets there. That's the whole idea. But having said that, there's still a lot of effort that a person who is looking at going there, has to put in. In fact, in any sport where you want to get to the top level, there's a whole lot of commitment and effort required.
This a scholarship. It's a push. It's a door that is being opened. But the feeling (expectation) is that someone will air-drop you there and take you through. That is not going to happen. Life is a little more complex than that.
We have spoken with the Dakar organisation about the prize. Ideally, we would like to it give to an Indian. So, the way things are going, those who are coming in with factory teams already have their support of going to the Dakar. This specific option, we are trying to reserve for the Indians. Unofficially, the chat we've had with everyone coming in is that we should try and encourage a new person to go. If Arvind KP wins it or if Joachim Rodrigues wins it, they already have support to go there (to the Dakar) – everything is already in place for them. Everyone has been positive about that.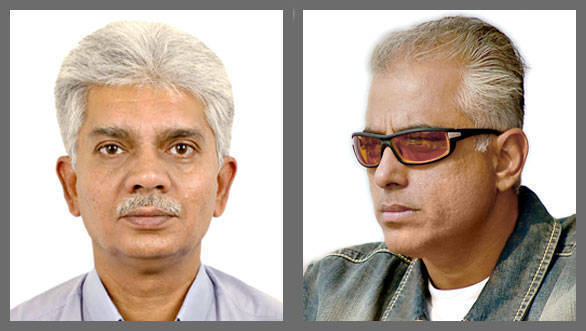 Jayesh Desai and Raj Kapoor, the founders of Northern Motorsport
On the eligibility for the Dakar Challenge:
This prize is for the motorcyclists. Frankly, we had the option on the car as well, but we know that at this point in time, a privateer in a car will not have the bandwidth to go there. We don't have a product to go there, and even if one looks at the secondary or tertiary models of participation there, which is maybe tie-up with a team or hire a car, it still is beyond the purview of a privateer today to get into that zone.
On why the winner gets to go to the Merzouga Rally first:
There are three such (Dakar Challange) events – one is in South America, called the Sonora Rally and the second is the Merzouga Rally in Morocco. The third is the India Baja. So the idea is that instead of him coming out straight from here and then landing into the deep end of the pool, he swims through and experiences more. The people here have no clue as to the kind of commitment and fitness levels required. It's very important that you slowly evolve. Merzouga has been put in primarily so that the difficulty quotient gets ramped up gradually. It has stages which are tougher than the ones we are running, and a majority of the competition there is right up there. The guy gets to see how the professionals are competing and gets to learn a lot.
On plans for the India Baja 2017:
Last year, what we tried to do was, we were trying to find a middle path between the way the Baja 1000 in the US is run – an all-out 24-hour assault – and what the FIA specifies. This year, we are trying to stick closer to the FIA and FIM guidelines, because we are attracting FIM-certified riders. So we cannot be in conflict with any of the guidelines. One of them is the amount of kilometres to be run, the time in which the selected stage has to be run and certain safety parameters – all those are guidelines that are stipulated, and we are looking to conforming to all of those so that these riders don't have any issues and so we get clear certifications from these authorities.
Last year, the rally ran all around Bikaner. So while the terrain and the surface remains sandy, the complexity quotient and difficulty quotient goes up in terms of navigation and in terms of terrain. As you move towards Jaisalmer, the terrain gets far more extreme. The dunes are much bigger, and the scale is far bigger. So there is a lot of psychological play happening here as well.
When you run in terrain where every 5-10km you come across some habitation, it gives you some comfort knowing that if things go wrong, there will be someone around to give you water and to look out for you. But when you go into terrain in which you don't see a soul or any form of habitation for miles and miles, it slowly starts to bear on you that in case something was to go wrong, you're on your own. And that is a huge factor which changes the style of the driver or the rider. So if you want to push hard in stages which are 100km into the wilderness and you want to maintain pace, it's requires quite a special mindset. Those are the factors we're playing on – stages which run through some really extreme terrain. We are not trying to run extremely long stages because again, it's a way to slowly ramp up because of the bikes that are available. If you see the Dakar bikes, most of them have extended-range tanks. So, all are running tanks which can take them through 200-300km.
Here, we have started getting people with those bikes. But they still haven't gone the whole hog. They haven't gotten complete Dakar-spec or cross-country rally-spec bikes which have extended tanks, longer forks and are slightly heavier bikes which can take the beating of the extremely long stages day after day. So, stages here will be in the region of 100km or sub-100km and there will be service or refuelling options available after every stage. That way, in terms of logistics, it becomes easier for the competitors.
The total distance of the special stages will be in the range of 425-430km and the total rally distance will be in the region of 570km or so. The interesting part is, the rally will run in a cloverleaf fashion around Jaisalmer. So logistics and support requirements become a little reduced because you are around 100km from civilisation.
On the number of international competitors at the India Baja 2017:
I think we will get a handful – maybe four or five. We've been talking to Honda Racing, so they're trying to work out the logistics. So let's see. We haven't got a confirmation, but they're trying desperately. They have to come here and finish this and they don't have excess bikes. So they have to make sure that the same bikes reach Merzouga as well and we're trying to work out how that is going to be possible.