Interview: CS Santosh on training for the 2020 Dakar and his new app for motorcycle riders
CS Santosh has competed in the Dakar Rally every year since 2015. The Indian rider has rapidly become one of the country's most impressive motorsport athletes, and is now a factory rider for the Hero MotoSports Team Rally outfit. Santosh also runs Big Rock Dirt Park, an off-road training facility, and had recently launched a mobile app known as 'Recky', his own initiative for riders. We caught up with Santosh in Bangalore for a riding lesson and an interview. 
OVERDRIVE: 2019 didn't get off to the best start for you. You seemed like you could have a strong finish at the Dakar, but then things all came undone. Can you talk us through what it's been like since the crash? How have you managed to cope and come back stronger?
CS Santosh: 2019 started with a lot of promise with the Dakar. I made a good beginning and of course it didn't pan out because I had a big crash on Day 5. Sometimes, when you race you have to gauge where lady luck sits with you - every year for every race. And I think I was quite lucky because the crash that I had could have ended in any which way. The fact that I did not need any surgery or anything of that sort was good indication. It took me a fair bit to come back because when you hurt your back, it is always difficult to make a recovery straight away. After that I was able to race the Desert Storm which was my first race (this year). I was able to shake some cobwebs off and then I raced the Baja in Spain. Yes, it was only two races this year but I did make a strong comeback since then. 
CS Santosh (IND) races during stage 03 of Rally Dakar 2019 from San Juan de Marcona to Arequipa, Peru
OD: How soon were you back on your bike after the Dakar?
CSS: It took me a while, roughly two to three months to get back to riding. I did not ride much before the Desert Storm. 
OD: You've said "No excuses in training, means no problems at the Dakar". Can you tell us what your training is like on a regular basis?
CSS: The thing about the sport I do, is I race motorcycles. Even though it is motorcycles, it is an extremely physical and demanding sport. We have to, whether you like it or not, train like an athlete. You need to dedicate a certain amount of time every single day to be able to be ready to condition yourself for the Dakar as these races are extremely hard. Whether it is going to the gym or trying to ride as much as possible. This year I have to ride as much as possible, either doing Motos or doing testing in Morocco, rally simulation with my teammates, or trying to spend as much time as possible on the rally bike. Constantly trying to put more hours on the motorcycle has been my focus this year.  
OD: How important are smaller events like the Desert Storm and the Baja Aragon to you now? Do you only think of them as training and practice, or do wins and podiums actually mean something?
CSS: Desert Storm is an important event for India, for it is the only one in the Indian calendar to have international participation in terms of cross country rallying. Hero MotoCorp takes part in this race along with TVS, so it is one of those times when two factory teams are participating which creates a lot of interest and hype. So it is important for us to have a good race. It is also important to be able to showcase the fact that India can have a decent level of racing that attracts international participation, which I want to propagate. I really want to advocate India as a place of interest to people in order for them to come and experience cross country rallying. Because as a country India is very diverse. You can have the Raid de Himalaya in the mountains, and then you can have Desert Storm at the same time in the same year. I really love going to the Desert Storm and racing. Even though it is a short format of racing - for five days with really small stages - it is more of a sprint format like a motocross race where you are pretty much flat out from the time you get off the gate. The only thing is that safety is a big matter of concern in Desert Storm because you don't have medical evacuation in terms of air lifting. Apart from that, I think it's a great race. 
OD: What's the plan for Dakar 2020? How hard are you training? And you've got Dakar experience since 2015 to count on now, so what are the three things that are indispensable when prepping for a rally of this magnitude?
CSS: The most important thing is to take all the experiences that you have had over the years and not make the mistakes that you have made. Being able to learn from all of these years puts me in a position where I know what I need to do to be better than what I was last year, I want to put that in place. Secondly, you need to put in efforts to prepare and address all of those weaknesses. In Dakar the hardest thing is to be able to not make too many mistakes but we all end up making mistakes. It is how you handle those mistakes and minimize your fatigue, and recover from one day to the next is again important. From now to Dakar is four months, we need to make the most of every single day. You need to dream and invest in that dream of having a good race or a good win or whatever you wish to achieve. At Dakar, you need to live this dream every single day.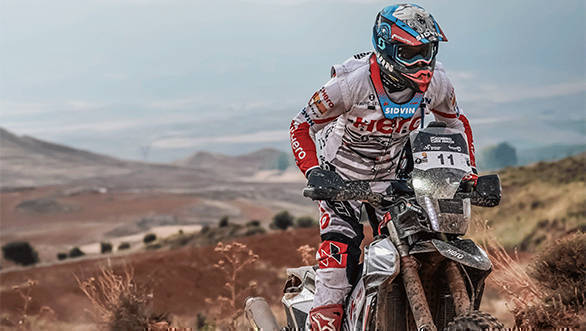 OD: What do you expect from the 2020 edition of the event, especially since its being held in Saudi Arabia? Do you have any idea whether it's going to be a mix of different terrain, or do you think it's going to be more like Peru, with a lot of the rally being run in the sand?
CSS: I believe the first five days is going to be similar to Morocco, where they will put us through mountains in the desert. It is going to be stony and rocky. And from what I know, the navigation is going to be difficult this year at the Dakar. The next five days, we will be going to the empty quarter which will be a really hard desert in terms of dunes. I don't know the details because for all of us it is new as nobody has been here or raced here. I don't think anyone starts with an advantage or disadvantage. I have a lot of experience in South America, so I know what to expect there. But now when you take all of us to Saudi Arabia, we just have to adapt as soon as possible. 
OD: You've often talked about mental preparation as being crucial to success at the Dakar. Do you still feel like you need to train hard at this aspect, or does it become easier with time?
CSS: Everybody says you need to train really hard. In sports, I don't really address training because if you are not training you cannot do a sport. I don't like to talk about how hard you need to train since it's a given. Like I said, you need to invest in that dream that you have every single day because if you see yourself in a certain place or a position, you have to hold yourself accountable for everything you do every single day, which is hard. To be able to hold yourself to your own standards every single day is hard. You need to set goals for the next four months and then follow them through to be in a position to do well in Dakar, which is difficult again. Dakar is a physical sport but it starts with mental preparation because it is a very hard race.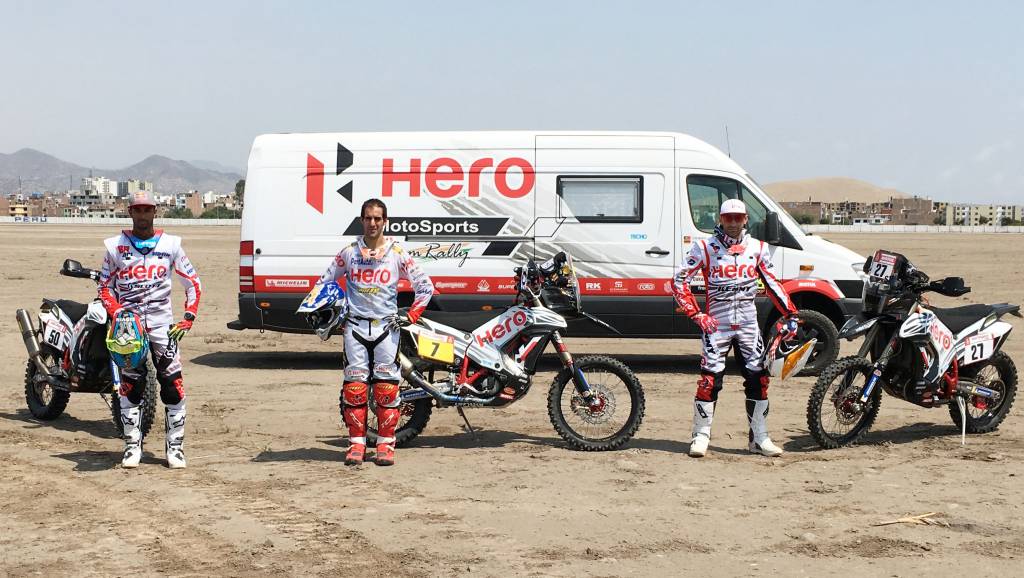 Hero MotoSports Team Rally's three riders - CS Santosh (50), Oriol Mena (7) and Joaquim Rodrigues (27)
OD: What's the dynamic like within the Hero MotoSports Team Rally squad right now? Because you've got three very skilled team-mates - JRod, Paulo Goncalves and Oriol Mena. Is it all about learning from them, because they're more experienced, or are you at a stage where it doesn't really matter? You get your head down and focus.
CSS: I watch all the top guys and try to figure of how these guys are able to do what they do. It is not that I want to just sit down and think that I will do what I need to do. I did that in the beginning because I had a lot of weaknesses that I needed to work on. After I was able to address most of them, I am now in a position where I am trying to see what these guys do that makes them special. I learn from Paulo Goncalves, Joaquim Rodrigues or Oriol Mena. For me, Paulo Goncalves is an incredible rider. He has finished in the top three at Dakar, and finished in second behind Coma (Marc Coma of KTM in 2015). His ability to navigate is something that I haven't seen before, because when I went training with him in Morocco for the first time, Paulo taught me a few things on how to navigate in the desert and take decisions, which was incredible for me to learn from that. Joaquim is a guy who is blessed with a lot of skills on the motorcycle. He is like Federer who looks like he is not putting much effort into it. And you think you can do what he does, but it is not easy. He is really effortless in what he does, but is extremely talented. Mena is like a bulldog, he has got the bit between his teeth and is very persistent. I have a lot of people in the team that I look up to. And I hope I can take a little bit from each one of them and make it my own. 
OD: Tell us about the bike for 2020. Are there major changes over the motorcycle you used at the 2019 edition of the event?
CSS: From the outside, the bike is pretty much the same, but the way it feels is not the same. We have worked a lot on the chassis and the suspension. The changes might not be visible but is a much safer motorcycle. Reliability is again the top priority for the new motorcycle. As we saw on the Silk Way (2019 Silk Way Rally) Paulo was finishing in the top three in most of the stages, which means that the bike has got the speed as well. It will be interesting to see what Paulo does with the new motorcycle at Dakar. 
OD: I'm sure this is a question you get asked a lot, but now that you've got five Dakar starts behind you, what do you think your target ought to be for the 2020 event. I'm assuming it isn't just to finish the rally any longer.
CSS: I stopped wanting to finish the Dakar after the first two races. I didn't want to be mediocre anymore. I want to achieve a little bit of greatness for myself. For me, my greatness would be to finish in the top 20, and be among the top 20 in the world - something I can write home about. That has been the goal that I have been chasing. I have been able to put some stages together where I was in the top 20. I just haven't been able to put a race together where I was in the top 20. It is something that I have been working on for quite some time. Let's see if I can put it together this year.   
OD: Tell us more about Big Rock MotoPark. What do you think this can do in terms of training the next generation of off-road rally-raid athletes?
CSS: The thing that interests me about Big Rock is that it is not specific to people who want to compete.  For us to make this sport more accessible, you need to propagate this sport and build a culture amongst the people who want to go out and ride motorcycles of the adventure segment. This segment in Europe is a segment which is basically on and off-road. However, in India, everybody enjoys taking their motorcycles on a trip. Because India has this very terrain. So no matter where you go, you can ride off-road. Anybody who does adventure riding is who we cater to in India. We want to inculcate in them the skills to ride a motorcycle safely and enjoy the process of discovering your country. In this way I want to seed interest into the sport like Dakar. We are working with a lot of dealerships and manufacturers. Our idea is to infuse the love of being able to take your motorcycle wherever you want to go. We plan to grow pan India. We now have a second center in Bangalore. We are going to have another centre in between Mumbai and Pune. 
OD: Talk to us about the Recky mobile application that you've recently launched. How did the idea come about? And what do you hope it will lead to eventually?
CSS: Five years ago I put the Big Rock Dirt park together. It is because when I was trying to ride and race, I did not have access to a facility like this. Now that I am in a position where I can enable the process, I have put everything all together. Similarly with Recky, the whole idea is to build a community. The idea is to make people contribute to rides and share their experiences of rides on an interesting route. Not just doing point A to point B on a route that is known to everybody. But on a scenic route. That is what we are trying to make people record and share with their friends, so that all riders can explore and contribute to the network of places one can ride on. For eg. in Bangalore, I know some places that I can go riding but then beyond that how can one find places to ride. When I go across India or in another city, I need to know somebody and I might only know one or two people. But I don't want to limit myself into knowing somebody for locations. I want to have a database of places where I can go and ride. And that was the idea behind Recky. What we have launched currently is an MVP (Minimum Viable Product) wherein one can record and share their ride experiences with friends on this platform. You can also navigate to the ride location from wherever you are as well as take pictures of points of interest. We want to build a ride summary since it is really important to summarize the rides and have it in a  presentable format. It is one of the next things that we are going to build along with a few other key features like safety. I have an idea of how to incorporate safety into an app like this. When you are riding with a bunch of friends, sometimes people get lost or there is a crash, there is no way of knowing that somebody has been left behind. All of these aspects that I have experienced in my short span of riding a motorcycle - I want to be able to bridge those gaps. It is a work in progress but I am really excited about what we are going to do with Recky.
OD: Can you explain your contribution into the development of Hero Xpulse?
CSS: On a motorcycle, If I had to choose between power and handling, I want a motorcycle that handles well. We can always have more power eventually. So that is what we did with the Hero Xpulse, to have a motorcycle that has great handling and can go anywhere. That was the first thing that we addressed. The Hero Xpulse is a great beginning for people to start exploring the world around them. The fact that you can enter the adventure motorcycle segment in a bracket that is affordable means that we can actually start seeding that love for adventure riding. At some point, we would obviously want to have a motorcycle that is more capable but for now it is really a good start with the Xpulse. We want to make people understand what all they can do with a motorcycle. In India, it is not enough to give somebody a big adventure bike because then that person does not know what he/she wants to do with it or what the motorcycle is capable of. We want people to start off from a Hero Xpulse, learn what all one can do with that motorcycle and then aspire for a bigger motorcycle but we want to address this with the masses.
OD: Now that there is a Hero Xpulse 200, can we expect a bigger Xpulse in the near future?
CSS: Yes, it is coming. I am sure you will see a similar or a rally bike in the future. We are working on a rally kit (based on the existing Xpulse). I can't say when is it going to come out but surely it is a work in progress.
Mr.Vijesh Rajan, Head of Favre-Leuba & CS Santosh, Brand ambassador of Favre-Leuba sporting the Raider Sea Sky
OD: Can you tell us about your  association with Favre Leuba?
CSS: I have Hero MotoCorp backing me, the world's largest two-wheeler manufacturer and then I have Red Bull, one couldn't have asked for a better energy drink sponsor in the world. I have always thought that it will be really cool for somebody like me, who races motorcycles, to be associated with a premium Swiss watch brand, something that you really wish for as an athlete. And I didnt know which watch would it be over the years that I imagined it. But with Favre Leuba, the kind of athletes they have are the people who push boundaries, be it mountaineering or deep sea diving. To find that connect and not just any other luxury watch brand for me, gives  more of a story to what I am doing and what we can do together. And the fact that, the brand is owned by Titan - a Swiss brand with an Indian angle to it - something that I can represent on international platform makes me proud. And I think it is a trend where we as India, as a nation, just want to go and show people that we are all capable of having world class performances.
OD: Can you tell us about your personal motorcycle collection?
CSS: I don't collect motorcycles. You know you have that one motorcycle and the next day there's a better motorcycle. Since I am always looking for performance, I don't like to hold on to anything right now. Every year it is one motorcycle after another. The only thing that has been constant in the last couple of years is my rally bike.
OD: Among the present crop of large  ADVs on sale in India, which one do you think is really capable?
CSS: Of all the ones that I have ridden, I would say the Honda Africa Twin. It is a 1,000cc bike. People say they want more but I think it is more than enough.   
Price (Ex-Delhi)
Starts Rs 98,500