"The Ather S340 will outperform all competing scooters," says Arun Vinayak, chief product officer, Ather energy
The Ather S340 was unveiled earlier this year in February, and the package it brought to the table was very intriguing indeed. The prospect of an electric scooter packed with innovative technology, all at a competitive price is something unheard of in the Indian market. As such, we had a conversation with chief product officer, Arun Vinayak, to find out more behind the S340, from the design philosophy to the internal workings.
Arun Vinayak, chief product officer, Ather Energy
OD: The S340 is the first product from Ather Energy, correct? What is the basic idea behind the Ather S340?
AV: Yes, this is the first product that we're launching. What makes it different is that we've moved towards lithium-ion technology from a very primitive lead-acid battery technology which inherently gives us much more power, much more battery capacity, longer range and a longer battery life. Lithium-ion gives you a power to weight density advantage of around four times, a volume density advantage of around three times and a power density of around three times that of a lead acid battery. This means for the same weight and volume, you get four times the power and energy that you can store. This translates into a lighter vehicle that can go farther.
Also, one of the key differences is the life of the battery cell. One of the biggest flaws of the lead acid battery is that it can go on for around 8,000km to 9,000km, while a lithium-ion battery can go till almost 50,000km. That's around five times the life. The primary reason for that is a lead acid battery isn't suited for energy propulsion. Rather, it's designed to help start the engine. So that's our primary technology.
On the motor side of things, we've used a frame-mounted brushless DC motor. We chose this because it's much lighter, as well as much lesser inertia compared to hub-mounted motors, and most electric scooters use hub-mounted motors. Hub-mounted motors have greater unsprung mass and rotational inertia, both of which are detrimental to the performance and ride comfort of the scooter. So this is the core technology. But then, after a point we realized that we didn't want to compete with just electric vehicles, because our benchmark has always been other petrol scooters. We aimed to build the best scooter out there, period. That it is electric is just a matter of fact statement.
What we've done over there is work a lot on weight reduction as well as the moving mechanical parts. Our aim was to reduce all of these, and we've managed to reduce the weight by almost 20 per cent and centre of gravity has gone down by 10 per cent. Generally, if you take any scooter, an Activa for example, you've got a 30:70 weight distribution. We've managed to get a 49:51 weight distribution. So it's a lot more centrally balanced, aggressive and sporty. The unsprung mass is also much lower. We've also worked heavily on centralizing the CG of the scooter. Most scooters have an offset CG of around 70-80mm; we've brought that down to zero. This improves the handling to a great extent. It's essentially a bike, for all practical purposes, with swing arms and a monoshock suspension.
We've also taken technology to other places – all our lights are LED based, with 90 per cent lower energy consumption. All headlamps and tail lamps are LEDs, which is unique to the two-wheeler segment. We also got rid of the conventional chain drive, since it needs a lot of lubrication and constant retensioning. We're now working with polycarbonate belts, which can almost do 1,00,000km without touching them. So it's now a zero-lubrication and zero-maintenance system. All our body inserts are plastic as opposed to the very chunky metal body which is seen normally. So that's the progression we've achieved over the existing scooters. We also designed it to see what would happen if you bring in the cost of big data and connectivity to a vehicle. So our vehicle is not only clean but also smart. There are a whole bunch of sensors monitoring various vitals of the scooter – right from the battery, the motor, the accelerometer. We have a complete sensor box like a mini DAC (Digital-to-Analogue Convertor). It's checking your gyroscope, your direction, your back angle, current drawn by the motor, throttle level and a whole lot more. Also, all of this information is relayed back to us, and we're constantly monitoring the health and life of the vehicle. So if something is about to go wrong, we can arrange for preventive maintenance.
We also got rid of the conventional analogue dashboard. We wanted to see what we could do with an interactive touchscreen instead. We found that it really breaks down the barrier between the rider and the vehicle because the rider is communicating with the vehicle a lot more now, telling it where he/she wants to go navigation-wise, what kind of a rider he is, because everyone has their own way of riding – how much we bank, how we take a corner, how much throttle we use. This means for a given amount of energy, you and I can go different kilometers. Vehicles today will just tell you battery percentage levels, which is pointless. The S340 will learn you as a user over time and start predicting the range based on your riding style. If you add more filters to that you can do a lot more. Say you've set the navigation back to home. Based on the topology, the gradient, the temperature that day, what current the motor is drawing, it'll be able to tell whether you'll be able to reach home. After that, it'll automatically optimize itself – it'll reduce the acceleration and top speed by a small amount, ensuring that you get home, albeit a little slower. So that was our approach to designing the S340. The OS of the dashboard is Linux based, but its the navigation system will be a third-party solution and pre-installed.
OD: What area of the S340 received the most attention during development?
AV: That's actually a difficult question to answer, since we've got a variety of teams who work on different aspects. The entire scooter is spilt into mechanical components, battery tech which is a mix of chemical and mechanical, there are a lot of embedded systems for the touchscreen as well. The touchscreen has been developed in-house, as well as the battery management system. The onboard charger is also built in-house. The battery technology is also very different, from say an "inaudible" technology. The charger on the other hand is hardcore power electronics. So everything is equally important. So each team has equally significant challenges. When it comes to the mechanical frame, it's not like we picked it up the frame and strapped it. The whole frame is metal and (9:45) the wheel, the whole brake. The frame is also a hybrid monocoque made of aluminium. It's not a pure steel frame which means a lot of work went into weight reduction. So I think each team has had equally big challenges, so I wouldn't say a particular team faced a bigger challenge.
OD: So each factor is equally important and poses challenges to the company?
AV: Definitely, because if you want a balanced product you have to sort out each factor. Because then you will not be able to achieve your overall goal of a smart intelligent vehicle. I mean you could build a vehicle and just strap on some smartness onto it, but it won't really achieve your overall goal. That would have been easier yet, but it wouldn't have been an integral to the vehicle. If you really want to make it integral to the vehicle and make sure it's useful, you have to make everything in-house.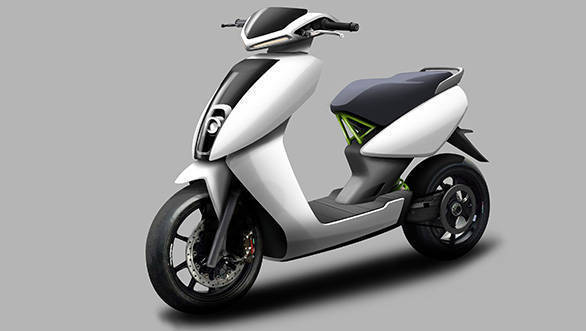 OD: About the battery, did you take any different trajectory regarding its placement and any other parameters?
AV: Yes definitely. Our battery is a structural member of the chassis. We did that to reduce weight. For better cooling and a better seating position, we put the battery right into the floor-board to ensure it's much more central and has much lower weight. For better cooling, we went ahead with an aluminium-type casing which is for the protection and cooling of the cells, acting as gigantic heat sinks. So it sort of straps on our whole vehicle and increases its rigidity to quite a large extent. Because of this, we can get rid of so much of frame around the battery and the overall vehicle weight drops. The battery is IP67 rated, and that is the biggest chunk of technology that goes onto the vehicle. So, it's completely protected against Indian weather conditions, which means it can be immersed in 1m in water and is dust resistant.
OD: Which mobile operator will you be tying up with for the GSM monitoring system on the scooter? Will customers have to buy the sim separately or will the scooter come bundled with it?
AV: We are in discussion with some of major telecom operators in the country. We won't able to disclose more details on this now. The S340 will come with factory fitted SIM cards.
OD: With limited coverage area in GSM based communication, wouldn't the monitoring system be rendered useless in rural/remote areas?
AV: The S340 is designed keeping urban commute in focus. Most telecom operators offer good network coverage in urban areas and such a scenario is remote. Even if it does for some unfortunate reason, it does not interrupt the functioning of the S340. The user will continue to see pre-loaded maps and the ride data will be synced to the cloud once connectivity is restored. All basic vehicle functionalities work even without a GSM connection.
OD: I had a question regarding your touchscreen. Wouldn't that be a distraction to the rider?
AV: Actually our touchscreen does not work when you're riding the vehicle. You have to come to a complete stop to make it work. So, that's one safety feature. Secondly, I think it's much more convenient to have navigation on the dashboard, compared to holding a phone. While you're riding solo, it's a pain trying to juggle navigating with your phone. Your phone is in your pocket, you have to stop and you're driving while holding this around. That's why we put the navigation onto the vehicle so that you have your two hands on the handle bars at all times. And, we haven't just picked off any existing navigation UI (user interface). The UI and the whole design that the vehicle will carry is tailor-made. So, you have the main screen where this will be able to give you basic input like navigation input, but it will also ride the vehicle on the map screen. It's actually quite convenient to do that.
OD: Is there any voice playback feature that will direct you instead of you having to look at the screen in order to reach your desired destination?
AV: Interesting question. There are some IP-related issues that we sorting out so I can't comment on that right now. There are a set of rules that we have to satisfy with Google. So this is an upcoming feature. The vehicle will actually have an inbuilt speaker to have the ability to playback, so those things are possible. We also have Bluetooth connectivity and can connect to your Bluetooth headset. The technology already exists on the current vehicle to do this. It is only a matter of reality and paperwork for us, so really can't speak about that right now.
OD: What is the charging time of the S340? Can you charge it from a 12V outlet? Or do you need a dedicated AC outlet?
AV: The on-board charger will be able to plug into regular 5A sockets for charging. This ensures that users will have hassle-free access to charging at home and office parking lots. Ather will also assist the users in setting up these points at their residences. The S340 battery can be charged up to 90 per cent in just 50 minutes.
OD: Do you have any plan for charging infrastructure installed throughout the city?
AV: In terms of public charging infrastructure, no EV company has been able to build a very usable one. Charging points, if at all they exist, are poorly planned and managed. This itself is a discouraging factor for most individuals who consider an EV. We believe that charging should be hassle-free, easily accessible and cheap. Our vision is to make charging points ubiquitous in all the cities we intend to launch. With a charging time of under an hour, it will also make lot of sense for retail outlets to associate with us.
OD: I had a question regarding clean electricity in India. The majority of our electricity comes from coal-fired power plants, so will the effective CO2 emissions from the bike be less than that of a generic petrol scooter of today?
AV: Definitely! Not only do we have coal-based electricity production but also have one of the worst grids in the world. Our transition efficiency from the power plant to our homes is terrible. Even after all that we still do better when using electricity simply because the economies of scale help the thermal power plant to reach efficiency figures of 40-45 per cent, but you can't get more than 20 per cent from an IC. The theoretical best from an IC engine is around 33 per cent. A thermal power plant also has energy recycling systems like exhaust gas recirculation systems, all running at a constant rpm. So, all these factors really help the efficiency, be it at any level. You really can't do that in an IC engine.
OD: There are a number of Chinese electric scooters in the Indian market, which are priced lower than the S340. How do you plan to undercut them and compete with established petrol scooters?
AV: We are not competing with existing range of electric or petrol scooters. The S340 will outperform other options in the same category, be it electric or petrol, on relevant performance parameters. Add to that a touchscreen dashboard with on-board navigation, a host of smart features, over the air updates, robust support infrastructure and a delightful customer experience. Unlike others, our offering does not end at the product but in fact starts there. Discerning consumers will clearly differentiate the available options and understand the value of our offering.
OD: What are your aims right now for the production capacity of the S340, and what are your plans for the future?
AV: We are looking at 10,000 units in the first year. We want to start small because this is too much technology in the road, and we want to ensure that there's enough feedback and enough testing before we speed up. We are planning to come up with a plant in Whitefield (Bangalore). That's our plan for now.
OD: When it comes to deliveries and showrooms, what are your plans?
AV: We have a number of experience centres coming up in Bangalore. It should be ready late third quarter to early fourth quarter of this year where one would come and pick up their vehicle for a test ride and experience the whole vehicle as well as the whole story behind the vehicle. These are company owned locations for test ride and we don't have a dealership. We are concentrating on Pune, Chennai and Bangalore to start with and will be looking to start production early next year. The Ather S340 will be only available through online pre-orders on the official Ather Energy website.
OD: Also what are the benefits from the FAME scheme?
AV: The FAME scheme is rolled into our overall price. Going by our vehicle, we fall in the high-technology battery segment. So the segregation is based on the battery used. The benefit for a lead acid battery is around Rs 9,000 per scooter, while the benefit from lithium-ion battery powered scooter would be around Rs 22,000, which is the bracket we're lying in.
OD: Finally, does Ather Energy plan to become a 2-wheeler manufacturer or a technology provider in the long run?
AV: Our interest lies in creating smart, clean and efficient products with technology at its heart. Today our focus is on building a smart two wheeler for urban commute. The long term will definitely see a diversified product line in the commute space and also development of a robust charging infrastructure.