Indian racers abroad and their plans for the 2014 season
Ouch! That's the one thought that crosses my mind every single time I have a conversation with an Indian racer who is looking to make it big in the world of international motorsport. Why? Because every time they mention the sum involved in doing a full season of racing abroad, it's a sum that more often than not causes one to at once think of robbing banks or selling off the house, jewellery and perhaps a few family members too. Then you realise that they've only mentioned a figure in Euros. Convert that figure into Indian Rupees, sell everything except your dignity of course, and you'll still struggle to make racing ends meet. The business of motorsport – it's an expensive one indeed.
Just ahead of the 2014 season, while our racers are busy finalising their plans for the motorsport year ahead, one thing they've all had drilled into their heads is the conversion rate from the Euro to the rupee. When they signed the dotted line for the 2013 race seats, the Euro was at Rs 65, and now it's at close to Rs 90. Sponsors are keeling over on a regular basis.
What has that resulted in, ultimately? Well, a lot of the drivers who started out racing single seaters have gradually moved to tin-top racing and sportscar racing as a means to sustain a career in motorsport. The year ahead looks exciting though – we have more than one racer who will have to defend an international racing title, we have young racers moving up the rungs of single seater racing, earning themselves tests in series such as Formula 3 and we even have manufacturer-backed racers who are hoping to make their mark in motorsport.
Of course, as exciting as the year ahead will be, in terms of motorsport, it will also be thoroughly demanding. Gruelling, if you please. And our lads will have their work cut out for them. Ultimately, it's the results that will help rope in more money and push their careers further.
Nonetheless it is heartening to see the number of racers abroad, and the diverse forms of motorsport they are involved in. From karting, to rallying, to sportscar racing, single seater racing and motorcycle cross country rallying. So, gentlemen, start your engines!
Gaurav Gill
2013 season: Asia Pacific Rally Championship
Best finish: 2013 APRC Champion
Gaurav Gill is set to continue in the Asia Pacific Rally Championship in 2014
Gaurav Gill has easily had the most memorable 2013 season. Having competed in the Asia Pacific Rally Championship since 2007, for Gill the learning curve has been steep. But it's all paid off as was in evidence when he won the 2013 APRC title with Team MRF Skoda. For 2014 Gill will be hoping to emulate his past season's success – he won five of the six rallies last year. Paired once again with co-driver Glenn Macneall, the goal will be to defend the championship title. Team MRF Skoda will also field another car in the championship, with Jan Kopecky and Pavel Dresler in the second of the Red cars. At the same time, Gill will continue driving the SuperXUV for Team Mahindra in the Indian Rally Championship. Back-to-back APRC titles is what Gill is hoping for. We're rooting for you, Gaurav!
Tarun Reddy
2013 season: MRF Formula 1600
Best finish: 1st - Madras Motor Racing Track
Tarun Reddy (centre) moves to a season in the Formula Renault BARC for 2014
Tarun Reddy was one of those young drivers whose talent was quickly spotted earning him a spot on the Sahara Force India Young Driver Academy. While Reddy is no longer associated with the Academy, he has made progress aplenty since that time, transitioning from karting to racing single seaters in the National Racing Championship. In his first ever full season of racing single seaters in the MRF Formula 1600 class, Reddy impressed, becoming the youngest ever race winner in the championship at the age of 16. Now he moves to the Formula Renault BARC championship with reigning champion team MGR. Reddy will partner Pietro Fittipaldi, Matteo Ferrer and Colin Noble Jr. His first season of racing single seaters abroad – for Reddy this is the big one!
Narain Karthikeyan
2013 season: AutoGP
Best finish: 1st place - Silverstone, Mugello, Nurburgring, Donington, Masary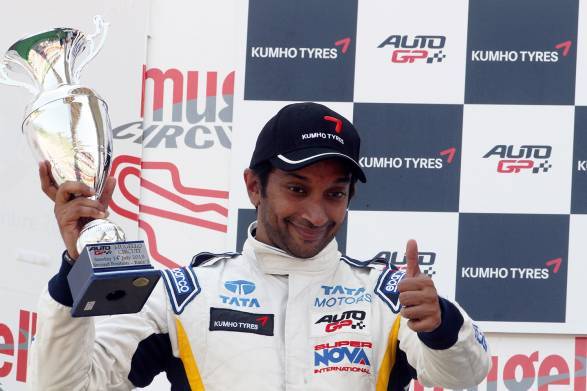 Super Formula Japan with the possibility of a Formula E drive for Narain Karthikeyan in 2014
It's been a year and a half since the fastest Indian in the world last got behind the wheel of a Formula 1 car. But, after a year of competing in the AutoGP championship where he was in the running for the title, eventually finishing fourth overall, Narain finds himself racing in an extremely competitive series once again - Super Formula Japan, formerly known as Formula Nippon. The competition Narain will have to face in the 2014 season, during which he will drive for Team Impul, will be the likes of endurance racing stars Loic Duval and Andre Lotterer and former F1 drivers Vitantonio Liuzzi and Kazuki Nakajima. The cars racing in the series feature Dallara chassis and come powered by 2.0-litre V8 Honda or Toyota engines. Add to this the 50PS push to pass system and a Drag Reduction System too and it's no wonder that Narain's 2014 car is faster than the HRT he drove in the 2012 season of F1. However, his timings during testing indicate that Narain's no slouch behind the wheel of the Impul car, finishing sixth overall. A Formula E drive might also be on the cards.
Karun Chandhok
2013 season: FIA GT1, 24 Hours of Le Mans
Best finish: 4th Nogaro, Zandvoort (GT1), 3rd in class - 24 Hours of Dubai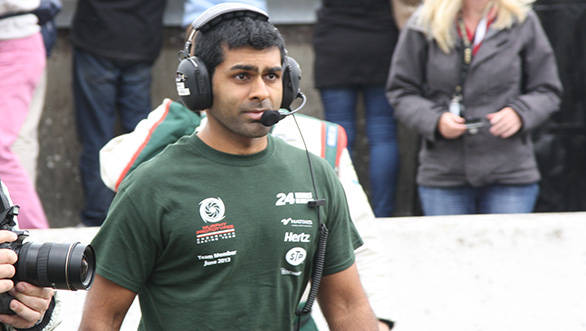 Another season of the FIA GT1 championship and the 24 Hours of Le Mans, too, for Chandhok
Since his association with Formula 1 ended, Karun Chandhok has shifted focus from single seaters to sportscar racing. Chandhok drove for JRM Racing in the 2012 World Endurance Championship, even aiding the team to a 6th place finish in the LMP1 category, alongside drivers Peter Dumbreck and David Brabham. For 2013, Chandhok drove in the LMP2 class of the 24 Hours of Le Mans for the Murphy Racing Prototypes team and in the FIA GT1 series. His plans for 2014 still haven't been signed and sealed, but Chandhok is likely to continue with the Murphy team, competing in the European Le Mans Series. A 24 Hours of Le Mans drive is also on the cards with the same team. "The idea is to continue with sportscar racing, achieve a few good finishes there and then hopefully receive manufacturer backing for sportscar racing itself," Chandhok declares. And while it initially seemed like an association with Mahindra Racing was a done deal in terms of the Formula E series, it doesn't look likely that Karun will compete in the championship with this particular team after all.
Aditya Patel
2013 season: ADAC GT Masters
Best finish: 6th - Sachsenring
Another season of piloting the Audi LMS in the GT Masters championship for Aditya Patel
If there's an Indian driver who seems to have gone about his motorsport career with his head screwed on his shoulders rather firmly, it's Aditya Patel. Realising that touring car racing was the way forward, that's firmly what he set his sights on as far back as 2008. After competing in the VW Polo Cup in Germany and subsequently the Scirocco R Cup, Aditya got snapped up as a factory backed Audi driver. Having spent 2013 piloting an Audi R8 LMS in the ADAC GT Masters championship, the 25-year old looks set to return to the same championship, once again with the MS Racing team. There is the possibility that he will drive the same GT3 spec R8 LMS in another championship in Europe, but plans for the same haven't been confirmed. Moving up the grid will be the challenge for 2014.
Armaan Ebrahim
2013 season: FIA GT1 championship (Pro Am Class)
Best finish: 9th overall (2nd in class)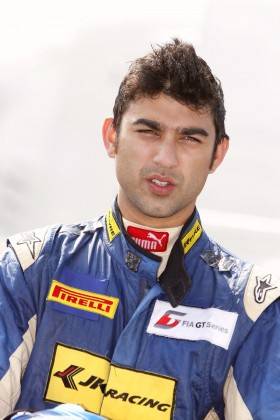 Armaan Ebrahim has his eyes firmly set on the FIA GT1 championship in 2014
The 2013 season was probably one of Armaan Ebrahim's toughest seasons yet. The driver made the transition from open-wheel racing to touring car racing. Like he declares himself, "GT racing looks to be the future, especially with single seaters being so expensive." In 2013, there were more lows than highs for Armaan who raced for BMW Sports Trophy Team India, but the Chennai racer is keen on persisting with the GT1 championship for 2014. Talks are on with teams such as Sebastien Loeb Racing for this particular series. Discussions with teams like Fortec and Motorbase are also on, which means Armaan could well end up in the British GT championship. "The goal is to establish myself in GT car racing over the next two years after which I can look at being a manufacturer-backed driver," Armaan declares. As is the case with several of our racers looking to race in 2014, sponsorship is a concern.
Jehan Daruvala
2013 season: British MSA KF3 Championship
Best finish: British MSA KF3 champion
Jehan Daruvala is quickly moving up the ranks of international karting
Easily the most promising driver to come out of India over the last few years, Jehan's been captured young and is climbing through the rungs of motorsport very quickly. The driver won the CIK FIA Asia Pacific KF3 title in 2012. His 2013 season was a lot more challenging, with the 15-year old competing in the British KF3 championship, a series that has seen champions like Nigel Mansell and Jenson Button in the past. Jehan rose to the occasion though, winning the title, becoming the first Indian to win a major international karting championship. For 2014, he moves up the ranks to the KF2 championship, where the karts are a lot more powerful and lap easily 2 seconds quicker than the machinery he was racing last year. He will also compete in the Deutsche Kart Meisterschaft (DKM) championship in Germany this year. Good results this year might see him make the switch to single seaters for the 2015 season, but for now the youngster is just focussing on the current season.
Raj Bharath
2013 season: Formula Masters China, MRF Formula 2000 Challenge
Best finish: 1st - Shanghai (Formula Masters China)
British F3 drive on the cards for Raj Bharath this year?
Having competed in two seasons of the Formula Masters Championship in China, Raj Bharath has now got a decent amount of international single seater experience under his belt. Last year Bharath managed one victory and five podium finishes in the series. He also competed in the MRF Formula 2000 series, and while the race results might not have been much to write home about, he had some decent qualifying positions like eighth place in Bahrain, proving his pace. In 2014 he looks set to compete in the Formula Masters championship again, although a British F3 drive could also be on the cards. In the off season, he's been put through an extremely gruelling training programme with Ramji Srinivasan and Badri Narayan of Quantum Leap Sports Performance. That should hold him in good stead in 2014.
Vishnu Prasad
2013 season: National Karting Championship, FLGB4, FB02
Best finish: National Karting Champion – Senior Class, FB02 Champion
Vishnu Prasad has earned himself a Formula 3 test this year
If there's one driver on the Indian motorsport scene that can be described as gritty, it's Vishnu Prasad. Whether it's been karting or racing single seaters, Vishnu is one of those drivers who just doesn't give up – watch him drive and you'll know what we're talking about. After winning the 2011 VW Polo R Cup, Prasad opted out of doing the VW Scirocco R Cup in 2012 primarily due to sponsorship issues. 2013 was one of his best seasons of racing, with the driver winning the Senior Class of the National Karting Championship and also taking the title in the JK Racing India Series. This title has earned him a Formula 3 test with Euro International. And even though he narrowly lost out on the Formula LGB4 title last year, Vishnu's performances also earned him the Most Promising Motoring Personality of The Year Trophy at the FMSCI awards. His options for the 2014 season are currently the Formula Masters Championship in China and the Asian Formula Renault Challenge. "The plan is to get my first year of international racing under my belt," Prasad says.
Parth Ghorpade
2013 season: Formula Renault 2.0 ALPS, MRF Formula 2000 Challenge
Best finish: 5th at Mugello (Formula Renault 2.0 ALPS)
Some form of Formula Renualt is Parth Ghorpade's aim for the 2014 season
Parth Ghorpade's 2013 season started off on a high. As a part of his prize for winning the Asia Class of the 2012 Formula Masters championship, Ghorpade earned himself an F3 test with the Ferrari Driver Academy at Fiorano, becoming the first Indian to ever drive at Ferrari's home track. The season of racing in Formula Renault 2.0 ALPS was chequered. As the championship progressed, Parth gradually made it into the top 10 on a regular basis. Add to that the fact that he bested his team-mate Dario Capitano, finishing 16th in the championship, with twice as many points too and 2013 wasn't all bad. For 2014 the driver is looking likely to continue in a Formula Renault series – whether it is ALPS or the Northern European Cup (NEC) remains to be seen. A switch to German F3 might also be possible.
Rahil Noorani
2013 season: Volkswagen Polo R Cup
Best finish: Volkswagen Polo R Cup champion
Rahil Noorani will compete in the Volkswagen Scirocco Cup and also transition to racing single seaters in India
The likes of Rahil Noorani are the perfect example of how a series like the Volkswagen Polo R Cup works. In 2011, Noorani was a rookie driver in the series, although he did fight for the championship that very year as well. And after narrowly missing out on the 2012 title, 2013 was finally his year. Winning the Volkswagen Polo R Cup in India has its advantages. For one he is all set to compete in a full season of the JK Racing India Series, (formerly Formula BMW). On the other hand Rahil is all set for his first taste of international racing. While he won't be competing in the entire season of the Volkswagen Scirocco R Cup, Noorani will drive in two or three rounds of the championship, with the possibility of also driving in the VW Scirocco R Cup China and the Volkswagen Castrol Cup in Poland. In addition, Rahil also plans on doing several days of private testing in Europe in order to maximise his seat time abroad. A full season of racing abroad in 2015 is the goal.
Sarath Kumar
2013 season: Spanish CEV championship, Honda Asia Dream Cup
Best finish: 12th - Suzuka
Getting Sarath Kumar into Moto2 over the next couple of years in the aim
Sarath Kumar - Indian motorcycle racing's big hope. And while the 2013 season started out looking extremely positive for the Indian rider, with his association with SKSarath69 Sports, things didn't really turn out quite as he would have liked. While Sarath was all set to take part in the full season of the Spanish CEV championship, the rider crashed in qualifying at the first race in Catalunya, breaking his collarbone. The injury saw him sit out the rest of the season and then switch to competing in the final two rounds of the Honda Asia Dream Cup. And it's this championship that Sarath will compete in this season as well, piloting the Honda CBR250. Sarath has already completed pre-season testing in Malaysia and has set competitive times, running in the top five on the first day of testing. His mentor Ramji Govindarajan of Ten10 Racing declares that he's keen that Sarath moves to the Moto2 championship by 2016. First to get a full season of international racing in.
K Rajini
2013 season: Losail Asia Road Racing Championship
Best finish: 2012-2013 Losail Asia Road Racing Champion
K Rajini has graduated to the 1000cc class in the Losail Asia Road Racing Championship this year
Winning the 2012-2013 Losail Asia Road Racing Championship really was the feather in K Rajini's motorcycling cap last year. Admittedly the entire championship takes place only at the Losail track in Qatar, and Rajini has had a decent amount of saddle time at the circuit. Nonetheless, the win in the 600cc class is what got the Indian rider noticed by the QMMF team and he earned a fully sponsored run in the 2013-2014 season in the 1000cc class. While the first three rounds of the championship have already concluded, Rajini is coming to grips with racing the Suzuki GSX-R1000 in the series. Of the six races so far, he's only managed to finish three, with accidents in the other three. His best finish so far has been sixth place. Rajini also plans on competing in the Malaysian Super Series in the 600cc class provided he manages to get his sponsorship sorted out ahead of the season.
CS Santosh
2013 season: World Cross Country Rally Championship
Best finish: 1st place Ahmedabad MRF Supercross
CS Santosh is hoping that his World Cross Country Championship campaign goes better this year
Winning the 2014 Desert Storm is a good way to start this season for CS Santosh. It's also a good way to put behind him the 2013 season that started with promise, but ended in disaster. During the first round of the World Cross Country Rally Championship in Abu Dhabi, Santosh looked set to finish the third stage in the top 10. But a fuel pump accident meant his motorcycle was blown to smithereens and the rider suffered third degree burns. His injuries meant he was out of contention for most of 2013, and save for a win or two in Motocross events in India and Sri Lanka, Santosh wasn't able to accomplish much. This hasn't deterred him one bit, and he is all set to do three rounds of the WCCRC in 2014 too - Abu Dhabi, Egypt and Morocco. More international races are on the cards. The ultimate goal? The Dakar!
Price (Ex-Delhi)
Starts Rs 2.55 Crore
Price (Ex-Delhi)
Starts Rs 6.17 Lakhs