Indian motorsport veteran plants 36000 trees and creates a private wildlife sanctuary
From 1978 to 1986, Gautam Kadam rallied and raced bikes and won numerous events. He then shifted to four-wheelers and continued winning rallies and remained a motorsport champ till the mid-nineties.  In 2018, he was sadly diagnosed with prostate cancer, but not being one to give up, he is committed to planting trees and nurturing the private forest he has created.
Gautam Kadam has navigated for many famous drivers. Here he is with C.K Jinan in his Premier Padmini.
Gautam cannot exactly recollect the first time he climbed onto a bike, but he remembers his first accident! "At the age of 18, I had an accident with my brother's bike and got 40 percent burns due to which I was in hospital for 6 weeks. After that I couldn't ride much since my hands had keloids. But in a couple of years, I was riding again and often crashing at roundabouts and turns while trying to drop the bike in corners.  Sometimes I had a crash almost every week, and suffered several injuries. But this did not deter me".
As a two-wheeler champion, Gautam held the Nandi Hills fastest time record for 22 years.
This brave rider then began his motorsport career by riding in small club events. Thereafter Gautam Kadam took to participating in the famous hill climb held at Nandi Hills, on the outskirts of Bangalore (now Bengaluru). He would practice on the hill with his motorcycle on moonlit nights to learn every curve. Thanks to his hard work and talent he scored many wins and began establishing his reputation as a rider.
Despite his battle with cancer, Gautam continues to plant trees and look after the private forest he has created.
In 1983 when Escorts started assembling and selling the Yamaha RD 350 in India, Gautam was amongst the first to get one. In fact in 1983 itself, he rode it at Nandi Hills and set a record time of 1:30.5. This record was untouched for twenty two years and was only broken in 2005, by a rider on a new generation 800 cc bike! But even today, many motorsport enthusiasts, acknowledge Gautam as the undisputed "King of Nandi Hills".
In 1982, Gautam won the Karnataka 1000 on a Yezdi, becoming the first rider ever to win it for the 3rd time.
While the hill was where Gautam built his reputation, he further established it by winning many rallies. In 1982 he won the tough Karnataka 1000 or K-1000 Rally, on a Yezdi motorcycle and became the first rider ever to win it for the 3rd time. Gautam has also scored wins at other challenging events like the Charminar Challenge, Coffee 500, Mysore Safari Rally, Karavalli Rally, South India Rally, etc.
As a navigator, Gautam had many good results with George Anthony. Here they are being flagged-off at the Scissors Action Rally in 1992.
Not one to rest on his laurels, Gautam even raced on the track and finished 2nd in a Yezdi at Sholavaram. Some years later the legendary Karivardhan also gave him a Yamaha TZ 350 to ride at Sholavaram. Such was Gautam Kadam's dominance in the 1980's, that if he did not have any mechanical issues with his bike, he would win the event.
In his private forest Gautam has created a waterhole, which attracts a lot of wildlife including gaur or the Indian bison.
In 1986 Gautam got married and the additional responsibility made him give up two-wheelers. But the motorsport bug was so strong that he drove a friend's Maruti Gypsy in the1986 Karavalli Rally and emerged victorious. By doing so, Gautam proved that be it two wheels or four, he was the champ. But competing in four-wheelers was expensive. So Gautam took to navigating and found there was no shortage of drivers who wanted him to occupy the seat alongside them.
Various deer species, including barking deer, frequent the waterhole in summer.
Over the years Gautam navigated for well-known drivers like C.K Jinan, George Anthony, Bobby Jayaram and also Vikram Narendra.  His best results and placing were with George Anthony and they made a good team.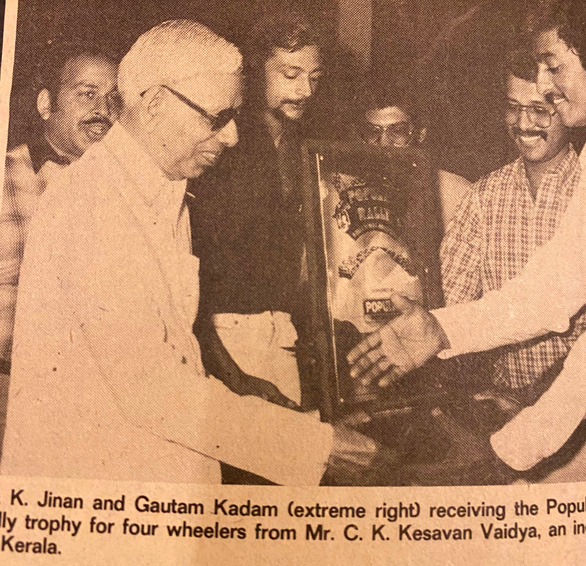 C.K Jinan and Gautam receiving the four-wheeler winner trophy at the prize distribution ceremony of the Popular Rally.
Besides motorsport, Gautam is interested in farming and wildlife. Wanting to give back to nature, in 2003 he bought some 160 acres of land adjoining a wildlife sanctuary near Kollegal, in Karnataka. Gautam says, "I have always been a nature lover and after getting the land I planted and grew a family of 8000 Neem Trees. By 2005, my trees had started to get properly established, and wildlife started entering my land and roaming around freely. I then made a 3 acres pond and this waterhole attracts a lot of wildlife, especially in summer. The deer love the seeds from my trees and when they wander into my forest the predators like dhole (wild dog), leopard and sometimes even tiger follow. Elephants and gaur (Indian bison) are also regular visitors as are many birds"
Birds of many feathers, like these peacocks reside in Gautam's private forest.
Presently, Gautam is harvesting his Melia Dubia trees and replanting other species on his farm. He now has about 20,000 fully grown trees and many young plants. Having being diagnosed with 4th stage metastatic prostate cancer in 2018, Gautam now spend most of his time at the farm amongst the trees that are so dear to him.
Difficult to sight dholes or wild dogs, also visit this waterhole created by the former rallyist.
He says, "The doctors have given me four years, but I have not let this affect me mentally. While I need to take my hormone jabs every month and also tons of tablets, my cancer has not slowed me down a single bit and I still drive myself. Now my aim is to see that all my 36,000 trees are totally established in the next 2 years. I also enjoy walking around my farm with my four Mudhol Hounds and just this morning I had four elephants in front of my house and last evening a Tusker dropped by. This movement of wildlife makes me really happy and the legacy I want to leave behind for future generations, are my trees and forest. I want to be remembered by them".
A tusker playing in the water. The forest has become a regular destination for elephants.
Such words and sentiments can only come from a true champion. A winner on both two and four wheels, Gautam Kadam is also a great inspiration and example on how to live life and deal with its challenges.
Gautam Kadam standing under one of the 36,000 trees he has planted
Price (Ex-Delhi)
Starts Rs 1,02,700