Indian GP 2013 preview- Part II
We gave you the preview of Indian GP 2013 a few days back. In case you missed it, here is the Part I
What you need to keep in mind:
Where?
If you fly to New Delhi, you ought to know that the Buddh International Circuit is over 60 km away from the Indira Gandhi International Airport. That's a sizeable distance to commute, especially on race day. And while hotels near the track can get crowded and expensive, the commute from within the city to Greater Noida can take a while. Make sure you leave early so you can beat the traffic. Get to your seats and if you can, stay put right there. No point missing the race start, is there?
How?
Driving to the BIC is a perfectly reasonable option. Especially if you're being dropped there and won't have to worry about being stuck in queues to the parking lot. If you do choose to drive there yourself, ensure you've purchased a parking permit along with your tickets and can stop at the designated parking area. Last year, the BIC had increased parking capacity to 21,000 cars and 1,000 motorcycles.
You could also take the Metro to Noida, from where you can hop onto a pre-booked chartered bus that will get you to the circuit entrance. In the past a shuttle service from the circuit entrance to the grandstands has been available. The Park and Ride facility, as it was called, is usually also available from the Knowledge Park located in Greater Noida.
Once you reach your seats
Make sure you are fed and watered before you reach your seats. And stay put there. Why? Because once you're at your seats, you can't keep getting up for food and bathroom breaks. You won't get to watch the race properly, and you'll be disrupting the people around you as well. Besides, it's not as simple as going to the designated food stand and bringing the food back to your seats - you aren't allowed to bring food into the stands. It would also help if you carried with you sunglasses, earplugs and a pair of binoculars.
If you're one of the lucky few…
… to have got your hands on a paddock pass, make sure to make the most of it. The paddock pass allows you to get into the Formula 1 paddock, which isn't the easiest place to get into in any case. While you'd do well to keep out of the way of the many bustling and busy F1 personnel you'll see there, make sure to keep a camera and pen handy. And for god's sake, if there are signboards telling you to stay behind the white line, stay behind the white line. Otherwise Bernie Ecclestone himself might catch you by the scruff of the neck and have you escorted off the premises.
The most important choice of them all
If you haven't bought tickets yet, there's no need to fret. Tickets are still on sale on in.bookmyshow.com/sport/formula1 or at Mercedes-Benz dealerships.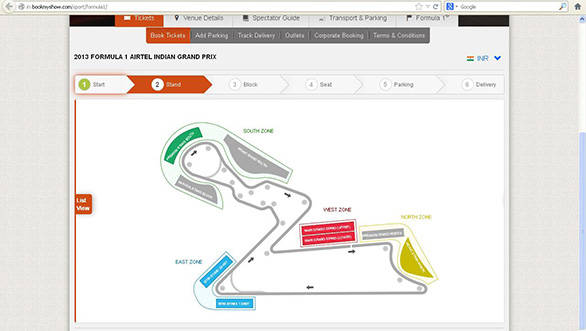 There are plenty of options as far as tickets go. You can either opt for a season ticket that entitles you to watch the Friday practice sessions, qualifying on Saturday and the race itself on Sunday. There is also the option of a raceday ticket alone that allows you to watch just the race on Sunday. If you do manage to get tickets in the main grandstand, we'd opt for the highest seats available, so you can look at as much of the track as possible from the vantage point. Of course, these tickets can be rather pricey, but they are cheaper than they have ever been before. Other good options, that aren't as heavy on the pocket, are the Picnic stands. We are quite partial to the Picnic Stand South - the view from here includes the cars coming into and exiting the Parabolica, driving right past the stands, through a chicane and then towards the final turn at the circuit. Parking tickets and payment for bus services are also available on the website. As of now the tickets that are on sale are the Main Grand Stand Lower Tier (Rs 21,000 for three days and 12,000 for one day), Main Grand Stand Upper Tier (Rs 15,000 for three days and 10,000 on race day), Premium Stand (Rs 10,000 for three days and 7,500 for one day), Star Stand (Rs 7,500 for three days and 5,000 for a day) and the Natural/ Picnic Stands (Rs 2,000 for three days and 1,500 for a day). Tickets are being sold in phases and tickets for the Natural Stand South and Picnic Stand South will go on sale soon.