Indian Election Campaign Vehicles (IECV)
Our nation is once again witnessing the world's biggest ever election. In such a large and diverse country as ours, elections are held in a staggered manner and while votes are being cast in some parts, spirited and colourful campaigning is taking place in other regions.
Late prime minister Rajiv Gandhi enjoyed driving and his wife Sonia (Rahul Gandhi's mother) often accompanied him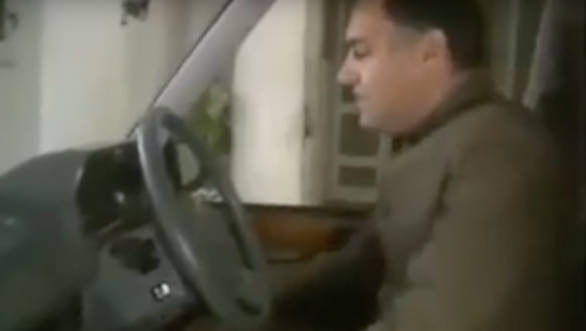 Rajiv took every opportunity to get behind the wheel himself
While Indian elections are always interesting and unique, what I find fascinating are the vehicles used by contestants and parties for campaigning and seeking votes. I believe in the first ever Indian elections held after our Independence from British Rule, horse drawn carriages and bullock carts were the norm and many candidates even went walking around to get people's votes. Motor cars were scarcely employed and it was only the very wealthy candidates that used their own personal automobiles. The poor accepted that the rich would come in their cars to ask for their votes, and the very fact that they were coming to them, was a source of joy. Of course getting up close to the candidates and their cars made them happier. Back then there were no smart phones and social media, and the concept of selfies, was as far-fetched as the thought of travelling to the moon. The most popular 'campaign cars' then were American convertibles like Buick, Dodge, Plymouth, Chevrolet, etc. The American cars were simple and tough and covered long distances without difficulty. A convertible allowed the candidate to be seen and heard more clearly by the people and increased the impact of the speeches and visibility of both the candidate and party. This actually established the trend of 'convertibles being preferred Indian Election Campaign Cars', and it's something that continues even today.
While present Prime Minister Narendra Modi's official car is a BMW, he has also been known to use Range Rover's
Image source: Quora
In the more far flung and rural parts with limited or poor road infrastructure, Jeep's or light trucks were the vehicles of choice, and this again holds true also today. But to a far lesser extent, as the road network has seen tremendous improvement. With passage of time and the subsequent import restrictions, the American and foreign made cars gradually gave way to the Indian made Hindustan Ambassador and to a far lesser extent, the Fiat manufactured by Premier Automobiles. But as these were not convertibles but hard-tops, trucks and tempos gained in popularity as did auto-rickshaws, cycle-rickshaws, etc. Of course some candidates went around on horses or bicycles and many parties continued to use animal drawn carts or carriages. In the desert state of Rajasthan, camel carts were and are yet employed, and yes, the elephant was and still is a popular 'vahaan' or campaign vehicle for our politicians!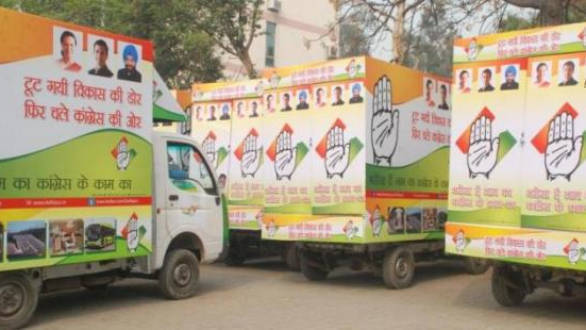 India has a huge variety of election campaign vehicles
Even well-known custom car builder Dilip Chhabria makes vans for political parties
From the 1960's to the 1980's, the Mahindra Jeep with its rugged construction and removable soft-top roof was the undisputed leader of Indian election campaign vehicles. In fact, to such an extent than when Rajiv Gandhi went canvassing, he drove a Jeep Wrangler, which I think was specially got in from the US for him to drive from village to village and town to town. Rajiv a former pilot, liked to drive and was often seen addressing crowds from behind the wheel. But most politicians these days prefer to be driven. Which makes me wonder, how many of them actually know how to drive? Please note, I said drive, and not 'drive properly'. Because that I am confident is something for which we can give credit to only a very few.
The Mahindra MM 540's soft-top could be easily removed making it a popular campaign vehicle during Indian elections
Until little over a decade back, we still had many older Mahindra's being rebuilt and prepared for election campaigning all over the country. As a matter of fact, workshop owners in Uttar Pradesh were known to start buying and refurbishing them up to two years before the next elections. Even now there exists an entire national small-scale cottage industry that prepares, modifies and decorates vehicles for election campaigning.
The Mahindra Commander was extensively used during Indian election campaigns too
The Tata Sumo proved to be a big hit for Indian election campaigns
When the Tata Sumo burst on the scene in the 1990's, almost overnight it became the favourite campaign vehicle. Not just because of its tough build and strong ladder frame based leaf spring suspension, but also because it looked big and strong and very modern compared to the Mahindra's available back then. It could also cram a large number of people both inside the cabin and on the roof carrier. This was a huge benefit because the influence and power of a politician, is often judged by the number of party workers and hanger-ons they have with them.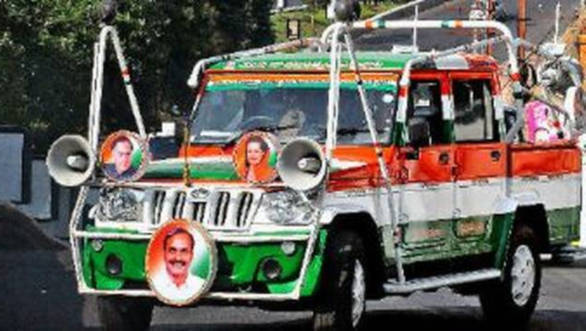 The Mahindra continues to be one of India's most popular election campaign vehicles
The Sumo started facing competition in the 2000's, when Mahindra introduced the Bolero. And while the Sumo has more or less faded away from the election campaign trail, the Bolero, especially the pick-up version, continues to be the firm favourite of politicians. Actually in the last decade or so, SUV's have become the preferred choice and the vehicle being used, quite literally establishes the hierarchy of politicians. The village level sarpanch, or even local party leaders in less developed regions, are known to use Mahindra Bolero's. More affluent politicians, or MLA's and even MP's, favour SUV's like the Mahindra XUV 500 and Toyota Fortuner. Some have also held on to their liking for Mitsubishi Pajero's and the Toyota Innova is also popular amongst this level of politician. For powerful ministers or politicians, the vehicle of choice is the Toyota Land Cruiser or Range Rover. Although at election time, some of them shy away from been seen in such expensive SUV's.
The favourite of Indian politicians - Toyota Fortuner
India's most famous election campaign vehicle ever - LK Advani's Rath
The most famous canvassing vehicle ever- has to be the one that L.K Advani of the BJP used for his 'Rath Yatra' in 1990. They converted an air conditioned DCM Toyota LCV to resemble a chariot and called it a 'Rath'. Advani travelled all over India in it and devotees of Lord Ram welcomed it warmly. Some devout devotees even garlanded the 'Rath' and applied 'tilak' (coloured powder or paste worn on the forehead by Hindu men and women) to it. This vehicle brought in an all new trend, one that had never been seen before. Of custom built election campaign luxury vans. These now come in all forms and shapes with varied features including toilet with shower, kitchen, refrigerator, beds, recliner seats and sofas, central air-conditioning, generator for electrical back-up, conference or strategy room, meeting room, electrically/hydraulically raised rooftop platforms or stages to address crowds, public address system, CCTV cameras to keep a record of events, flood lights, satellite TV dishes and antenna's, workstations with computers and monitors to keep track of news and communicate via social media, etc. These election campaign vans are getting increasingly popular as they function as mobile homes cum offices and allow the politician to travel more and address and meet a larger number of people. They can plan, meet, eat, sleep, and address their voters while on the go.
Very elaborately done Indian election van that also functions as an office and mobile home
I am told the vans of star campaigners are constantly on the move, stopping only to meet people and address rallies. Interestingly, the base vehicle (a bus generally) for such heavily modified election campaign vans ranges from Tata to Bajaj Tempo Traveller and Volvo to Mercedes-Benz! At times, these campaign vans are also armoured and bullet-proofed, especially if the politician is from Naxal hit regions like Chattisgarh. And since the bodies of such vehicles have a large surface area, they are fully utilized for branding with the party's logo, slogans, the images of its leading leaders, etc. The cost of building these 'campaign vans' is high and in case it's a powerful politician, the party foots the bill. Or the friendly industrialist or businessman bears the cost. There are also many who invest in such vehicles and rent them out to the leaders. But I wonder how they recover their charges? Because the rent can be up to Rs 25,000 or more, a day.
Isuzu - The star of India's 2019 election campaign
A vehicle making its debut for campaigning in this time's 2019 elections, is the Isuzu-D Max pickup. These are manufactured at Sri City in Andhra Pradesh, and are tax exempt in the state, making them more affordable. They are being modified in AP and even being sent to politicians in other southern states like Karnataka, etc. Apart from the price factor, the biggest attractions are its open cab at the rear, ruggedness, reliability, load carrying capacity and space. Typically, these 'campaign pick-ups' have a public address system with cordless mike, on-board electric generator with extra batteries, flood lights, portable collapsible stage, slots to display posters and banners, etc. They are painted in bright colours of the party and festooned with decorations to make them easy to spot and identify, in the day or at night.  I believe the changes are being done so smartly now, that after the elections, it will be fairly easy for these Isuzu pick-ups to be returned to their original condition and used as regular transport vehicles. The total cost of making one depending on the fittings and accessories, is less than 15 lakhs. All this might just make the Isuzu D-Max pick-up, the 'star vehicle of India's 2019 elections'
Price (Ex-Delhi)
Starts Rs 1.38 Crore
Price (Ex-Delhi)
Starts Rs 16.98 Lakhs
Price (Ex-Delhi)
Starts Rs 53.9 Lakhs
Price (Ex-Delhi)
Starts Rs 7.98 Lakhs
Price (Ex-Delhi)
Starts Rs 29.98 Lakhs
Related Stories